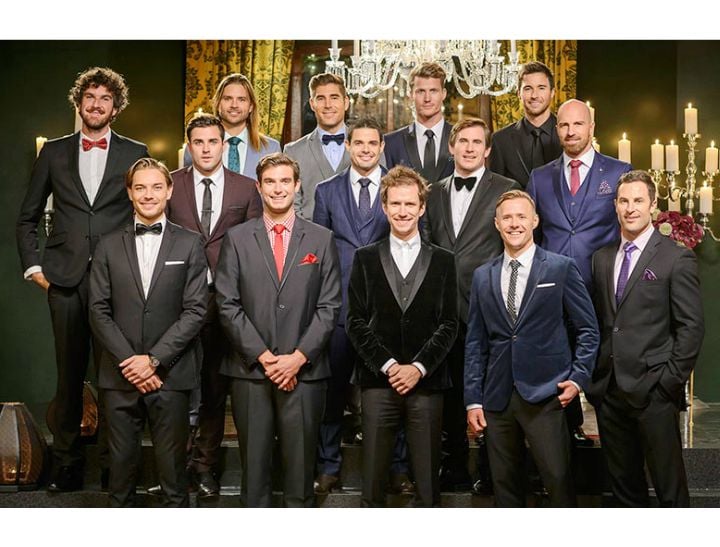 Missed last episode's recap? Get on that. Read it here.
And of course we need to remember that our Bachie Queen is very relatable and lovely and got dumped and humiliated on national television so we open with some Serious Beach Thinking about heartbreak etc:
Cut to the Peen Palace, where all the Peen Owners are just casually hanging around being casual – and isn't it lovely and way less bitchy than the girls because these are nice Aussie blokes and not bitchy ladies:
Oshie arrives with the single date card and – WAIT. HOLD THE FUCK UP. A piece of Oshie's hair has GONE ROGUE.
WHAT IS GOING ON? THERE SHOULD NEVER BE A STRAY PIECE OF GLORIOUS MANE. Something has gone wrong with the hairspray machine. Was he unchained from it prematurrely today? Did the Queen of Channel Ten Sandra Sully forget to refill the tank? HELP ME I'M FRIGHTENED.
Oshie's Hair leaves, and will no doubt be punished when Sandy gets wind of this.
One of the Daves gets the single date. It's Dave the plumber. His name is Dave and he's a plumber. Queen Bachie calls him a 'good Aussie bloke' and he talks like he's stepped straight out of a meat pie and beer commercial and he is literally the whitest of all the Daves and it kind of makes you wonder how there can be THREE guys called Dave on this show and not one token Asian.
SINGLE DATE TIME!
OH EM EF GEE THERE IS A FREAKING HELICOPTER:
FEMINIST OVERLORD OF CHANNEL TEN QUEEN SANDRA SULLY HAS FINALLY RELEASED THE FUNDS. I knew ol' Sandy wouldn't be able to resist helping a sister slay some peen.
OMG YES – they literally just take the helicopter to the Sydney Cricket Ground, which would have taken them half an hour to drive to, tops. It's officially raining $$$ once again y'all.
Ugh boring. They're going to play some sport with a sporting person. I have zero interest in either. Bachie Queen takes the opportunity to survey her plaything:
Approves. For now.
They do some sport things which I don't understand or care about…
…Then they head to the season's first Magic Sex Couch, and Dave the plumber is literally just Dave the Plumber and it's so dull and there's nothing else to say really. They talk about feelings. She gives him a rose. No kiss. Boring. The end:
GROUP DATE TIME!
The Peen Owners are driven to some random bush location in cars that are not Nissans which, quite frankly, I do not appreciate. Oshie greets them and thank the TV gods, his hair situation has vastly improved: