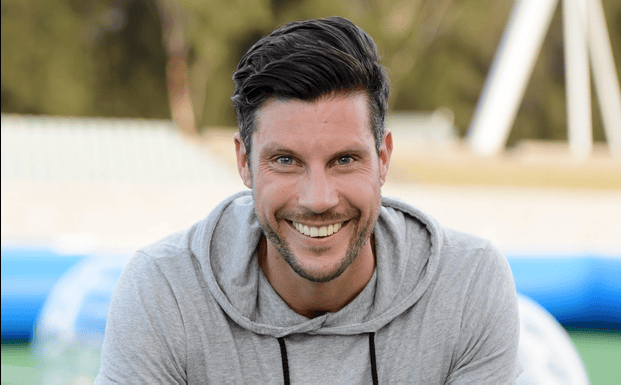 Missed last episode's recap? Get on that. Read it here.
THIS IS IT, YOU GUYS.
After 15 episodes in which 21 women have been forced to compete in humiliating challenges in order to win the approval of a man, we have finally reached the end. The Sparkly Hunger Games of Death will end in one, final Thunderdome-style race to the finish line, where she who is victorious shall claim her Tasmanian Peen.
May women everywhere rejoice.
AND YES, FINALLY. WE OPEN ON OSHIE LIKE WE SHOULD HAVE DONE EVERY DAMN WEEK.
He says some words and and explains what the series has been about and I'm sure it's all lovely but all I'm thinking about is his hair and the hairspray machine and the dungeon and the glorious brown suit and the epic journey that we've been on together this year. In a universe outside of this one I would break into the bowels of Channel Ten and set him free into the night, where he could run and frolick and feel the wind blow through his heavenly, chocolately brown locks. #SaveOsher
Okay, next up we get a montage of Bachie Wood doing some serious thinking while stretching on a fence. (#BudgetBachie)
Then there's another montage of the time Bachie Wood has spent with the two remaining girls, and that's when everybody remembers that nothing actually happens in finale episodes until about the last five minutes, so we will clearly be watching almost exclusively montages for the next hour.
Bachie Wood is reading some cue-card bullshit about where his head is at and the current state of play of this whole godforsaken situation, but his version is boring so here's mine.
Here's how we stand right now: We are down to Disney Princess Lana and Single Mum Parmigiana. Lana owns his heart and his balls. All she needs is his Peen to complete the trifecta, which makes it seem like she has this whole thing in the bag. BUT. But. Sarah getting sent home last night has really messed with Lana's plans, because after last year's TOTAL shit-head scenario otherwise known as Blake, the producers reeeeally need this year's Bachie to look like a nice guy. And you know what a nice guy wouldn't do? Put a single mum in the final two and then not pick her. I mean… right? THAT WOULD BE DOUCHE-CANOE CITY. If Sam had put anyone else up against Lana in the finale (ie that beige girl who's name I've already forgotten), I would have thought she was set. But reject a single mum? WHAT KIND OF IDIOT WOULD SET HIMSELF UP FOR THAT KIND OF PUBLIC TAKE-DOWN? SINGLE MUMS ARE FUCKING EPIC. MY SISTER IS ONE. THEY WILL KILL YOU AND EAT YOUR HEAD IF YOU DISAPPOINT THEM OR THEIR CHILDREN.
So… I know I was all about Lana, but after Beige went home last night, I'm sort of convinced this is anyone's game. And that's where we're at.