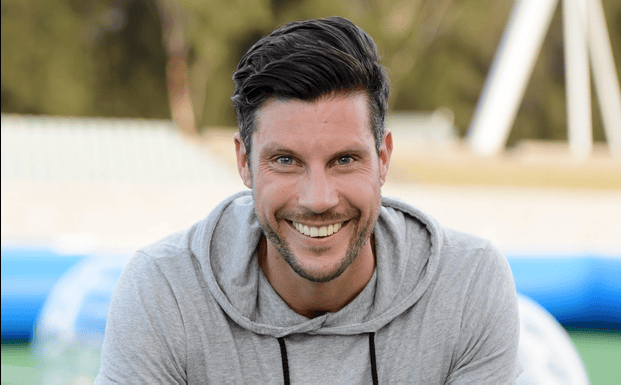 Missed last episode's recap? Get on that. Read it here.
We open with Bachie Wood doing some serious beach thinking at sunrise, because this is going to be a VERY SERIOUS episode you guys. Then there's some serious topless shaving. Then some more serious thinking.
Wow. So… The producers really want us to think that Bachie Wood is thinking a lot about this and that he definitely isn't already in love with Lana and her bilingual vagina. Noted.
And we are getting straight down to it tonight! No funny business, no casual shots of the girls just being casual in the Girl Prison. We are running headfirst into 'Home-Towns'. And we all know why: There is not time, and ABSOLUTELY NO MONEY, to waste.
Heather's Home Date:
They go to some park in Brisbane where Totally Laid Back Cool Girl Heather talks about her awful childhood. She has no family to take him home to, so she's taking Bachie Wood to see her best friend and a horse farmer man who helped her out as a kid. Waaaaaaah this is probably the most genuine I've ever seen TLBCG Heather be and now I feel bad that she's been clit-blocked and friendzoned for the more polished, bilingual version of herself. BOOOOOOOO BACHIE WOOD. BOOOOO.
Okay so the father figure that TLBCG Heather introduces Bachie to is called Warwick, and can I just say, this show would have been infinitely better if Warwick had been The Bachelor this year. He is like the perfect cartoon version of an Aussie farmer and I love him and I just want him to have his own show where he sits on a porch and drops Aussie slang like "I'd be stoked to spend sparrow's fart with a sheila and some billy tea."
He's also not taking any of Bachie Wood's shit, and it's PERFECTION. Bachie is not even close to being on his glorious level. "Why do you call Heather 'half-pint?'" Bachie Wood asks. Warwick just gives him a look that says 'Why the fuck do you think?' and responds with, "Cos she used to be small. Can't change her name just cos she grew."
ADOY.
The three of them go inside and Warwick just keeps dropping wisdom bombs left, right and centre and it is truly fucking brilliant.
"If you don't push yourself, you don't know what you'll be capable of."
"There are lessons to be learned, but they won't be obvious."
"A comfort zone is just a prison of our own making."
"Until you break free, you don't know where the boundaries are."
"So many people just wanna be copies of someone else."