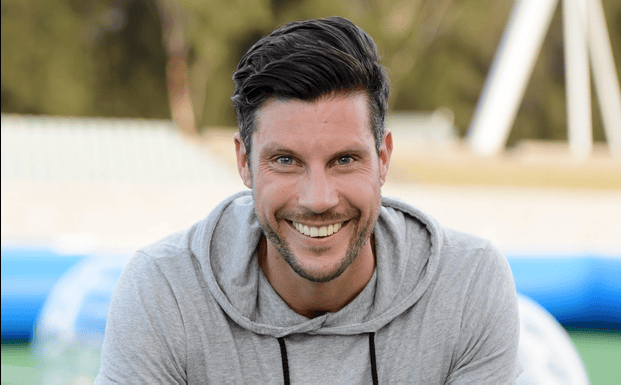 Missed last episode's recap? Get on that. Read it here.
Annnnd we're on the final stretch, my friends. We open at night, on the remaining girls in the Girl Prison sitting around in their pyjamas, although they clearly still have their make-up on from last week's rose ceremony, which means a 'let's film a bunch of scenes in one go to save money' situation must have gone on. They really are scraping the bottom of the money barrel at this point. #BudgetBachie
The girls are busy talking about how making it into the top 5 of a reality dating show is basically the greatest achievement in each of their lives, when Oshie's Hair comes in to inform them that as of tomorrow, they'll be spending TWO WHOLE DAYS trapped in a different Girl Prison. The girls are going on holiday, to Girl Prison: The Beach Version. Apparently Bachie Wood would like to spend time with each of them to figure out which four girls will get 'hometown dates' and which girl will get booted for being an unlovable loser. Everybody knows that loser is going to be Nina except Nina.
They arrive at Girl Prison: The Beach Version bright and early, only to find it's actually just a house with a vague view of some water. (#BudgetBachie) There's also only enough money for one Magic Sex Couch at this Girl Prison, so Bachie Wood tries to get them all on at once:
The girls gear up for a bit of group action, while Bachie Wood tells the camera in a private moment that he'll spend the next two days judging the personal value and worth of each girl so he'll know for sure which one deserves to be kicked out. None of that 'I can't decide' bullshit this week. THERE'S NOT ENOUGH MONEY LEFT FOR THAT. GET BRUTAL. START DROPPING THEM LIKE FLIES, BACHIE. LIKE FLIES!
Lana's Alone Time (So lucky!)
It's a golf lesson, of which he spends the entire time with his Bachie Peen magnetically drawn to her well-travelled body.
"I'm typically attracted to women that are smarter than me," Bachie Wood says. "And that's definitely Lana." As proven by this hat, obviously:
Next up is some Magic Sex Couch talk/I hope this turns into magic sex and you talk to me in a foreign language with your lady parts. Talks about how much he loves her/can't believe she's still single etc etc etc. He asks her if she likes him too, and it's basically the equivalent of him handing her a note with a 'Yes' and 'No' box to tick. He sits there like an eager puppy until she says "Yeah, you're someone I'd want to date." Then they kiss and his balls wrap themselves in a bow before nestling gently into her lap, patiently awaiting instruction.
Parmigiana's Alone Time (It's like winning the lottery!)