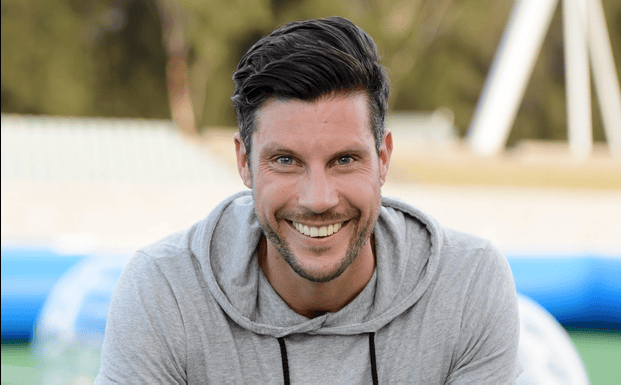 Missed last episode's recap? Get on that. Read it here.
Okay I think it's time we talk about how every time Bachie Wood is having a private chat to camera it sounds like he's reading everything off cue cards that he doesn't quite understand. It's glorious, and tonight's opening scene where he talks about love and feelings in a way that he could never have come up with himself is the best so far. Plus, they helpfully cut it with footage of him doing some serious kayak thinking. Heaven:
Bachie Wood's reading quota for the day filled, we cut to the Girl Prison, where Nina is still mad about the Intruders infiltrating their borders. She literally seems like she's going to start some kind of vigilante militia to make sure they stay in their rightful place, but then the group date card arrives and she gets distracted. FOR NOW.
Group date time!
I knew it felt like something was missing last night, and then I realised:
NISSAN. Tonight NISSAN would like you NISSAN to know that NISSAN cars have very fancy skylights that are really user-friendly.
See you next week, NISSAN!
So this group date is all about 'culture', which Bachie Wood, bless his heart, refers to as "COLCHA" which I freaking love. He says he likes doing things that involve COLCHA in the way that bogans think going to an Andre Rieu concert is getting a bit of COLCHA.
Today's COLCHA involves Bachie Wood taking his shirt off while the girls paint and sculpt him. It is very COLCHA, you guys. I mean, look at all that COLCHA:
Laughing/laughing/painting/sculpting/lots of shots of muscles/actually let's just keep showing shots of Bachie muscles so nobody notices how cheap this date is.
Okay literally nothing is happening on this date. I think the producers were hoping we wouldn't notice because of the muscles on the pleather couch situation, but seriously: NOTHING IS HAPPENING.
Here is a buzzkill of a conversation that is meant to be entertaining to us:
"I think for me the standout features that we need to convey in our art today are Sam's eyes. Any other key elements you'd like to artistically highlight?"
Wow. There is literally such little drama in this episode that they're even trying to pull together a whole thing about Intruder Rachel not being happy that she was slightly to the side of Bachie Wood while drawing him. SLIGHTLY TO THE SIDE? Gripping stuff.
*tumbleweed/Rosie crying/brain shutting down/tumbleweed*