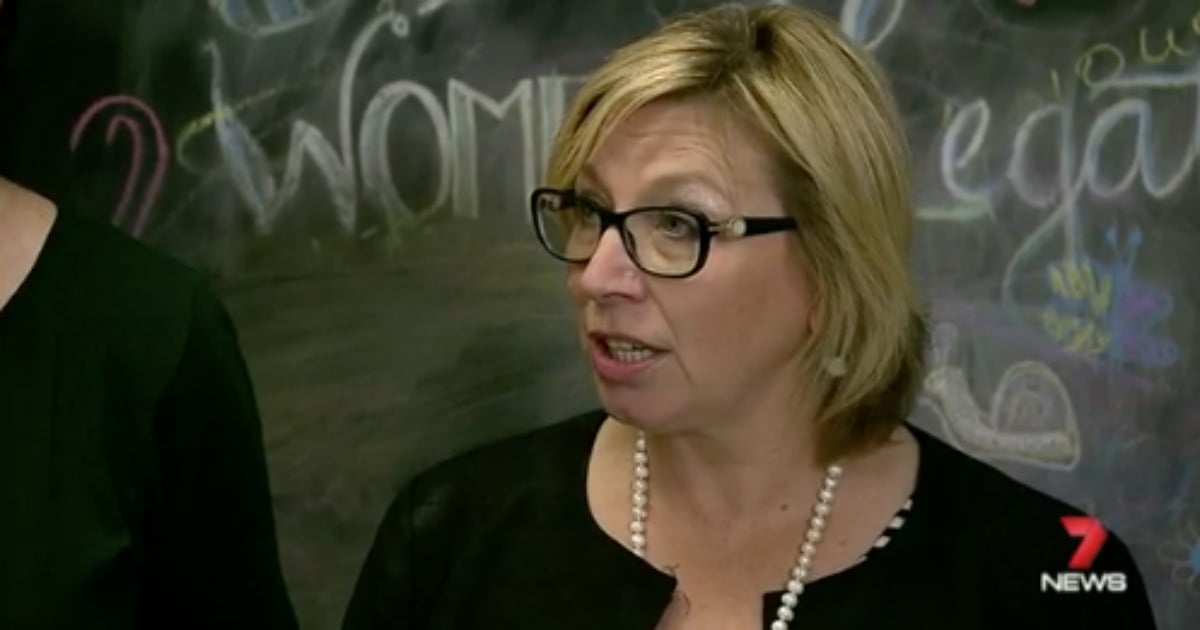 We've rounded up all the latest news from Australia and around the world – so you don't have to go searching.
1. Rosie Batty calls for an overhaul of the family court system.
Domestic violence campaigner Rosie Batty has called for changes to the family law system, fronting a campaign to overhaul the Family Law Act.
The "five-step" campaign says the current system is failing victims and their children.
More than 90 organisations have backed a five-point plan, Safety First in Family Law.
The campaign is calling for a ban on alleged domestic violence perpetrators cross-examining their victims in court and for courts to consider any family violence history when determining how to divide property in a divorce settlement.
They also want to change the way custody disputes are handled by removing references to "equal shared time" and "equal shared parental responsibility" from the Act, in favour of a greater focus on the safety of children.
Ms Batty told of her own experience, saying the Family Court encouraged her to allow her son Luke's violent father to have access to the 11-year-old.
Luke was later killed by his father at Tyabb cricket ground in February 2014.
"Now is an opportunity for all political parties to commit to putting the safety of women and children first in family law," A letter co-signed by the 90 organisations and sent to Prime Minister Malcolm Turnbull and Labor leader Bill Shorten says.
"We are not asking for another review. We are not asking for another inquiry. We are asking all political leaders to act now, to put safety first in family law."
2. Crackdown on chiropractors.
The Victorian Health Minister Jill Hennessy has written to the nation's health regulators seeking an urgent crackdown on chiropractors after a video of a four-day-old premature baby having his spine cracked appeared on YouTube.
"I can understand doctors are outraged by the extremely distressing image of a four-day-old baby having its spine cracked," Ms Hennessy said.
"I, too, was physically shaken. In particular, I am concerned about chiropractors performing spinal or scalp manipulations on newborns based on unfounded claims that such a treatment could cure.
"And it's reprehensible that chiropractors would pedal anti-vaccination myths outside their scope of practice."
The Royal Australian College of General Practitioners has told its members not to refer patients to chiropractors.
President Dr Frank Jones said there was "no scientific basis for most of the stuff they do".
But Chiropractic Association of Australia deputy president Andrew Lawrence told News Limited low-force spinal movement could be an asset: "In regards to autism and ADHD … there may be a role for chiropractic."
Chiropractors have also come under fire for advising parents against vaccinating their children.
3. Bill Shorten outlines $71b in budget savings in budget reply.
In his budget reply last night the Opposition Leader Bill Shorten has presented Labor's plan for 'fair' budget repair.
Mr Shorten says Labor has made $71 billion in savings over the next decade through spending cuts and tightening tax concessions.
Mr Shorten said Labor's aim was for overall fairness in the budget.
"You do not create the jobs of the future by cutting education, by cutting infrastructure and making broadband slower," he said.
While Labor said it would support the government's modest measures to limit bracket creep and a tax cut for small businesses with a turnover of less than $2 million a year it would not support the government's plan to extend tax cuts to larger businesses over the next 10 years.
Mr Shorten said that a Labor government would also pass laws to ensure Medicare cannot be privatized within 100 days of being elected.
"Under a Labor government Medicare will be in safe hands and in public hands. We will not support the privatization of the Medicare system full stop," he said.
4. Bowraville families distraught after re-trial bill fails.
Three children murdered, one prime suspect but no one behind bars – all these families want is justice.
The families of the three murdered children of Bowraville – Evelyn Greenup, 4 and Colleen Walker, 16 and Clinton Speedy-Duroux also 16 say they are devastated by yesterday's decision in NSW Parliament's Upper House blocking the bill that could have paved the way, in certain circumstances, for a person to be re-tried for a crime they had been found not guilty of committing.
In the early 1990's the bodies of Clinton Speedy-Duroux and Evelyn Greenup were found near the Bowraville Aboriginal Mission. Colleen Walker Craig has never been found.
Bowraville local Jay Hart, the man police identified as the prime suspect in all three killings, was tried and acquitted over two of the murders.
Greens MP and Justice Spokesperson David Shoebridge said that an inquiry that had been set up to make amendments to the 'Double Jeopardy' laws would have paved the way for a retrial of all three murders.
"When the report was handed down, MPs from all sides of politics spoke in support its 15 recommendations. It is well and truly time we put those words into action."
But the NSW Government and Labor Opposition joined forces to block the bill.
Premier Mike Baird told the ABC there were other options.
"I understand there is still an option for additional evidence to be brought forward by the community and/or police, and that would give an opportunity for it to be considered by the Supreme Court," he said.
5. Australians lag behind rest of world in early learning.
20 per cent of students are developmentally vulnerable when they start school. Via IStock.
A report out today will show that Australia is among the world's worst for enrolment levels of children younger than three in early learning programs.
The Courier Mail reports that 20 per cent of students are developmentally vulnerable when they start school due to poor early learning and investment.
The report, The State of Early Learning in Australia Report 2016 found that 30 per cent of Australian children do not have enough early learning to make a difference in later schooling.
Early Childhood Australia chief executive Samantha Page said the nation still faced "serious problems" in the early-learning sector.
"Not enough people realise that the first five years of every child's life can unleash a lifetime of potential," Ms Page said.
"We are now at a critical juncture where Australia's education results are declining and we must act to ensure more children attend quality early learning, for long enough to amplify their development."
6. NSW proposes new planning laws: Ask your neighbours before lodging your DA.
Meet the neighbours before you lodge the DA. Via IStock.
NSW is considering new planning laws that will require homeowners and developers to consult neighbours on plans to build or renovate before lodging them with a council.
The Sydney Morning Herald reports that NSW Planning Minister Rob Stokes hopes this move will "remove the element of surprise" from the system.
"We want to remove the element of surprise from planning," Mr Stokes said. "That's when people get upset. When something happens that they weren't expecting.
Currently the current system works so that neighbours are only informed after an application is received by a council and they then lodge objections.
Mr Stokes said this "provokes hostility".
"Wouldn't it be a better system if we tried to work out as much of this before we got the council involved?" he said.
"So pre-DA, where the system encourages you to come to me and say, 'This is what I propose to do. What reasonable problems have you got with it?"
Details of consultation – whether a discussion or presentation of final plans in the mail to affected neighbours – would need to be in the application to council.
"The key to this is trying, as far as possible, to remove the idea that people will be surprised by the things that are happening next door to them," he said.
7. Child recovery agent for 60 Minutes pleads with Australia not to abandon him.
Fairfax Media reports that Australian-British child-recovery agent Adam Whittington has accused Foreign Minister Julie Bishop of showing "double standards" over the handling of his ongoing detention in Lebanon,
The Nine crew, including Tara Brown and Brisbane mother Sally Faulkner, who hired Mr Whittington have all walked free but Mr Whittington and his colleagues are still in jail in Beirut.
His Lebanese lawyer Joe Karam spoke for Mr Whittington asking Fairfax Media:
"Why is there a double standard when an important journalist is involved but a different one when it's a poor citizen?"
"Why should Ms Bishop help, push and make calls just because an important journalist is involved?" he said.
The Foreign Minister Ms Bishop told Fairfax Media she had advocated on the behalf of all Australians."
"I have remained in contact with the Lebanese Foreign Minister on Mr Whittington's case since the release on bail of Sally Faulkner and the 60 Minutes crew, including as recently as 5 May," Ms Bishop said.
"Mr Whittington's alleged involvement with Channel Nine or other Australians has no bearing on consular assistance available to him."
8. Gym bans selfies.
A gym group in New Zealand has banned selfies after upset members said they didn't like ending up in the background of Facebook posts and YouTube videos.
The Cityfitness centre in Christchurch said the group was examining whether the ban should go national to all 22 gyms the group owns.
The manager told Stuff.NZ  there was an increase in complaints from members who were being photographed or filmed in the background as other people snapped selfies.
"Just recently in the last two weeks there have been quite a few complaints from members about people taking photos in the gym.
In 2014, Cityfitness introduced a blanket ban on excessive grunting.
Do you have a story to share with Mamamia? Email us [email protected]