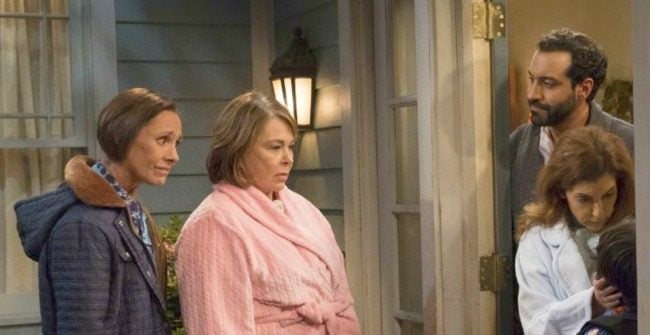 You may not know actor Alain Washnevsky by name, but he's appeared on Homeland, Curb Your Enthusiasm, NCIS: Los Angeles, Aquarius and SEAL Team.
And now he's written about his experience playing the Conner's Muslim neighbour on the Roseanne reboot, for The Hollywood Reporter.
The reprised show was cancelled last week due to a racist tweet that Roseanne Barr posted, which referred to former Obama aide Valerie Jarrett looking like the offspring of the "Muslim Brotherhood & Planet of the Apes." (Jarrett, an African-American, was born in Iran to American parents.)
ABC president Channing Dungey immediately issued a scathing statement, calling Barr's behaviour "abhorrent, repugnant, and inconsistent with our values."
The cancellation produced a significant reaction on social media, and naturally,
amongst the cast
. But Washnevsky, a lessor-known actor, felt he needed to publish his thoughts in a prominent way.
In his eloquent guest column, Iranian-born Washnevsky revealed he was very surprised when he heard about Barr's tweet, and deeply saddened to learn of the cancellation. The opportunity to play Samir Al-Harazi in the seventh episode, titled "Go Cubs," had been a dream come true. He viewed it as an "enormous responsibility to represent a demographic that is often not well-portrayed on TV."
New @THR: The actor who played Roseanne's Muslim neighbor this season opens up on his experience with her, the cancellation and lost opportunities. https://t.co/tHfAYUHrVK

— Matthew Belloni (@THRMattBelloni) June 5, 2018