Last night, Roseanne Barr posted a racist tweet about Valerie Jarrett, an African-American woman who was Barack Obama's senior advisor throughout his presidency.
The tweet, which has now been deleted, the 65-year-old comedian compared Jarrett to an ape, saying it was like the "muslim brotherhood & planet of the apes had a baby".
Within a matter of hours, ABC announced they would be cancelling Barr's rebooted TV show, Roseanne, refusing to stand by one of the network's biggest stars and money spinners.
"Roseanne's Twitter statement is abhorrent, repugnant and inconsistent with our values, and we have decided to cancel her show," ABC Entertainment president Channing Dungey said in a statement.
Closer to home, Network Ten – who was housing the show's reboot on Australian soil – echoed ABC's statement with their own.
"Network Ten is appalled and disgusted with Ms Barr's racist tweet and has removed Roseanne from TEN and ELEVEN, effective immediately," Ten said.
While public sentiment is firmly on the ABC wave of no tolerance, this is far from the first time Barr as generated controversy regarding her many and varied views.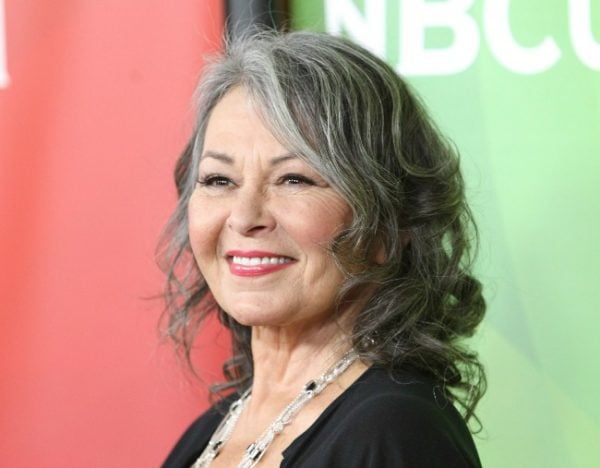 The Parkland controversy
In March this year, Barr falsely accused a Parkland school shooting survivor of performing a Nazi salute at a March for Our Lives rally.
It... wasn't true.
The Donald Trump thing
Yes, well, Roseanne Barr very much likes Donald Trump.
She told PEOPLE she voted for Trump in 2016 to "shake things up."
She was also very excited to be fending calls from the President after the reboot first aired.
"It was pretty exciting, I'll tell you that much," Barr told Good Morning America. "They said, 'Hold please for the President of the United States of America' and that was about the most exciting thing ever, and it was very sweet of him to congratulate us."
But the real controversy, here, lies in her willingness to spout mistruths regarding Trump's presidency.
"President Trump has freed so many children held in bondage to pimps all over this world," she tweeted earlier this year. "Hundreds each month. He has broken up trafficking rings in high places everywhere. notice that. I disagree on some things, but give him benefit of doubt-4 now."
It... wasn't true.
... and the anti-Hillary thing
Barr also tweeted links supporting the "Pizzagate" right-wing conspiracy theory about Hillary Clinton that spread during the 2016 campaign. The theory was that Clinton and her former campaign chair, John Podesta, were using a Washington pizzeria as a base for a child trafficking ring.
It... wasn't true.
The Zimmerman controversy
In 2012, after George Zimmerman fatally shot 17-year-old African-American high school student Trayvon Martin, Roseanne Barr retweeted the address of Zimmerman's parents as anger over the incident spread nation-wide.
Zimmerman was later found to be acting in self-defence and his parents went on to sue Barr for an invasion of privacy. The case was thrown out in 2015.
The posing-as-Hitler thing
In 2009, after appearing in the satirical Jewish publication Heeb magazine, Barr asked to dress and be photographed as Hitler for the 'Germany' issue.
According to the BBC, Barr said at the time she was "making fun of Hitler, not his victims".
Another @therealroseanne "joke" pic.twitter.com/OGEUvw6PQ4

— I. Cohen (@IRCards3) May 29, 2018
The family abuse story
In 1991, Barr stood in front of an audience of 1,000 at a church in Denver in 1991, and proclaimed to be the victim of sexual abuse.
"My name is Roseanne," she said, "and I am an incest survivor."
At the time, she said she suppressed the memories until a triggering incident two years ago earlier caused them to come flooding back. Her parents repeatedly denied the claims.
In 2011, she expressed her regret to Oprah about coming forward with that story.
"I think it's the worst thing I've ever done," she said, according to Access. "It's the biggest mistake that I've ever made."
"Calling it incest?" Oprah asked. "Or going public?"
"Well, both of those things," she replied. "I was in a very unhappy relationship. I was prescribed numerous psychiatric drugs, incredible mixtures of psychiatric drugs to deal with the fact that I had — and still in some ways have and always will have — some mental illness. And [with] the drugs and the combination of drugs that I was given — which were some strong, strong drugs — I totally lost touch with reality in a big, big way."