In less than a week, Rose McGowan has called Ben Affleck a liar, Bob Weinstein a "piece of sh*t" and eviscerated the "weak and scared" Hollywood elite who were allegedly "too guilty to care".
McGowan, 44, starred in 90s films Scream and Jawbreaker before being chosen for the role of Paige Matthews on the television show Charmed in 2001. For a moment, she was a seemingly untouchable Hollywood starlet – taken under the wing of none other than Harvey Weinstein – one of the most powerful American film producers of the last century.
And then everything changed.
Rose McGowan got angry, and Hollywood does not like angry women.
**********
McGowan was born into a cult renowned for the sexual relationships encouraged between adults and children. Called 'Children of God', the polygamous cult advocated 'free-love' attitudes while promulgating strict Christian values.
"God could see you're bad, you're evil," McGowan recounted decades later. She was raised in a compound in Italy by her father who had two wives.

"I remember watching how the men were with the women," McGowan wrote for People magazine. "At a very early age I decided I did not want to be like those women. They were basically there to serve the men sexually…"
When her father discovered the widespread child-adult sex taking place, he fled in the middle of the night with his three children.
"I was not molested because my dad was strong enough to realise that this hippie love had gone south," McGowan wrote.
The United States was an enormous shock to 10-year-old McGowan, who was relocated to Eugene, Oregon. Her relationship with her parents was strained, and at 15 she legally emancipated herself from both of them, and moved to Los Angeles.
In the early 90s, at barely 20 years old, McGowan got her start in Hollywood.
Her big break came in 1996 with the horror film Scream, where she was cast as Tatum Riley. It was everything she had ever wanted.
And then something happened in 1997.
New York Times reported last week that McGowan was part of a settlement involving Harvey Weinstein. McGowan declined to formally comment. It's possible that the actress signed a Non Disclosure Agreement.
This is the girl that was hurt by a monster. This is who you are shaming with your silence. pic.twitter.com/TrtRNiYfIT

— rose mcgowan (@rosemcgowan) October 8, 2017
But this is what we do know.
We know a reported $100,000 settlement was reached between McGowan and Weinstein after an incident in a hotel room during the Sundance Film Festival in 1997.
We know that in 2015, she spoke to Buzzfeed and said, "There's a lot of people that don't deserve to be alive - put it that way. There's a lot of people who also get the face and body they deserve. There's a lot of destroyers, and there's the collusion. For anybody who reads this, anybody who's ever colluded on anything by being a weak human being, fuck you. How dare you."
We know that in October of 2016, McGowan tweeted this:
because it's been an open secret in Hollywood/Media & they shamed me while adulating my rapist. #WhyWomenDontReport

— rose mcgowan (@rosemcgowan) October 14, 2016

"A (female) criminal attorney said because I'd done a sex scene in a film I would never win against the studio head," she said.
We do not know who McGowan's alleged rapist is, just as we do not know the details of the "incident" in that hotel room - but McGowan claims there are many people who do. And she has never failed to hide the fact she is tremendously angry about it.
And when she got angry, the opportunities dried up.
In 2015, McGowan shaved her head, describing it as "liberating" and later said she did it so that "men would stop seeing [her] as a sex symbol."
She claimed she had been told by a female agent that if she didn't grow her hair long then "the men doing the hiring in Hollywood wouldn't want to f*** me and if they didn't want to f*** me, they wouldn't hire me."
McGowan's long hair reminded her of a time when she "suffered from a mental disorder called Hollywood."
Listen: On Mamamia Out Loud, Mia, Rachel and Jessie discuss everything that is happening with Harvey Weinstein....

**********
Following the New York Times exposé published last week, McGowan tweeted audio of a man The New Yorker alleges is Weinstein attempting to persuade model Ambra Battilana Gutierrez to join him in his hotel room, before confessing to groping her breast.
"Now imagine his huge size, his monster face/body closing in on you," she later tweeted. "In one second your life path is not yours. You have been stolen."
Leaving a space for legal reasons, McGowan wrote, "Anyone who does business with __ is complicit. And deep down you know you are even dirtier. Cleanse yourselves," before adding, "Ladies of Hollywood, your silence is deafening."
McGowan is now leading a petition to have the entire Weinstein board, made up exclusively of men, stand down. She claims that they all knew about the alleged abuse, and consequently covered for each other.
An ex-boyfriend of McGowan tweeted on October 7th, "Rose and I were in a relationship for over a year and in that time I've seen and witnessed a lot.
"I've seen her sweat through the sheets while asleep from having night terrors and recurring trauma dreams. I've seen her disregarded and called a liar, a whore, a bitch, by journalists, mindless tweeters, and studio executives.
"Now she's proven right to what she's been saying for 20 years. It's odd that a piece by a group of journalists is what it takes for a beautiful and kind woman (victim) to be supported... Everyone has a lot to learn from you."
Ben Affleck released a statement on Facebook regarding the allegations against Weinstein, a man who he had worked with extensively.
"I am saddened and angry that a man who I worked with used his position of power to intimidate, sexually harass and manipulate many women over decades," he wrote.
"The additional allegations of assault that I read this morning made me sick. This is completely unacceptable, and I find myself asking what I can do to make sure this doesn't happen to others. We need to do better at protecting our sisters, friends, co-workers and daughters. We must support those who come forward, condemn this type of behaviour when we see it and help ensure there are more women in positions of power."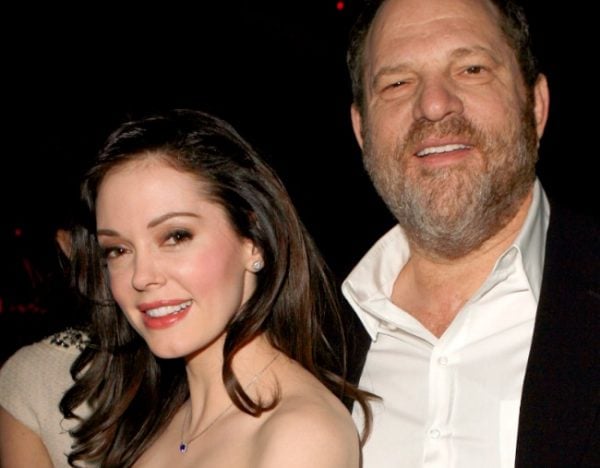 McGowan rejected Affleck's statement, claiming he knew about "this type of behaviour" during the time she was abused.
"Goddamnit! I told him to stop doing that!" McGowan claims Affleck said to her.
"You lie," she concluded, before adding, "Ben Afflec f*ck off."
With the hashtag #RoseArmy, McGowan has inspired multiple women to share their own experiences of Weinstein, who is allegedly a serial offender.
This is a legendary photograph pic.twitter.com/TjwDQQphKM

— rose mcgowan (@rosemcgowan) October 9, 2017
Over the course of a week, Weinstein's actions have been disavowed by Cara Delevigne, Miro Sorvino, Meryl Streep, Lena Dunham, Mark Ruffalo, Angelina Jolie, Michael Keaton, Jessica Chastain, Kate Winslet, Julieanne Moore, Patricia Arquette, Seth Rogan, Judd Apatow, John Oliver and many more.
This story has potentially lifted a lid on Hollywood's best kept secret.
When women from all over the world, who have never met one another, are presenting stories of sexual harassment at the hands of the same man, there is power.
For 20 years, McGowan has bravely spoken about her abuse. Now, she's leading a community of women in Hollywood speaking their truth.
And along with the many women feeling vindicated this week, McGowan might finally be seeing glimpses of justice.
If this post brings up any issues for you, or if you just feel like you need to speak to someone, please call 1800 RESPECT (1800 737 732) – the national sexual assault, domestic and family violence counselling service. It doesn't matter where you live, they will take your call and, if need be, refer you to a service closer to home. 
You can listen to the full episode of Mamamia Out Loud, here.