For the better part of the last month, every story about Harvey Weinstein and the damning allegations he sexually harassed and assaulted numerous women has been followed by a loud, proud, brazen response from Rose McGowan.
McGowan – she with short hair and no filter – is angry. 20 years of suppressed rage is spilling to the surface, manifesting itself in furious tweets, impassioned speeches and the creation of one #rosesarmy.
If there was a silver lining in a story where damaged women have been silenced at the mercy of an (alleged) monster with a potential rap sheet so damning it beggars belief, it would be the rise of McGowan.
McGowan – who named Harvey Weinstein as the man who raped her so many years ago – has been like a phoenix rising with clenched fists from the ash, at the forefront of a campaign to expose sexual harassment and assault from every corner of every industry.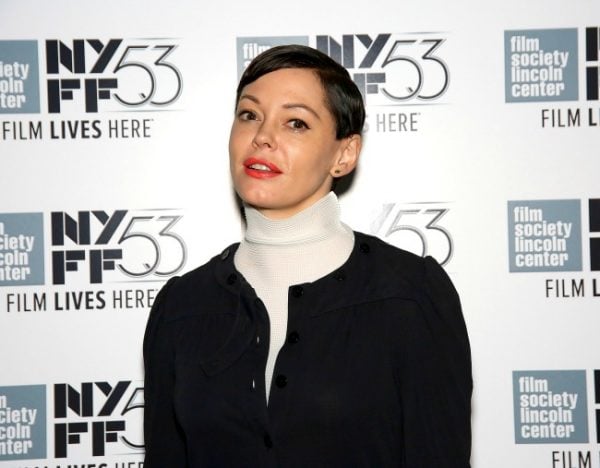 Her name, for the first time in many years, is making headlines. Her Twitter feed is gaining traction.
And now, suspiciously, just as she's finding her voice on a pedestal that's taken 20 years to find, a months-old drug charge rears its head.
On Tuesday, it was reported a warrant was issued for McGowan's arrest for felony possession of a controlled substance. On January 20 of this year, the actress accidentally left personal belongings behind on a United Airlines flight and a police investigation found the items tested positive for narcotics.
So how much can we look into the timing? It is, after all, nine months after the fact in a period where McGowan has unapologetically led the charge against Weinstein.
The actress herself certainly thinks there's something curious about the timing, tweeting on Tuesday: "Are they trying to silence me? There is a warrant out for my arrest in Virginia. What a load of HORSESHIT."
Keep in mind the revelations about McGowan came just two days after a New York Times report surfaced, exposing Harvey Weinstein's $1 million offer to McGowan in September to sign an nondisclosure agreement. This was the second agreement offered to McGowan, who first signed a $100,000 settlement 1997 after Weinstein allegedly assaulted her. That initial non-disclosure agreement, bafflingly, didn't include a confidentiality clause.
Weinstein, we now know, has a history of trying to publicly discredit the women who accuse him of assault.
Last month, in his piece for The New Yorker, Ronan Farrow noted that when model Ambra Battilana Gutierrez took her claims about Weinstein to the NYPD in 2015 -  she alleges he groped her breasts and put a hand up her skirt while she protested - her name began to appear in the press in the weeks after.
As Farrow reported:
But, as the police investigation proceeded and the allegation was widely reported, details about Gutierrez's past began to appear in the tabloids.
Or there's this, as noted by Jezebel earlier this week:
In an interview with Good Morning America -  her first, since her allegations about Weinstein came to light via the New York Times' initial report - Ashley Judd was presented with a photo sent to ABC News by Weinstein's team. It showed Judd and Weinstein holding hands during a Vanity Fair Oscar party.
There is, of course, nothing that can signal whether in fact this is a last-ditch effort to silence the one woman whose voice refuses to quieten in the wake of the Weinstein scandal.
It's curious, and it would be foolish of us to not consider it so.
But in the meantime, as we try to decipher one way or another, we can be sure of one thing: an arrest warrant issued for Rose McGowan should do nothing to distract from an alleged but well-hashed Weinstein narrative of power, abuse and manipulation.
Listen: The Mamamia Outloud team break down the Harvey Weinstein saga.