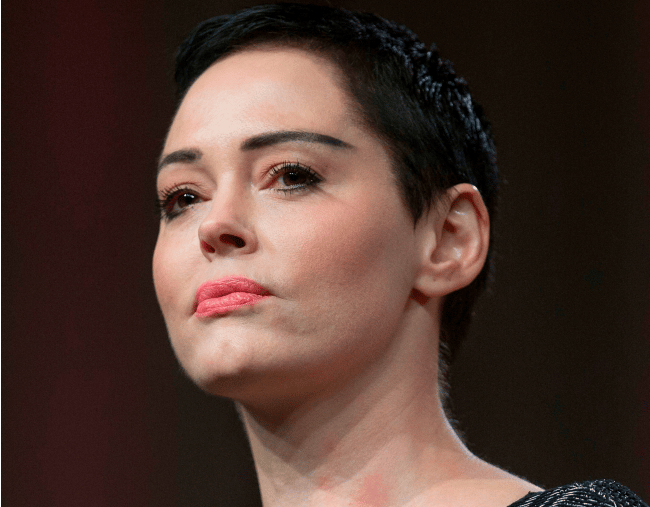 The following is an extract from Rose McGowan's memoir Brave. 
The cult was a highly sexualised environment, run by men, to benefit men. My father loved it, I could tell. I remember standing in a corner, watching my father preach, as he sat on a thronelike rattan chair. Women—girls—were on their knees staring up at him with dreamy expressions. Women literally worshipped at his feet. I remember looking at the women on their knees. Then my father on his throne. I'll never be like those women, I thought. Never. It grossed me out. Looking back, it was the time of my father's life when he was at his most radiant. Abuse of power was inevitable, and he certainly abused his position.
One day my father said to my very young mother: "Saffron [my mother's name in the cult], I want to be married to this other woman as well." Well, hell. That must have sucked. There have been lots of times I have wanted to go back in time and kick my father's ass, this being one of them. My poor mother's own mom, Sharon, had just died tragically. My mother's dad was gone, too. She was alone in a cult in another country with a bunch of kids she was told to have and now this? It must have been crushing. She had no choice, and he took another wife. That's how my four youngest siblings—two full and two half—are so close in age.
If the world were 100 women, this is what they'd look like. Post continues.
Children of God next started advocating child-adult sex as a way to "live the law of love," which is just beyond disgusting and criminal. I saw an eleven-year-old girl being forced to sit next to a naked man, with his floppy dick on his leg. They made her sit between his legs so he could "massage" her back. I saw her tears. Even then I knew none of it was "normal," whatever normal was. I don't think there really is such a thing as "normal," but I knew that this was something deeply wrong, something to be avoided at all costs.
I feel bad for that small child I was, who from age three or four already knew so much about surviving. I didn't know what it was like to feel safe. In its place, there was stress and, underneath it all, a deep undercurrent of fear running through the commune. From a very early age, I realised kids were very far down the list on things to care about, which is lame when you're the child on the bottom of that long list.
An unfortunate necessity in this environment was being able to immediately pick up on danger. I excelled at it. One of my survival skills was, upon entering a room, to locate a weapon. I would do an immediate scan of the area to see what I could use to cause someone else the most damage and defend myself against attack. My quick mind and rapid thought processes have been my lifelong saviour as much as my fight. I've always gone by the seat of my pants, and my intuition is damned good. It's too bad I didn't apply the same skills to Hollywood. It would have saved me a lot of heartache. It could have saved me from unspeakable trauma.