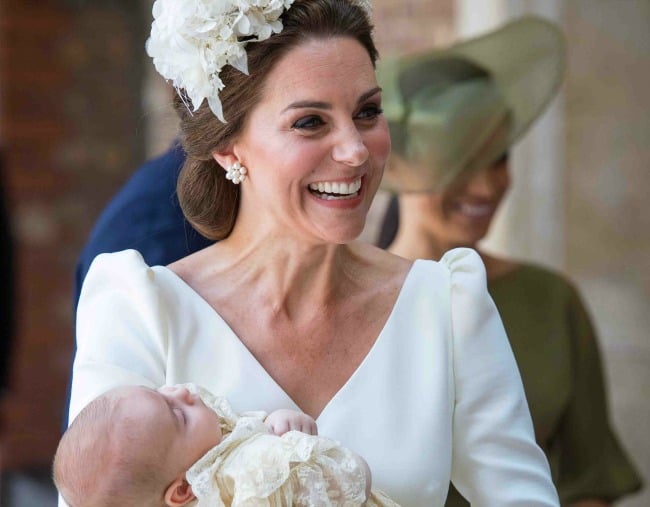 Well.
Prince Louis has six godparents which feels like a lot, mostly because it's four more than is customary.
The Duke and Duchess of Cambridge appointed six people, a mixture of friends and family, to look over little Louis.
They include Nicholas van Custem, a close friend of the royal family, Harry Aubrey-Fletcher, a school friend of William's, Laura Meade, the wife of one of William's closest friends, Hannah Carter, a school friend of Kate's, Lucy Middleton, the Duchess' cousin, and of course, Guy Pelly, once named the 'court jester' because of his excessive drinking and 'wild ways', which were said to be a very bad influence on William and Harry.
Cool.
But we have a feeling that these six men and women are frantically googling 'what the hell are godparents meant to do?'. Especially Mr Pelly who is wondering how soon is too soon to buy his buddy Louis his first beer.
That's not your job, Mr Pelly. 
So, what exactly is the role of godparents? Are you meant to teach them things about… religion? Do you have to… buy them presents? Is there a… manual?
A godparent, according to Baptism: A User's Guide, is a person chosen by the parents to look over and take interest in their child's upbringing. Traditionally, they were also the people entrusted to take care of the child if anything should ever happen to both parents.
In early Christianity, the function of the godparents was also, according to Father William Saunders, to "attest to the integrity of the person… seeking admission into the Church."
By the 5th century, male godparents were referred to as 'spiritual fathers', guiding children through their own spiritual enlightenment.
The role developed into more of an honorary one, where the godparent is expected to stay connected and involved with their godchild throughout their life.
Today, the title of godparent has no legal standing. It basically means the adult who sponsors the child's baptism. They are to be a friend and a mentor, and support the child through all their life stages.
Generally, a child is given a godmother and a godfather, but in the case of the royals, the large number serves a very important purpose.
Robert Jobson, royal editor at the Evening Standard says, "There's a feeling that because of their role as members of the royal family that they need as many confidants as they can get apart from their parents."
That seems… fair.
Prince Louis was beaten out, however, by big brother George, who has no less than seven godparents.
So – what are you actually meant to do as a godparent?
Well, go to the Christening, if there is one. Check in on them from time to time. Buy them a birthday present every few years (keep it sporadic – it'll teach them resilience) and every now and then, drop a pearl of wisdom.
Something like: "Never trust a person who claps when the plane lands… It's weird."
Simple.