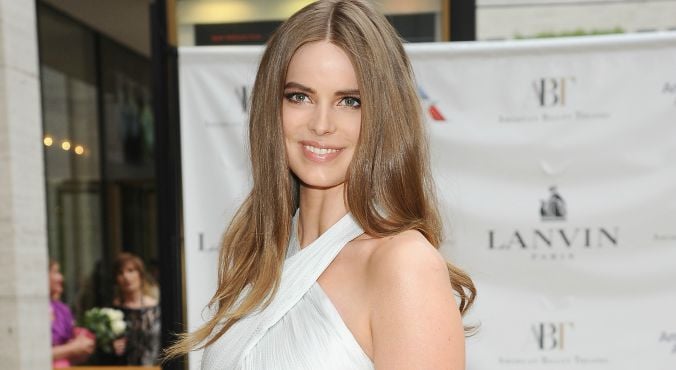 Image: Getty.
In case you were wondering, Robyn Lawley is as glamorous in person as she is in photos. She's bright-eyed and statuesque and has the kind of hair that wouldn't be out of place on a Disney Princess (or a Pantene ad, which is handy given she's the brand's ambassador).
But the Aussie model insists there's one place where you won't find her looking quite so put-together: the gym. While she loves her Lululemon leggings, Lawley says the rest of her ensemble isn't as Insta-worthy.
"I usually just wear an old, daggy T shirt on top. I don't know why I never wear or buy fitness tops. I'm very unglamorous working out. I'm just daggy central," she says.
I was relieved to hear this, because I've never managed to look 'good' while exercising – and I'm perturbed by the idea that I'm supposed to. I mentioned to Robyn that a makeup line designed to be worn during workouts has just been released, and she was equally bemused by the whole thing.
"It is frustrating. I can't be worried about looking good because I go bright red, beetroot red almost immediately when I start training. So there's nothing I can do to hide it," the 26-year-old says.
Watch: The Glow team shares our most embarrassing gym moments. (Post continues after video.)
"I was watching someone, she was so beautiful working out. She was just so trendy and cool and I was like, 'Can this just be the one place where we don't care so much about it?' But of course it's not."
Phew. I'm not the only red-faced dag at the gym, then.
Here's what else Robyn shared while she was in Sydney last week.
Did you fall for any tragic beauty fads back in the day?
"So many. Sometimes I tried to draw my eyebrows in and I don't do a very good job — I didn't realise you're meant to do a light colour like a taupe or a beige, not black. I looked like Black Bird from the Muppets, and it was hilarious. I have all of those photos for life."