Two years on from the death of Robin Williams, the much-loved actor and comedian's widow, Susan Schneider, has penned a powerful essay about his final months, titled, The Terrorist Inside My Husband's Brain.
Published in the medical journal Neurology earlier this week, 52-year-old Schneider began, "This is a personal story, sadly tragic and heartbreaking, but by sharing this information with you I know that you can help make a difference in the lives of others."
Throughout the essay, Schneider focussed on the little-known illness that gripped her husband and ultimately took his life, Lewy Body Disease (LBD).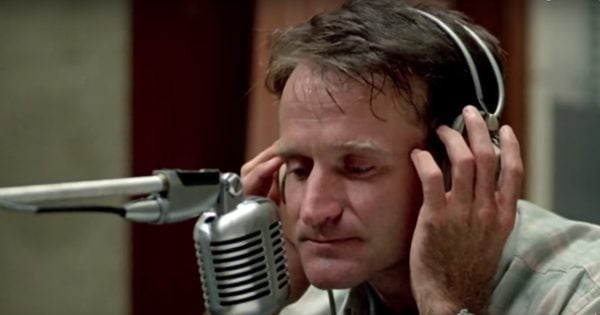 Robin Williams in Good Morning Vietnam. Source: Youtube. 
"When LBD began sending a firestorm of symptoms our way, this foundation of friendship and love was our armor," Schneider said, adding Williams' symptoms began surfacing just ten months before his death.
"He had been struggling with symptoms that seemed unrelated: constipation, urinary difficulty, heartburn, sleeplessness and insomnia, and a poor sense of smell—and lots of stress.
"He also had a slight tremor in his left hand that would come and go. For the time being, that was attributed to a previous shoulder injury... By wintertime, problems with paranoia, delusions and looping, insomnia, memory, and high cortisol levels—just to name a few—were settling in hard," she continued.