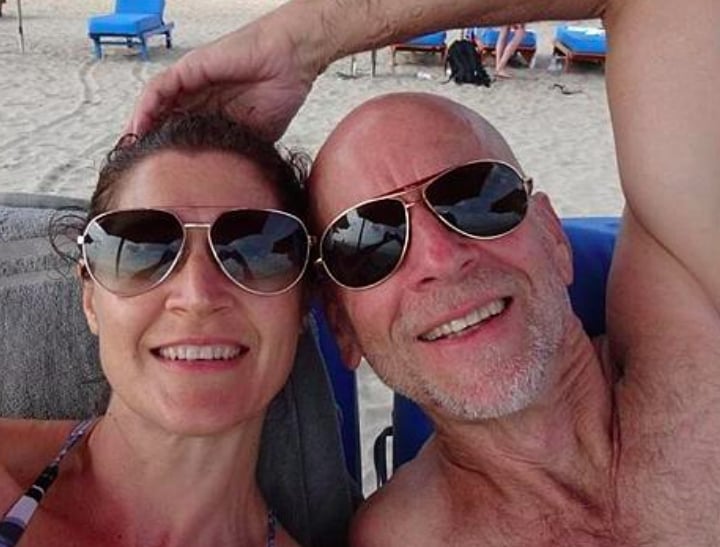 We've rounded up the biggest news stories from Australia and around the world — so you don't have to go searching.

1. A man charged with murdering his wife has taken his own life in custody.
A well-known South Australian health official who pleaded not guilty to murdering his wife on a Tasmanian mountaintop has taken his own life in custody.
Robin Michael, 63, allegedly murdered Kerry Michael, 44, on February 12 while the couple holidayed in northwest Tasmania.
After allegedly killing his wife, Mr Michael – in a lengthy note on his Facebook page – claimed his wife admitted to having an affair with a mutual friend, The Advertiser reports.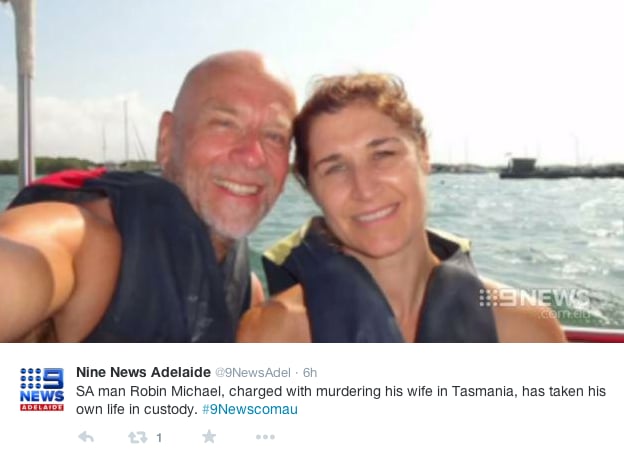 "I hold her at night and there is no drug that would deliver that same sensation to me … I thought she was my life partner and would never do me wrong. She is my heartbeat," he wrote.
"What the hell I did to drive her away I will never know, and am probably the least able to understand and accept."
The exact circumstances of Mr Michael's death at Risdon Prison Complex have not been confirmed.
Tasmanian Corrections Minister Vanessa Goodwin said a coronial inquest has commenced.
If you need someone to talk to, contact Lifeline on 13 11 14.

2. The prison-break manhunt that captivated the world is finally over.
The law finally caught up with two convicted murderers who escaped from a maximum-security New York prison earlier this month by using power tools to cut through walls and reach the sewerage system.
The three-week manhunt ended after an officer spotted David Sweat and gave chase, CNN reports.
"At some point, running across a field, he realized that Sweat was going to make it to a tree line, and possibly could have disappeared, and he fired two shots," New York State Police Superintendent Joseph A. D'Amico said.
The unarmed criminal was shot twice in the torso and is now in custody.
Fellow escapee Richard Matt was killed in a police shootout on Friday.

3. Yooralla manager jailed for sexually abusing a woman in his care.
A Yooralla manager has been jailed for four years after being busted sexually abusing a disabled resident at the care facility on a hidden camera.
A staff member placed the camera in 52-year-old Timothy Hampson's office after becoming suspicious of his behavior, the Herald Sun reports.
Hampson told police he asked the woman – who has low-functioning autism and a reduced intellectual capacity – into his office for a hug and sexually abused her on May 16, 2014.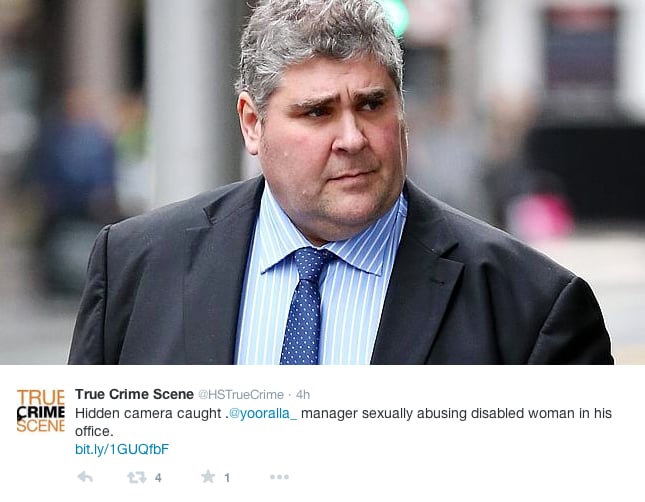 "It was the normal routine from there – on to the desk," he said.
The victim told police she and her "special friend, Tim" had their pants down.
Hampson pleaded guilty to four charges, including two charges of sexual penetration of a person with a cognitive impairment.
He could be released on parole in two-and-a-half years.

4. Senator opposed to gay marriage spotted partying at Pride Night celebration.
A Nationals senator whose gay brother has publicly criticised her stance against marriage equality has been photographed at a party celebrating the historic US reforms.
Bridget McKenzie was "very evasive" while on the dancefloor at a Pride Night event St Kilda's GH Hotel on Saturday night, Port Phillip Leader reports.
"Every time I was even in the vicinity while taking photos of other patrons, she was running away," photographer Daniel Sutton said.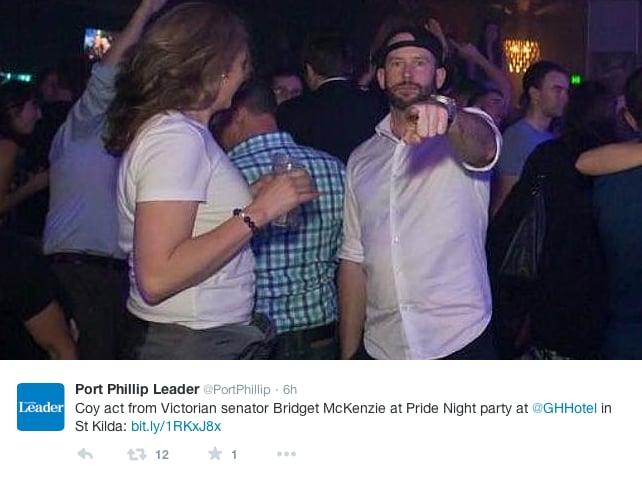 Mr Sutton said after being recognized she hid behind a curtain and left.
Leader reports Senator McKenzie was with two male colleagues, believed to be Liberal Senators Sean Edwards and Dean Smith.
Senator McKenzie said she was unaware of the event's theme and had not changed in her opposition to gay marriage.
5. The teenager who died in Sydney's QVB has been identified.
The 13-year-old boy who died in a fall in Sydney's Queen Victoria Building has been identified as Archie Hunt from Tamworth.
The Daily Telegraph reports the boy, who was with his father and sister at the time of the fall on Sunday afternoon, was a boarder at a Tamworth agriculture school.

6. Caught on video: a slab of beef still pulsating.
A woman bought a slice of beef only to unwrap it at home and find it was pulsating.
The raw steak appeared to twitch as if it had a life of its own — so its owner filmed the bizarre sight and posted a 20-second clip on social media.
The Chinese woman, identified by Daily Mail as Ms Cheng, said:  "It looks like it is still alive, or that there are worms or something inside. However when I cut it open I didn't find any worms, just twitching."
According to a local animal health department official, the beef was just very fresh and the nerve endings had not yet died.
7. Vital sexual assault assistance program for Indigenous women has lost funding.
A program to combat sexual violence against Aboriginal women has lost its private and only funding.
Hey Sis, We've Got Your Back has no government funding and relies on private donations.
However, ABC News reports the project has run out of money and will be forced to cease operations.
"The 'Hey Sis' program is absolutely what you need in Aboriginal communities, it's Aboriginal-owned, Aboriginal-run, run by women who have walked in the shoes of the women that they're working with," Indigenous politician Linda Burney said.
The program costs $250,000 per year to run.

8. Q&A host says former terror suspect should not have been allowed on show.
Q&A host Tony Jones has admitted allowing Zaky Mallah onto the ABC show was a mistake.
Jones "acknowledged that an error" was made, and said had the Q&A team known of a sexist tweet Mallah had sent prior to the program, they never would have allowed him to appear.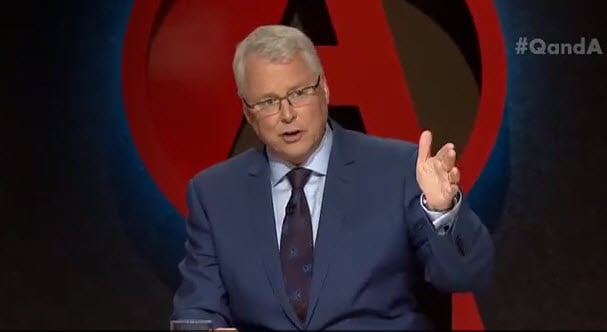 "The Q&A team were not aware at the time Zaky Mallah appeared of the very offensive misogynistic tweet that he put out about two female journalists. Had we known, we would have rejected his participation," he said.
The Guardian reports Mallah tweeted that two female journalists should be "gang banged."
Mallah caused controversy last week after implying Liberal minister Steve Ciobo's attitude to terrorism and citizenship justified Australians fighting with ISIS.
Mallah was arrested and charged as a terrorist under the Howard government, but was later acquitted.

9. NSW school awarded largest ever payout for sexual abuse victims.
Students of the Fairbridge Farm School have received the nation's largest compensation claims for victims of child sex abuse.
Approximately 150 former students at the boarding school will receive $24 million from the Fairbridge school Foundation, and the state and federal governments.
Students — mostly British migrants — were physically, sexually and psychological abuse at the hands of the school's staff.
According to Mail Online, some students likened the horrific conditions to "slavery".
The school was operational between 1938 and 1974.

Get more headlines in this 90 seconds clip:
Do you have a news tip? Email us at [email protected]
[post_snippet id=324408]