Remember that time Robbie Williams forcibly kissed a clearly reluctant Carrie Bickmore on live television?
We'd nearly forgotten about it, too. But the eyebrow-raising 2014 incident was dragged back onto our screens tonight during The Project's interview with the superstar entertainer.
Yet rather than clear the air, the father of two simply made things a whole lot more uncomfortable.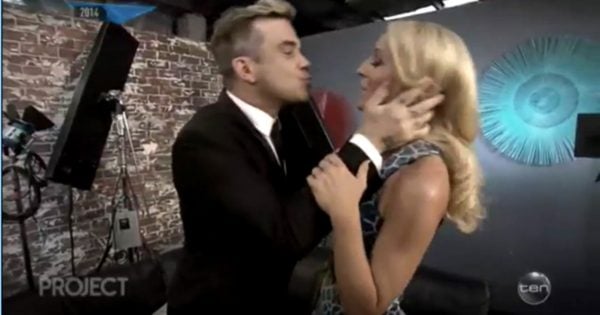 "No." Image: Channel 10.
In case you missed it at the time, Bickmore had posed a question to Williams about the fact that he'd kissed a number of male presenters (including Karl Stefanovic) during his press tour.
But before she even finished her sentence, the singer leaned in and pressed his lips against hers, as she recoiled.
Williams said at the time, "She pulled away. It was nearly a sexual assault."
When the footage was replayed tonight - to much laughter from the panel and audience - Williams, 42, seized on the levity.
"It's the Donald Trump school of entertainment, that is," he quipped, drawing gasps from the crowd.
Turning to Bickmore, he continued, "Listen, I read your reviews on the internet, on the Tinder application, and it said you were a goer. And if it said you were a goer, I just thought I'd go in for the pash."
Williams then added that he'd subsequently searched The Project host online, and recalled he had discovered she is married.
"Well, I'm not married," Bickmore, 35, responded. "But, look, my relationship has only just recovered from that kiss, so let's not rekindle anything".
Williams conceded. "Let's not bring it up again, okay," he said. "I'm sorry."
Let's just say Bickmore was very quick to move the conversation on from that point.