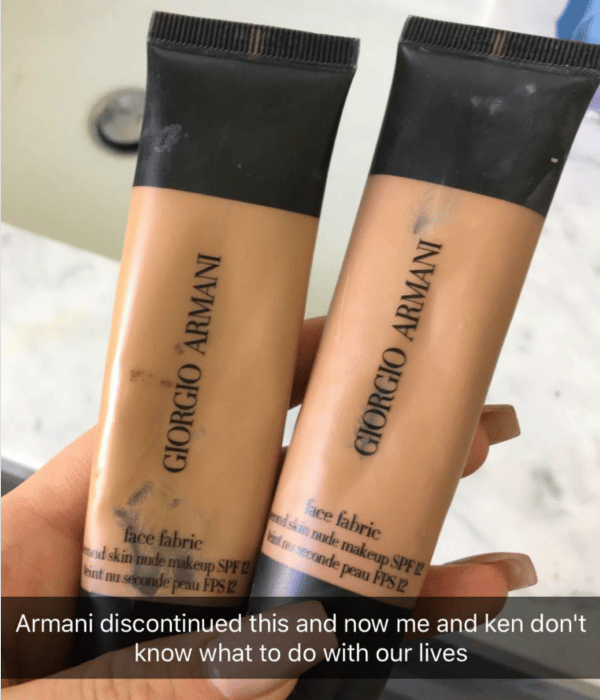 Kylie Jenner and I don't have much in common. I have a somewhat similar face to the one I was born with, my mum is a teacher, not my manager, and my snapchat story mostly consists of videos of my dog doing cute things (look! He's sleeping!), not me lip syncing and/or pouting.
But earlier this week, I was suprised to discover we do have one thing in common.
We both know how it feels to have your favourite makeup product discontinued. Kylie recently shared a snap of her Giorgio Armani foundation with the caption 'Armani discontinued this and now me and Ken don't know what to do with our lives.'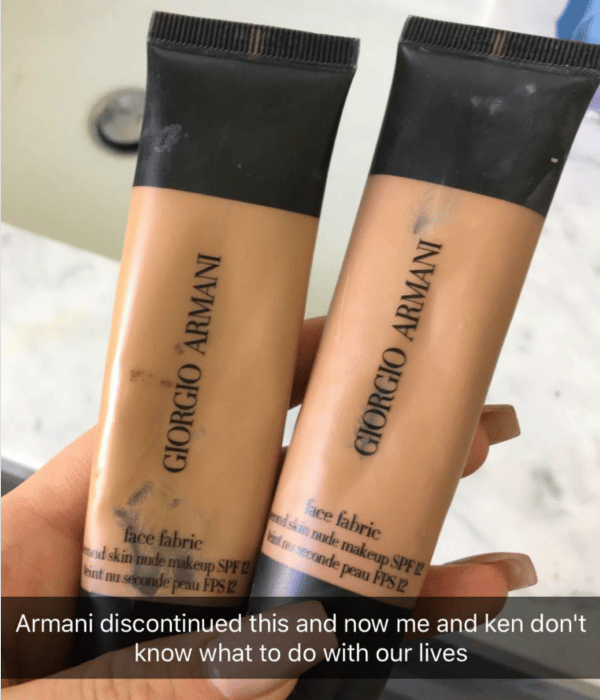 It's only $70 - quite cheap for a Kardashian. Image via Snapchat.
I KNOW, RIGHT. IT'S SUCH AN INJUSTICE. I KNOW EXACTLY HOW YOU FEEL, KYLIE.
I have to admit, I usually swipe through Kylie's snaps very quickly, in the interests of getting to Zoe Foster Blake's sooner. Has she taken a picture of Sonny? Has he done a face swap? WHAT IS HE DOING RIGHT NOW?
Ahem.
But while I'm not exactly familiar with Armani makeup, I'm all too familiar with Kylie's feels. Because I went through a similarly harrowing ordeal not long ago.
For me, it was my beloved Rimmel waterproof gel eyeliner. Now, I've always been one to get my makeup the good old-fashioned way: from Woolworths. And my Rimmel eyeliner (not the long skinny one, the one with the pot and brush) was potentially my greatest ever makeup find.