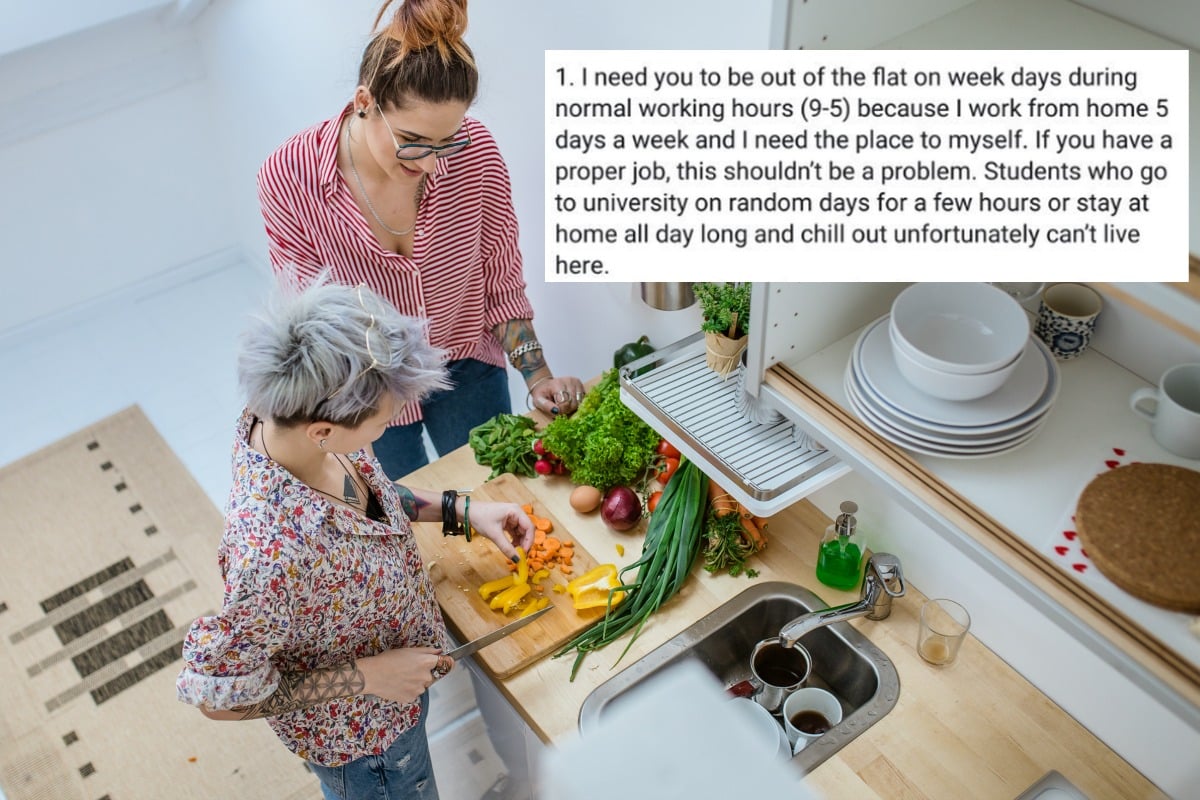 Anyone who's rented a home with relative strangers knows share-housing can be difficult at times.
But we're guessing very few people have faced a living situation like the one described in a list going viral on Twitter right now.
The list, shared by Twitter user rxdazn, was written by an unknown renter for prospective housemates of an apartment in London and describes 11 rules for moving in. Yep, 11.
And these aren't just your typical requests – "no smokers", "no pets" etc. No, this person is very particular about the type of person they want living with them.
anyone looking for a flatshare? pic.twitter.com/SChTq0Jj3h

— rx (@rxdazn) November 23, 2018
For starters, you need to have a "normal" nine-to-five job – shift-workers and students need not apply. Oh, but don't expect to cook your breakfast before work – there's no cooking before 8.30am.
The resident wants their flatmates to be out of the house from 9am to 5pm – because they work from home and want the flat to themselves – which "shouldn't be a problem" if you have a "proper job". Because waiters, nurses, chefs and police don't actually do any work, do they?
Secondly, they want someone who doesn't slam doors and is generally quiet. Which maybe doesn't sound so bad… until you learn what their definition of quiet is.
"I used to have a flatmate who was on Skype for two to three hours every day. I won't have that," they wrote.
Even if you're talking "quietly", this person is not interested. And it's not just communicating with others verbally they have a problem with – it's also listening to the radio, podcasts and laughing.