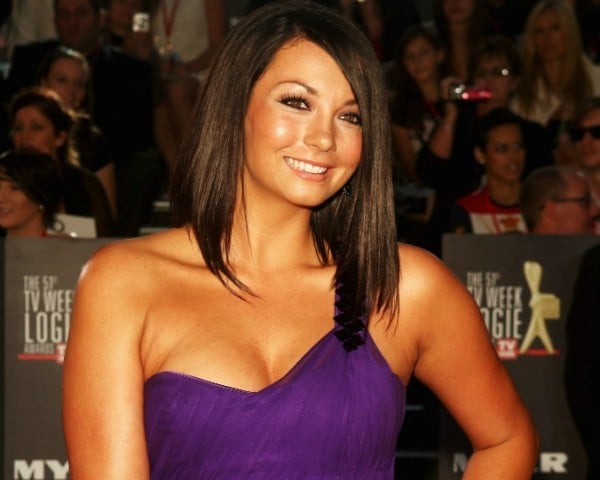 Ricki Lee at the Logies in 2009. Image via Getty.
Over the past few years, Ricki-Lee Coulter has embarked on a well-documented journey to get healthier – not through fad diets or worrying weight loss trends – the old fashioned way: hard work, healthy eating and plenty of exercise.
Yet the 29 year old has found herself having to defend and demystify her lifestyle (again). In a lengthy Instagram post, the singer addressed those who constantly discuss and diss her body.
RELATED: "I can't stop laughing". Chrissy Teigan's response to body-shaming snark is all class
"There were, and still are a lot of people that don't understand why – and hate on me for changing, but I don't care because I made those decisions for me and me only… and it's only made my life better," she says.
"I try to read as many of your comments as I can and I've noticed some people saying, 'You're so lucky you can eat whatever you want and stay slim.' But I just want you to know that it's not the case at all." (Post continues after gallery.)
Coulter went on to explain she has lapses where she relaxes her training and indulges, but works hard to stick to a routine.
"I'm not one of those girls who is naturally thin and can eat whatever I want. I am consistent with the food I eat day in day out and I work my ass off in the gym… literally," she posted.
"I eat the same clean foods every day, I train hard six days a week and don't drink alcohol regularly. I plan my 'cheat meals' and work hard to earn them and I savour every mouthful! And then I'm sweating it off the next day in the gym."
RELATED: Jennifer Aniston's eating and fitness secrets are surprisingly doable
Since first appearing on the second season of Australian Idol (she came seventh) Coulter spent time in the all-girl pop group Young Divas before pursuing a solo career in 2007, but it has continually been her "curves", not her career, that regularly make headlines.
For years, Coulter was simultaneously praised for "bucking the skinny trend" and subjected to suggestions that she'd be better if she lost weight, according to a 2009 interview with WHO.