Several members of The Bachelor and The Bachelorette casts are set to battle it out on an 'all stars' edition of Family Feud next Monday night.
However, it seems not everyone was invited.
Earlier today, Richie Strahan posted a behind-the-scenes image from the upcoming episode, which depicted the rope access transition standing beside former co-stars Davey Lloyd, Dave Billsborrow and host Osher Gunsberg.
One glance at the comments section suggested fellow The Bachelorette star Will Ferrier couldn't resist taking a chummy swipe at his friend.
"Whaaaaat?! Where was invite! @kayne_buik we're getting screwed let's get us on wheel of fortune!" he wrote, tagging fellow Season One contestant Kayne Buik.
Oh. Awkward.
Billsborrow then seized the opportunity to jump in and cheekily rub his nose in it.
"After your project interview they probably thought you were to much of a weirdo. And I wouldn't want it any other way.. xx," he wrote to Ferrier.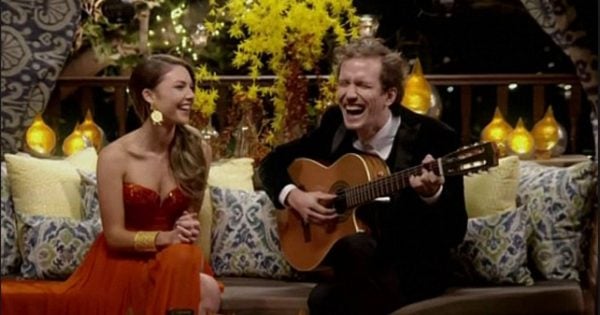 Awkwardness aside, we're actually on board with Ferrier's suggestion of a Wheel of Fortune episode starring ex-contestants from The Bachelor.
We'd like to buy a vowel and Matty J for $400.
The All Stars Family Feud special is set to air on Channel 10 on Monday at 7:30.
Feature image via Instagram @richiestrahan.
To hear more about all your favourite shows, listen to The Binge. It's the podcast where smart women talk TV.