It was the wedding of the year, the union of Nine Network golden couple Today Show host Sylvia Jeffreys and reporter Peter Stefanovic on Saturday at the gorgeous Kangaroo Valley in NSW.
Such a high-profile event was always going to be a paparazzi target and while they did their best to get a "scoop" on the big day, it was the newly married couple and their wedding guests who managed to one-up them by posting several photos from the day.
They let the paparazzi with their blurry drone pics and distant footage shot from a helicopter.
Guest and fellow Nine reporter Richard Wilkins was at the event and he talked about the buzzing of the paparazzi drone and helicopter during the outdoor ceremony as Jeffreys and Stefanovic exchanged vows.
MMOL talk about weddings from the most expensive to the cheapest so far this year. Post continues… 
"We were all standing around there at this sort of lake and the boys were there, all the Stefanovics and all their handsomeness was standing there," Today Show Entertainment Reporter Richard Wilkins, 62, told Nova's Fitzy and Wippa this morning.
"And then the bridesmaids came by one by one and then Sylvia walked out with her dad and there were rose petals flying around…the only pain was the drone and the helicopter."
Wilkins said the wedding was beautiful but the papparazzi got a few things wrong. Firstly, big brother Karl wasn't the best man as has been widely reported, but Pete's best mate Michael "Monty" Tramonte from Aussie band The Delta Riggs doing the honours and delivering the speech.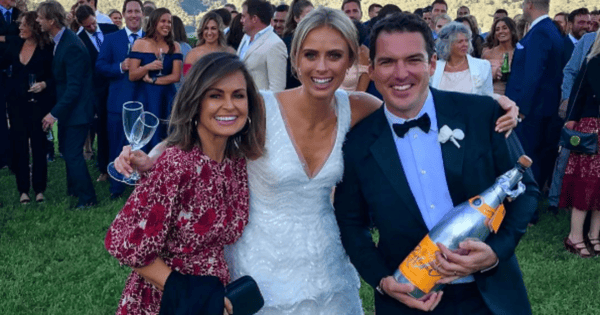 He did confirm that it was Pete's brothers, Today Show host Karl Stefanovic and brother Tom, who delivered that hilarious rendition of Oasis' song "Wonderwall", the audio of which has been leaked.
Wilkins said Oasis music featured throughout the ceremony and reception.
"Everyone sung them during the service which was so cool, I can't begin to tell you. I wish I'd thought of that a couple of weddings ago cause it's a great idea."
Wilkins poked fun at himself, saying it was nice to attend a wedding at which he wasn't the groom.
"It's nice to go a wedding when you're not standing next to the chick in the white dress. It was a great group of friends, quite a small, intimate wedding.
"Sylvia and Pete are part of our little work family and we love them both dearly and Pete's like a brother to me and Sylvia's like a sister and I'm honoured to work with them both and to see them just so happy and surrounded by so much love and friends and family.
"It was just a glorious weekend."
This morning Sylvia and Peter took the time to send a video in which they thanked the public for their support and well wishes.
"Thank you everyone so much for all the love and the well wishes and the congratulations that we've received over the last 24 hours," Jeffreys began. "We are feeling all your love and all the warmth right now. We're on cloud nine and we just had the best time ever of the last couple of days."
Stefanovic jumped in and thanked Today show colleague Tim Gilbert for being the MC of the wedding reception.
"If you are looking for a high quality, very smart, very intelligent, very clever, very witty, very funny MC, ticks all the boxes, Tim Gilbert is most certainly your man."
Jeffreys, 30, and Stefanovic, 34, were married on Saturday at Kangaroo Valley Lake followed by a reception at Ooralba Estate in Kangaroo Valley. The couple were engaged after two years of dating.
What is your dream wedding location or where did you get married? Share your story in the Comments section below.