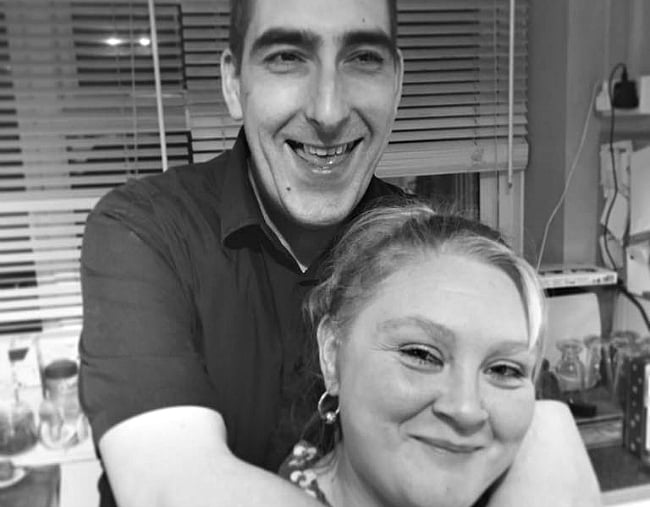 With AAP.
1. Groom dies just hours after marrying his soulmate.
Newlywed Michelle Plumley ought to be on her honeymoon, basking in the joy of her recent wedding and the love of her soulmate. Instead the British woman is appealing for donations to help cover the costs of her husband's funeral.
Bristol man Scott Plumley died on August 15, just 13 hours after he and Michelle wed in hospital. The 41-year-old had been diagnosed with Stage 4 oesophageal cancer just two days prior, after experiencing persistent indigestion.
Given a prognosis of "weeks at most", the couple – who had been together for two years – decided to rush their impending wedding. With the help of family, friends and neighbours, the 32-year-old mother of two managed to pull it together within 20 hours.
"He was so strong, really battling being obviously in pain," Michelle told The Bristol Post. "He could hardly speak, but when they asked 'do you take this woman' when we were saying our vows, he answered loudly: 'I sure do!'"
Scott died at 1:30am on their wedding night, with Michelle by his side.
"I sat with him, holding his hand and he smiled, and kept saying he was sorry and 'I love you'. I was holding him and kissing him and he took three gasps of breath and I said, 'It's OK baby, I will be fine, you can now, and get out of the pain.'"
Michelle and her family have now launched a GoFundMe page in an effort to give her husband the "send off he deserves".
"We only had two short years together, but they have been the best, with so many happy memories," she wrote on Facebook. "You can R.I.P now my kind, gentle, funny, caring husband. Please keep shining down on me, Bailey, and Amelia. Thank you for making me your wife. I'll always love you and never forget you."
2. Police offer $500,000 reward to solve Melbourne sexual assault case.
This is Chloe and she has bravely shared her story in the hope that someone may recognise the offender who raped and assaulted her. We urge you to watch this and please share to bring Chloe justice. pic.twitter.com/nWSNkhRwSQ

— Victoria Police (@VictoriaPolice) August 18, 2018
Chloe was just 22 and had a seven-week-old baby when she was stalked, dragged into a North Melbourne laneway, bashed and sexually assaulted by a man who is still on the loose five years on.
It was June 30, 2013 and the new mum had been with friends enjoying her first night out since having her son, when her world was shattered by the vicious attack on her walk home.
Chloe has given up her anonymity to appeal for information to catch her attacker as Victoria Police announce a $500,000 reward.
"It destroyed me for a really long time," Chloe said in a video released on Sunday.
"I was a new mum, I couldn't be the mum I wanted to be because I was dealing with this.
"As much as it damaged me, I think it damaged me and my son's relationship."
The man followed Chloe for more than a kilometre up King Street, along Victoria Street and into Chetwynd Street and as she passed Browns Lane, the man grabbed her and dragged her into the lane.
He then unleashed a flurry of punches to her head, knocking her to the ground, kicking her in the the head before sexually assaulting her.
"You should be allowed to walk where you want to walk, you should be able to do what you want to do, you shouldn't have to fear for yourself or fear that someone's going to follow you and do something like that to you," she said.
Chloe spent time in hospital after with a broken nose, split lip which has scarred as well as significant injuries from the sexual assault.
Detective Inspector Steve Wilson said police in particular wanted to speak with four men who may have seen Chloe walking before she was attacked.
"Brutal's not a word I use very often but I think it's the best way to describe this particular attack," Det Insp Wilson told reporters.
"Because of the extremity, the extreme violence involved, we need to do justice for Chloe."
Police have say they have several persons of interest and have interviewed one man, but they are missing some vital pieces of information.
"He's been quite prepared to use that extreme violence so he's someone we need to get off the streets," Det Insp Wilson said.
Police have released CCTV of Chloe walking home from the night and a CrimeStoppers re-enactment of the attack along with Chloe's video and the reward.
The man was last seen running south down Chetwynd Street and is described as being of either Asian or Indian sub-continental appearance, medium build with short, black cropped hair and unshaven with stubble and he was wearing a black top, blue jeans and an open leather jacket.
3. Prime Minister fends off rumours of leadership spill.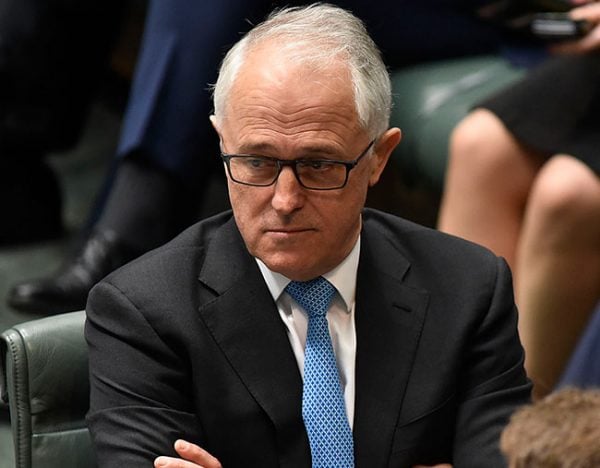 Malcolm Turnbull is trying to head off a fresh round of infighting over his energy policy that has led to leadership rumbles.
The Prime Minister gathered his senior ministers together for dinner on Sunday night amid growing speculation he could be in strife over the government's National Energy Guarantee.
But his Home Affairs Minister Peter Dutton reportedly missed the dinner because his flight was delayed, in what many commentators took as a "snub" and clear sign the party's leadership will be challenged.
The Daily Telegraph on Monday reported Mr Dutton has told the Prime Minister he did not want to run against him, however he did not rule out a challenge in the private phone conversation.
It comes as the latest Fairfax/Ipsos poll showed the coalition's primary vote has dropped from 39 to 33 in just a month, and Labor leading the coalition 55 per cent to 45 per cent on a two-party preferred basis.
Some conservative colleagues unhappy with the NEG have begun drifting towards Mr Dutton as their preferred prime minister.
The leadership chatter grew much louder last week after Mr Dutton warned during a radio interview that further disagreements could lead to his resignation from cabinet.
In a bid to quell the bubbling unrest, the Prime Minister took to social media to propose a number of changes to his signature energy policy.
Mr Turnbull has promised to wield a "big stick" over electricity retailers who charge too much, and make it easier for power consumers to tell when they are being ripped off.
He has also offered to regulate - rather than legislate - Australia's commitments to reducing carbon emissions.
During Sunday's dinner in Canberra, the Prime Minister was expected to float the idea of abandoning big business tax cuts rather than fighting for them up until the next election, if they are defeated in the Senate.
However, it remains to be seen if these changes will be enough to win over restless colleagues, or whether they could potentially backfire by alienating his supporters.
Mr Turnbull tried to brush off talk of rising numbers against him in the coalition party room.
"I'm focused on getting energy prices down and I'll leave you to all of the speculation," he told reporters on Sunday.
4. Hero son who took on gang of intruders to be given posthumous bravery award.
Kesley Burgess was born a hero, his mum says, but now - eight years after his death - his bravery is "cemented in history".
Tracey Burgess could only watch as 25-year-old Kesley armed himself with a sword and stepped into their hallway to fight off a drug-dealing gang who had stormed their home in July 2010.
The invaders were armed with machetes and meat cleavers.
Kesley pushed his mother and girlfriend into a bedroom before striking one of the four thieves as they ransacked his home looking for drugs and cash.
Another invader hit Kesley in the back, then the rest of the gang turned on him.
"By the time my son got to the hospital there wasn't a drop of blood left in him," Ms Burgess told AAP.
"His wounds were like something you'd see in the third world. It shouldn't happen here, not in Australia".
Ms Burgess said her son was her "best friend", her "rock", her "everything" and the man of the house.
He will be among 62 Australians recognised by Governor General Sir Peter Cosgrove for their heroism with a Bravery Decoration on Monday.
As a trained security guard, Ms Burgess said, Kesley always wanted to protect. But he had a wicked sense of humour, would slide around the house in his socks, singing songs or playing tricks on his relatives.
"He was a family hero even from when he was small, he just looked after his friends and his brothers," she said.
"But - for what he did that night trying to protect us - I can't find words. He gave his life for us."
Ms Burgess said she'll accept her son's accolade "with a heavy heart" alongside his youngest brother, Jacob, who has had to lead the family in the wake of Kesley's death.
"My first stop after that will be the cemetery," she said.
"I'll take it to him, I know it might sound silly to some people but I'll go talk to him."
The Australian Bravery Decorations recognise members of the public who selflessly jeopardise their own safety to help others.
The awards define bravery in a crisis as willingly going from a place of safety to danger, or the choice to remain in danger, to provide help.
5. Police call for help to find outlaws "hiding in plain sight".
Operation Roam: Rogue Radar 2018 launched to capture #CrimeStoppers wanted people https://t.co/Y4A845Vi00 pic.twitter.com/amQR7yztkp

— NSW Police (@nswpolice) August 19, 2018
Authorities have turned to the public to help find 10 outlaws, wanted over offences including sexual assault and murder, thought to be "hiding in plain sight" across the country.
Images of the men - accused or convicted of crimes in Victoria, NSW, Queensland and South Australia - have been released in the hopes people recognise them.
One, Jonathon Edward Dick, is wanted over the murder of his brother, David Dick, who was attacked with a sword and knife in the northeast Melbourne suburb of Doncaster last February.
Dick may be living on the streets after changing his appearance, according to Crime Stoppers.
In Queensland, Keith John Porter hasn't been seen since he failed to attend a 2006 sentencing hearing over a cocaine and cannabis syndicate.
Wanted NSW man, Harley Bennett, is thought to have fled interstate in a breach of parole after being jailed over a 2003 sexual assault in Newcastle.
"These criminals may appear to be leading a normal life; they may be your work colleague, neighbour or a new person that has moved to your area, hiding in plain sight," Crime Stoppers Australia chairman, Trevor O'Hara, said on Monday.
Anyone with information is urged to make a confidential report via 1800 333 000 or online, and may be eligible for a cash reward.
OUTLAWS ON THE RUN:
* Arron Michael Blenkinsop (AKA Andrew Ross Bailey): Convicted in Queensland in 2015 for drug trafficking. Failed to comply with conditions after being granted parole.
* Cody Allan Coppock (AKA Cody Gallegos, David Morris): Wanted over an aggravated break and enter at Armatree in NSW in February. Has "Gallegos" tattooed on his forearm.
* Graham Gene Potter (AKA Josh Lawson, Peter Anderson): Charged with two counts of conspiracy to murder at Brunswick in Melbourne in 2008.
* Harley Bennett: Sentenced over a 2003 aggravated sexual assault in Newcastle. Believed to have fled interstate after being granted parole.
* Johnathan Robert Simmons (AKA John Robert Griffiths, Tristian Simmons, John Simmons): Allegedly obtained more than $50,000 from a fraudulent punters website in Adelaide.
* Jonathon Edward Dick: Fled after the murder of his brother, David Dick, at Doncaster in Melbourne in February 2017.
* Keith John Porter: Failed to attend 2006 Brisbane Supreme Court sentencing hearing over a cocaine and cannabis trafficking syndicate.
* Paul Paterson (AKA Paul James, Jason Anthony Taylor): Convicted in 1996 for assaulting a child at Wauchope in NSW. Believed to be in the Darwin area.
* Pham Nguyen: Wanted for conduct endangering life after allegedly getting into a woman's car and splashing her with petrol in Victoria last year.
* Paul Brent Steadman: Former Bathurst karate instructor charged in 2015 with sexually assaulting child under the age of 16. Steadman's car was later found in bushland. He may have died.
For more detail, visit Operation Roam's campaign website.
6. Cruise ship passenger rescued after falling overboard.
A British woman has been rescued after falling from a cruise ship and spending 10 hours in the Adriatic Sea at night, Croatia's coast guard says.
The unidentified woman was taken to a hospital in the town of Pula and is out of danger.
She fell from the Norwegian Star cruise ship about 95 kilometres off Croatia's coast shortly before midnight on Saturday.
A Croatian rescue ship was scrambled and found her swimming on Sunday morning not far from where she was believed to have fallen.
"I fell off the back of the Norwegian Star and I was in the water for 10 hours, so these wonderful guys rescued me," she told Croatia's state HRT television as the rescue ship arrived at a dock, without explaining how she fell overboard.
The ship's captain, Lovro Oreskovic, said that she was exhausted.
"We were extremely happy for saving a human life," he said.
The circumstances of the incident were being investigated and the British embassy in Croatia was informed.
A statement from the Norwegian Cruise Line said a guest fell overboard while the ship was on its way to Venice.
"We are pleased to advise that the guest was found alive and is currently in stable condition," the statement said.