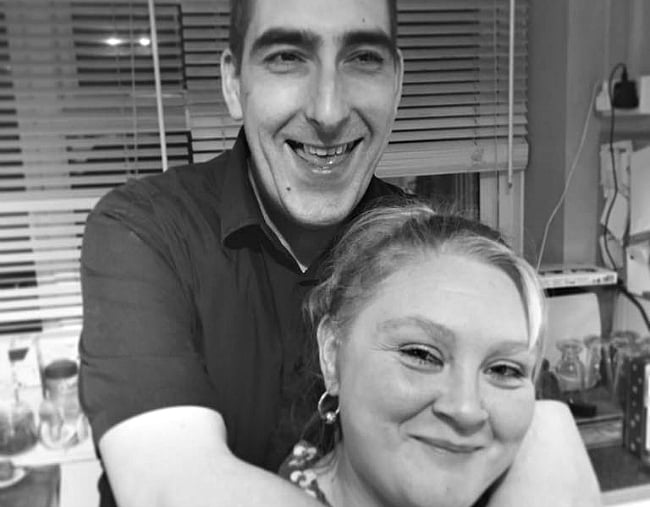 With AAP.
1. Groom dies just hours after marrying his soulmate.
Newlywed Michelle Plumley ought to be on her honeymoon, basking in the joy of her recent wedding and the love of her soulmate. Instead the British woman is appealing for donations to help cover the costs of her husband's funeral.
Bristol man Scott Plumley died on August 15, just 13 hours after he and Michelle wed in hospital. The 41-year-old had been diagnosed with Stage 4 oesophageal cancer just two days prior, after experiencing persistent indigestion.
Given a prognosis of "weeks at most", the couple – who had been together for two years – decided to rush their impending wedding. With the help of family, friends and neighbours, the 32-year-old mother of two managed to pull it together within 20 hours.
"He was so strong, really battling being obviously in pain," Michelle told The Bristol Post. "He could hardly speak, but when they asked 'do you take this woman' when we were saying our vows, he answered loudly: 'I sure do!'"
Scott died at 1:30am on their wedding night, with Michelle by his side.
"I sat with him, holding his hand and he smiled, and kept saying he was sorry and 'I love you'. I was holding him and kissing him and he took three gasps of breath and I said, 'It's OK baby, I will be fine, you can now, and get out of the pain.'"
Michelle and her family have now launched a GoFundMe page in an effort to give her husband the "send off he deserves".
"We only had two short years together, but they have been the best, with so many happy memories," she wrote on Facebook. "You can R.I.P now my kind, gentle, funny, caring husband. Please keep shining down on me, Bailey, and Amelia. Thank you for making me your wife. I'll always love you and never forget you."
2. Police offer $500,000 reward to solve Melbourne sexual assault case.
This is Chloe and she has bravely shared her story in the hope that someone may recognise the offender who raped and assaulted her. We urge you to watch this and please share to bring Chloe justice. pic.twitter.com/nWSNkhRwSQ

— Victoria Police (@VictoriaPolice) August 18, 2018