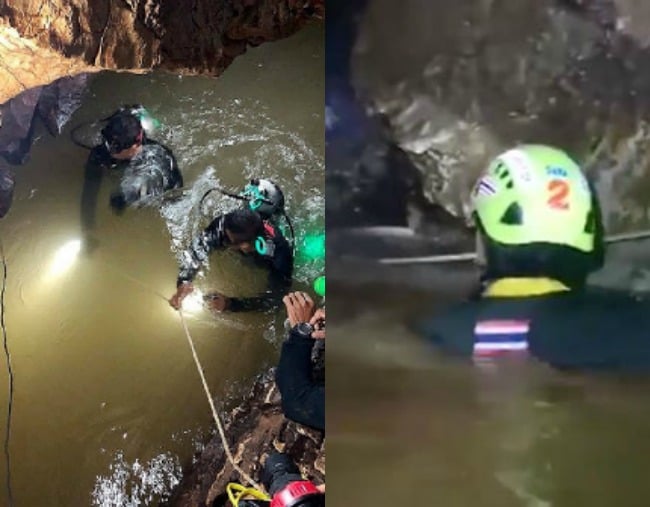 On Tuesday night the final boy, 11-year-old Chain Vibulrungruang, known to friends as Titan, emerged from Tham Luang cave in North Thailand.
It marked the end of a 17-day ordeal, which saw 12 boys aged between 11 and 17, and their assistant coach, 25-year-old Ekapol Chantawong trapped four kilometres deep inside a flooded cave.
They were found by rescuers after nine days, huddling together in a bid to stay warm surrounded by water and complete darkness.
In the week following, they were taught how to dive in some of the world's most difficult conditions.
A diver who knows the Tham Luang cave well, described it as a complex "labyrinth," near impossible to navigate. In parts, the escape route had virtually no visibility, and was filled with mud and debris. The narrowest part of the trek, known as the 'choke point', was just 38cm wide, slightly more than the width of a ruler.
Watch the complex rescue operation that saved the lives of 13. Post continues. 
It would require the children, who had limited swimming abilities, to swim alone, and their accompanying rescue diver to temporarily carry their equipment. The space was only large enough to just fit their head through.
The national coordinator of the National Cave Rescue Mission, Anmar Mirza, who has been involved in cave rescues for 30 years, emphasised the complexity of the rescue operation in an interview with CBS. 
"This is the most scary situation that a person could go through," he said. "You can't make a horror movie that would even compare."
"The trust factor between the children and diver makes it – it's probably 90 per cent of what gets them out of the cave," he said.
The risks associated with the rescue mission were underscored by the death of 38-year-old former Navy SEAL Saman Kunan on Thursday, who died underwater after bringing oxygen tanks to the boys.
Kera Rolsen, the Deputy Chief of the Strategic Planning Division in the United States Airforce, and a certified cave diver with over 20 years diving experience, said the potential for panic was perhaps the boys' greatest threat.
If the boys became anxious or distressed during their rescue, she explained, they risk becoming disoriented, losing their awareness of the thin gold live guiding them, and putting further stress on the divers assisting them.
When asked on Twitter why the boys were not being sedated during the rescue operation, Rolsen replied, "Their bodies are already compromised by starvation, lack of sunlight, and low oxygen. Sedation in those cases would be very medically risky."
There was, however, one small detail that significantly reduced the likelihood of the boys and their coach panicking.
Prior to their dive, they were given anxiolytic, a type of anti-anxiety medication, which according to Thai Prime Minister Prayuth Chan-ocha, was to "make them not excited, not stressed."
Anxiolytics have a minor tranquilizing property that inhibits anxiety symptoms like increased heart rate.
Xanax, for example, is an anxiolytic drug.
The 12 boys and their assistant coach are now being treated in a hospital in Chiang Rai and quarantined for fear of spreading infection. They are at risk of Histoplasmosis, also known as cave disease, which is a "relatively rare fungal infection that infects the lungs but can spread through the body," according to Professor Peter Collignon, the Director of Infectious Diseases and Microbiology at The Australian National University.
"Caves with large numbers of bats or birds and their droppings seem to be a higher risk for histo. Presumably the droppings allow the fungus to grow better in the dirt/soil and then people inhale the fungal spores," he added.
Another concern regarding the boys' health would be waterborne diseases, Professor Collignon said.
"Water is a risk for many infections," he said. "Meliodiosis is also common bacterial infection in Thailand with water a common source for infection."
So far, the boys appear to be in good health and doctors are hoping to reunite them with their parents soon.