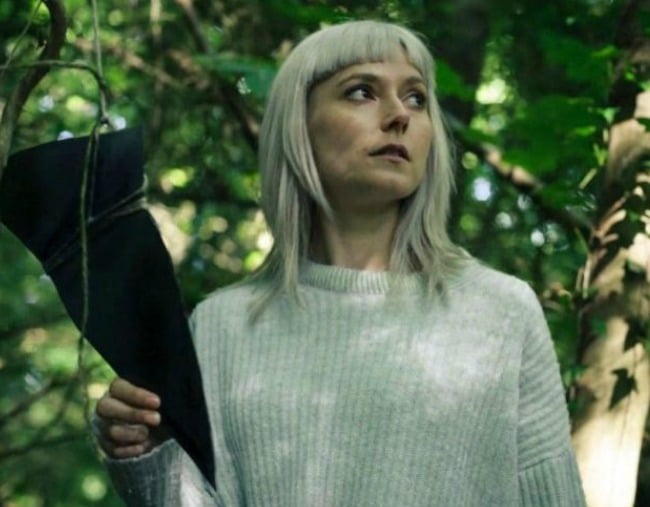 There's a new Netflix series that you need to watch immediately.
Requiem is a spooky, supernatural thriller that will keep you guessing right up until the final credits roll.
It's kind of like The Sinner meets The Kettering Incident, with a dash of Top of the Lake.
In the first episode London cellist, Matilda Gray (Lydia Wilson), finds a series of mysterious photos and news clippings at her mother's place. Her mum had just violently and unexpectedly taken her own life in front of her only daughter.
Requiem is the spooky Netflix thriller you need to watch next. Post continues.
The news clippings are all about a four-year-old girl named Carys Howell, who disappeared from Penllynith, Wales, in 1994.
Carys was never found and Penllynith is still mourning the loss 23 years later.
Along with her musical partner, Hal Fine (Joel Fry), Matilda travels to the small town to try to find some much needed answers about her mum's sudden death.
She soon discovers the town is full of dark secrets which the locals will stop at nothing to protect.
An Australian man named Nick Dean (James Frecheville), invites Matilda and Hal to stay in the mansion he'd just inherited from his wealthy uncle, who also took his own life on the same day as Matilda's mum.
Once settled they begin to dig deeper into the town's past and Matilda's own backstory and she soon realises that she may have more to do with Penllynith than she originally thought.
And while the townspeople might be scary, the supernatural forces they're protecting are downright horrifying.
Soon Matilda is locked in a battle with the townspeople as she confronts her own past and has to make a difficult decision about her fate.
Then it all gets a lil' bit terrifying.
Requiem is a chilling supernatural series that fans of The Sinner and The Kettering Incident will love.
To keep up with all things TV, movies and funnies, follow Keryn Donnelly on Facebook and Instagram.