When the media reported on Dan Vickerman's death on Sunday, the response was immediate and overwhelming.
People were devastated.
Vickerman was 37, survived by a wife and two young sons. Countless tributes poured in for the former Wallabies player, who retired in 2012, with peers remembering him as a "much-loved character" with a "massive heart."
But there was an undertone to the reports of Vickerman's death, as well as the tributes. While no cause of death was reported, the presence of help-seeking information alongside the story said more than the words did.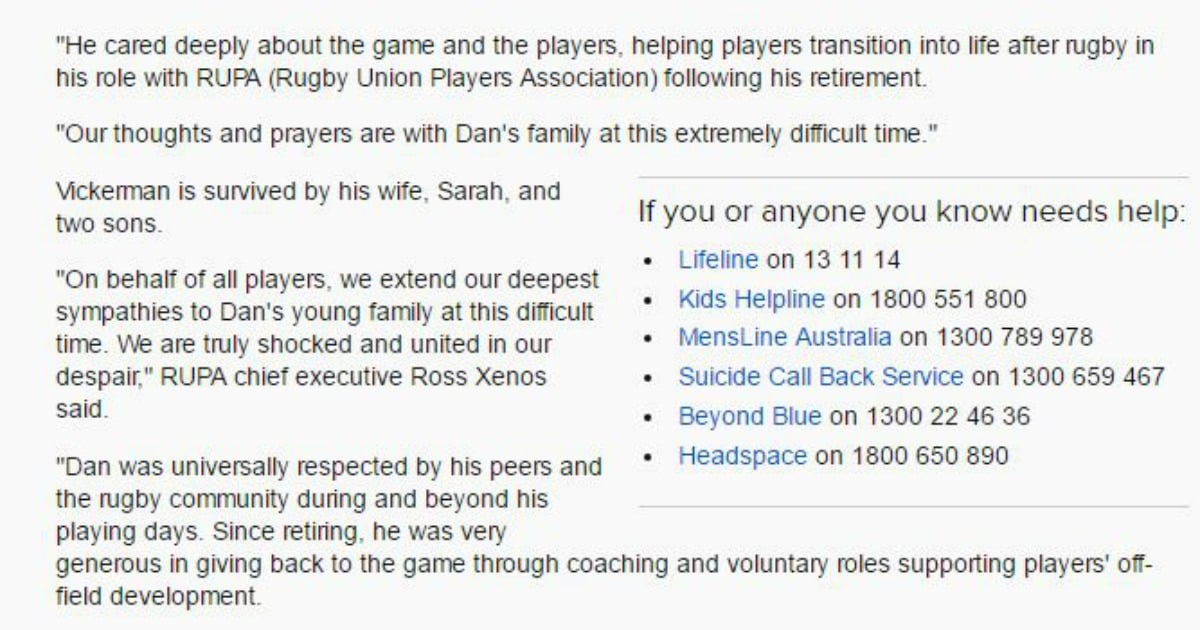 Soon, social media erupted with a conversation about suicide. Readers paired the news that there were "no suspicious circumstances surrounding his death" with the helplines and reached their own conclusions.
Of course, when a sudden death is reported with "no suspicious circumstances" and no other explanation, it often means a suicide.
On Monday night, conservative TV presenter Paul Murray spoke on his Sky News program about whether it's time to tell the full story of suicide in the news.
"Dan Vickerman, played rugby for Australia, played rugby for New South Wales, sadly, he died on the weekend," Murray began. "He took his own life."
"The issue of suicide is one that we'll all obviously feel united by the need to talk about and do something about. But I think the media have to do its part too."