When the media reported on Dan Vickerman's death on Sunday, the response was immediate and overwhelming.
People were devastated.
Vickerman was 37, survived by a wife and two young sons. Countless tributes poured in for the former Wallabies player, who retired in 2012, with peers remembering him as a "much-loved character" with a "massive heart."
But there was an undertone to the reports of Vickerman's death, as well as the tributes. While no cause of death was reported, the presence of help-seeking information alongside the story said more than the words did.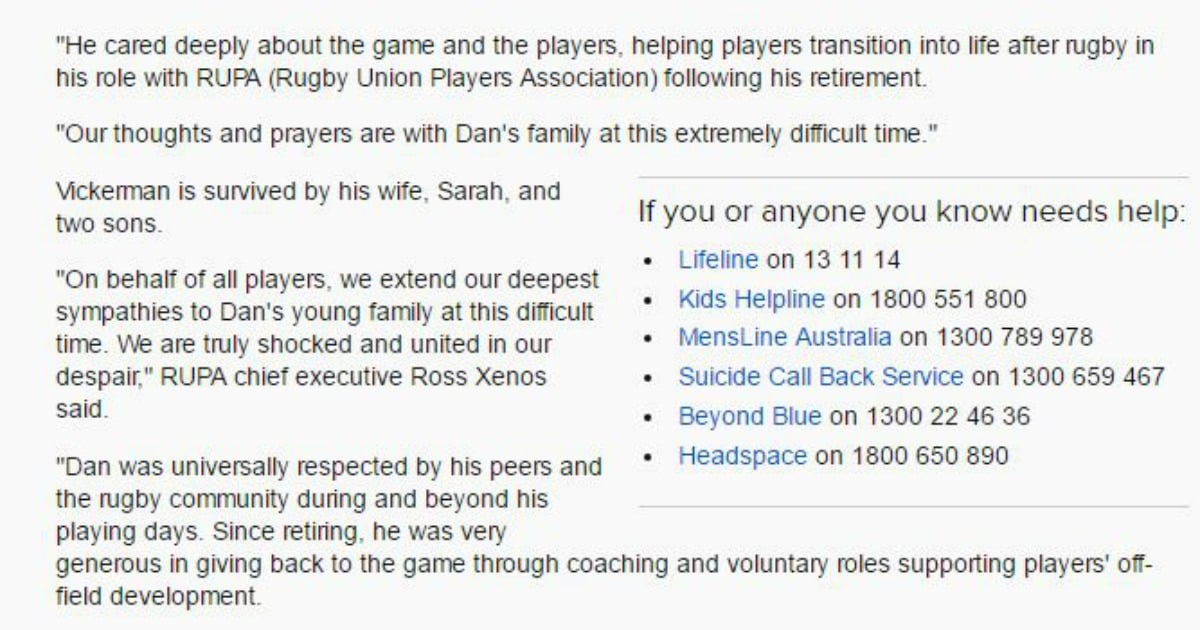 Soon, social media erupted with a conversation about suicide. Readers paired the news that there were "no suspicious circumstances surrounding his death" with the helplines and reached their own conclusions.
Of course, when a sudden death is reported with "no suspicious circumstances" and no other explanation, it often means a suicide.
On Monday night, conservative TV presenter Paul Murray spoke on his Sky News program about whether it's time to tell the full story of suicide in the news.
"Dan Vickerman, played rugby for Australia, played rugby for New South Wales, sadly, he died on the weekend," Murray began. "He took his own life."
"The issue of suicide is one that we'll all obviously feel united by the need to talk about and do something about. But I think the media have to do its part too."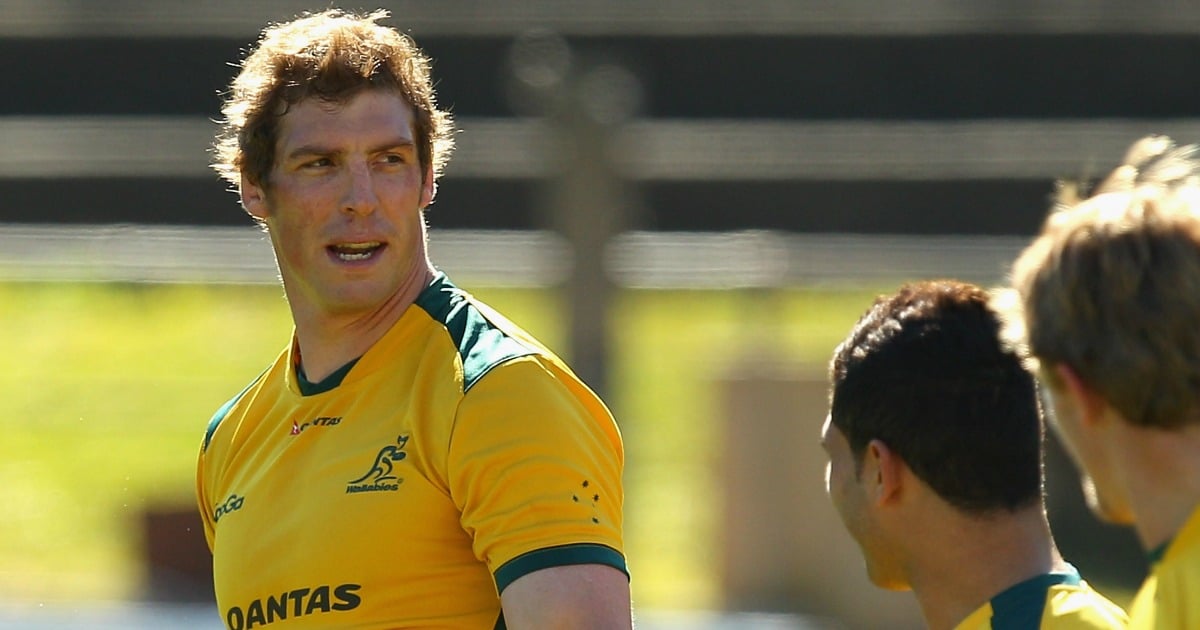 Murray then addressed the "well-held theory in Australian media" that says you "don't talk about the cause of death if it is a suicide, because there might be some sort of copy cat situation that takes place."
"I disagree with this," Murray said, arguing that we need to talk about suicide and "the loneliness and difficulty" that leads to it.
"To me, tell the full story, so we can all be reminded of how important it is to reach out to someone," he concluded.
On Facebook, the short clip from Murray's show has been viewed nearly 500,000 times. Thousands of viewers agreed with his sentiment and expressed dissatisfaction with how the media has handled the story, arguing that not talking about suicide reinforces the stigma around it.
But there are two critical and dangerous problems with this perspective  - and both need to be addressed in order to really tell the truth about suicide reporting in the media.
Listen: The Mamamia Out Loud team discusses the complexities of reporting on suicide. (Post continues after audio.)
We don't know Dan Vickerman's death was a suicide.
Mindframe's Marc Bryant, who runs the national media guidelines for reporting suicide, told Mamamia that in terms of Vickerman's death, "the barrier to reporting cause is really down to the family and police not releasing the cause", not media restrictions.
"There is no rule or guide that prevents the media reporting," he said.
"Media do report on both mental illness and suicide, and frequently. But the way these issues are reported is important."
Online & media speculating someone's death not helpful - family, privacy & coronial process factors the timing of release #danvickerman

— Marc Bryant (@MarcJamesBryant) February 20, 2017
Mindframe provides advice and training so that certain ways of framing stories around suicide are avoided, and details that might reinforce suicidal thoughts are omitted.
Until a cause of death is released, the media cannot report it. They run the risk of getting it wrong, but more importantly, reporting a cause of death when one hasn't been released is disrespectful and potentially highly distressing to the family of the deceased.
Murray's statement that Vickerman "took his own life" is either based on speculation or comments that haven't officially been confirmed. So his frustration with media reports not explicitly stating the cause of death is misplaced. They can't state anything, because they simply don't know.
Ultimately, Vickerman's family will likely be the ones to decide if and how his cause of death is announced. And until they've done so, it's not up to any of us to make our own conclusions.
Some of the Australian services offering mental health support. (Post continues after gallery.)
Mental health services in Australia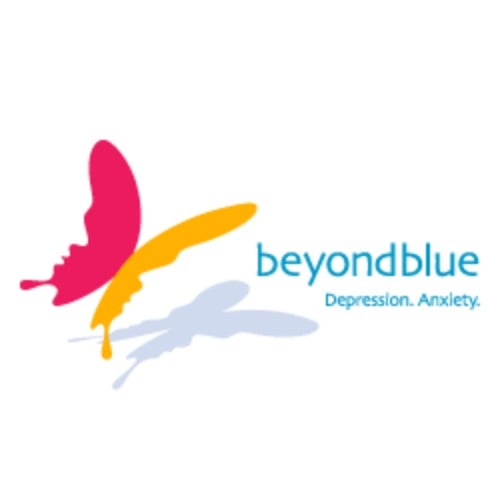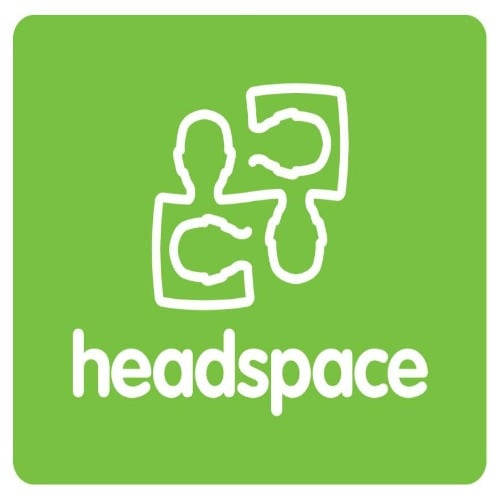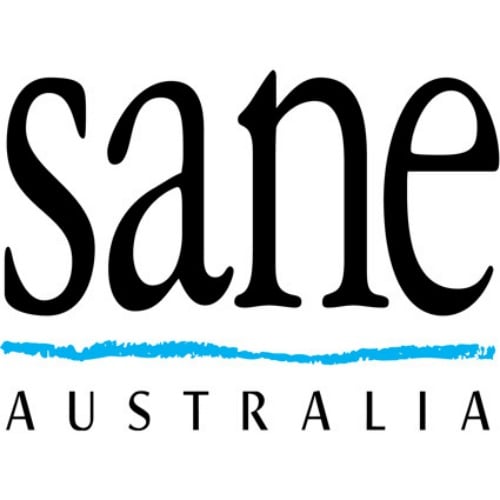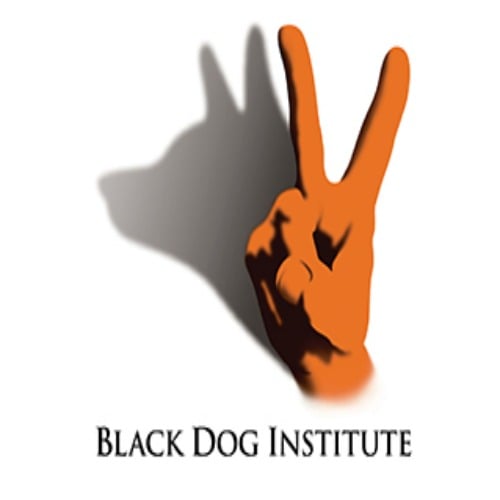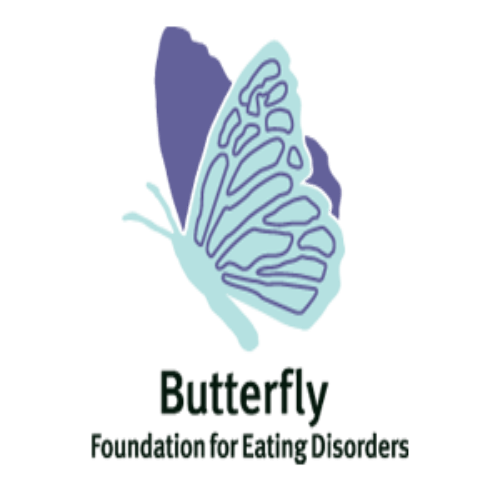 The guidelines that do exist around suicide reporting are there for very, very important reasons.
Paul Murray's statement that he disagrees with the potential for "copy cat situations" to take place completely disregards decades of strong and reputable scientific evidence.
"Suicide contagion is real. Social behaviour is contagious and influential. We wouldn't have a billion-dollar advertising market... if people didn't think you could influence someone else's behaviour," Madelyn Gould, a Professor of Psychiatry at Columbia University, stated recently.
Dr Michael Carr-Gregg says certain media coverage can "romanticise, glamorise, sanitise and normalise" suicide, and overall, studies show a significant relationship between media reporting of suicide and increases in suicidal behaviour.
Mindframe's website cites a 1995 study of Australian newspapers, which found rates of male suicide increased after media reports of a suicide. Male deaths by suicides peaked three days after the media story.
The potential for "copy cat situations" to take place isn't an opinion. It's a fact.
The manner in which suicide is reported is also important. In particular, details about method and location have been linked to increased rates of suicide using that method and at that location.
When it comes to the story of Dan Vickerman, of course people want to know what happened. We assume the more we know, the more it will make sense. How can life be over for a 37-year-old man with a young family? Was he struggling? Could something have been done? Can we do more to prevent mental health issues in former athletes? Can we do more to support men?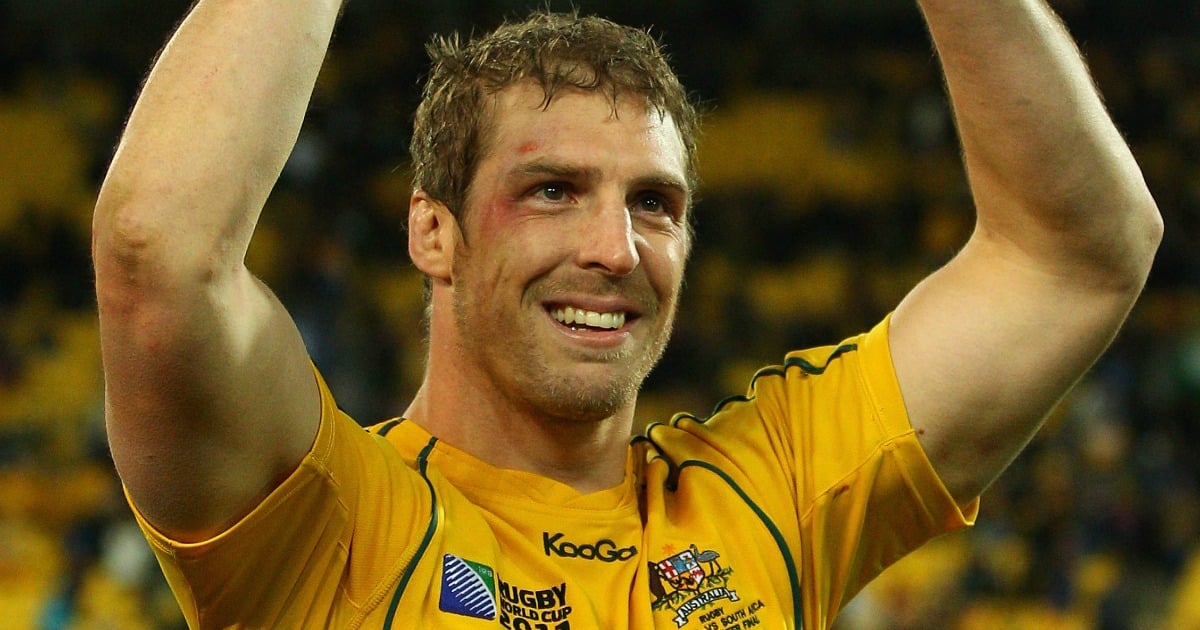 When we hear about celebrities or someone we know who may have died by suicide, we're overcome by strong emotions. It just doesn't make sense. How can someone feel so hopeless? How can they have done that to the people who loved them? How can we stop it from happening?
These are all questions we, as a society, desperately want to answer. Most of us have been touched by suicide and it's an impossibly difficult way to lose someone.
There is perhaps nothing as hard and nothing as painful.
But the answers don't lie in the details. They don't lie in labeling a death a suicide when we don't know if it is, or printing information about method and location when there's ample evidence to show this is harmful.
The risks of "telling the full story," as Paul Murray demands, far outweigh our curiosity and our frustration. The danger to vulnerable people is far more important than our desire to understand exactly what happened.
We don't need to know the intimate details around a person's suicide, as much as we feel like we'll find meaning in them. After all, how do these granular details really help us, other than to satisfy our curiosity?
All we can do is treat Dan Vickerman's family with respect and sensitivity at a time of unprecedented difficulty, and do our best to remind each other that whatever the circumstance, there is always, always hope.
If this post brings up issues for you, or you just need someone to talk to, please call Lifeline on 131 114. You can also visit the Lifeline website here and the Beyond Blue website here.
Griefline also provides free telephone and online counselling support services to people dealing with mental health issues, suicide, carer support, terminal illness, unemployment, and more. 
National: 1300 845 745 (from landlines)
National: (03) 9935 7400 (from mobiles)
You can listen to the full episode of Mamamia Out Loud here: