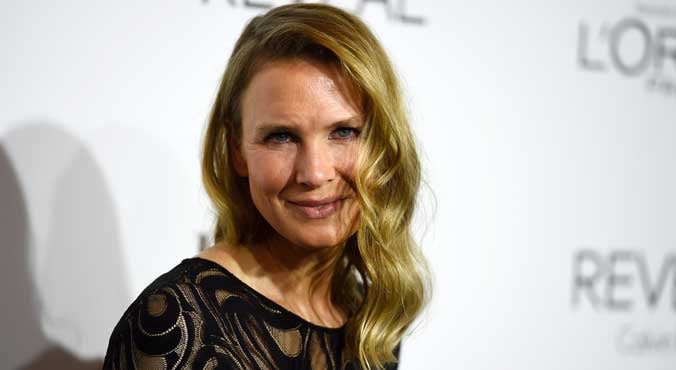 Image: Getty
Last night, Renee Zellweger went out in public. Today, her face is all over the internet.
Deja vu, anybody? You may remember the exact same thing happening back in October last year.  The Academy Award-winning actress, who tends to keep a low profile, made a rare public appearance at Elle's Women in Hollywood Awards.
RELATED: A few reasons why Renee Zellweger's face looks so different
When photographs of Renee on the red carpet started circulating, the internet was quick to throw out accusations of plastic surgery and rabid speculation over "how different" she looked. All this for leaving the house with her face in tow — no wonder Renee lives such a private life these days. (post continues after gallery)
This morning, following the 42-year-old's appearance at Paris Fashion Week last night, some outlets have decided to rehash that incredibly tedious discussion by making claims like "Renee Zellweger looks like Renee Zellweger again". Excuse us while we roll our eyes back so far in our heads we can see into our own brains.
RELATED: How to own the red carpet while not wearing any makeup
Thankfully, on the whole, the Bridget Jones' Diary star's face is making news today because it's framed by a brand new hairstyle. Much more interesting. Let's talk about that instead.
Renee sat front row at the Miu Miu show with her hair in a cool, 60s-style high bun, accompanied by a long, sweeping fringe. With all the lobs and bobs cropping up lately, we haven't seen a new fringe in a while, so this is quite refreshing.
Nicely played.
RELATED: Cate Blanchett's low bun is the new topknot.
That's about all we have to say on the topic of Renee Zellweger, so we'll leave you with this epic gallery of all the other celebrity haircuts and colours that have caught our eye lately. There are a lot of them, so this should keep you busy for a while...
The best celebrity hair transformations