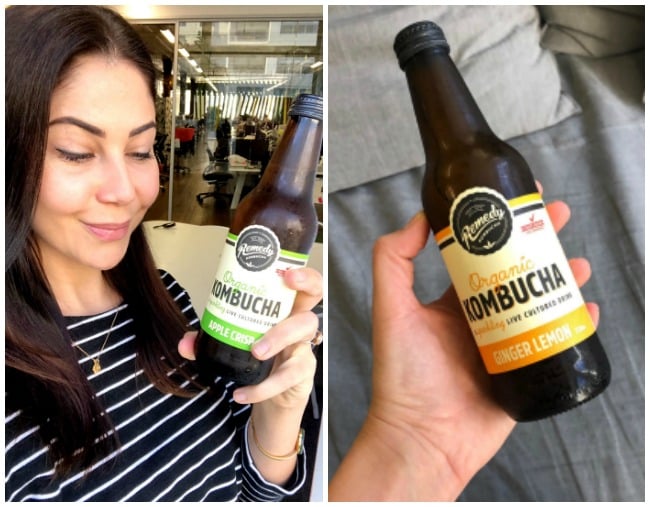 I'm going to have to admit my age by way of back story so I may as well just come out and say it – I'm 36. And when I was 21 I started my career as a beauty and lifestyle writer.
So for 15 years I've been trialling and writing about beauty, health and wellness stuff. All the fads, trends and bona fide movements.
I've seen it all and tried most of it, and I've gotta say, there's a whole lot of wellness products or rituals that firmly belong in the too-hard basket (oil pulling, I'm looking at you).

When I first heard about kombucha a couple of years ago I was intrigued.
A bit of a science lesson for those who don't know: Kombucha is a probiotic drink. It contains naturally beneficial bacteria and yeast that's good for your gut, and therefore good for you.
At the time when it first became popular I was becoming interested in gut health and I was keen to learn more and try it for myself. I knew of people making it at home, so I gave it a go.
This is how it went down:
I got myself a SCOBY from a friend. A SCOBY is a living 'thing', which looks sorta like a mushroom, full of good bacteria and yeast that can be used to make kombucha.
I followed the instructions to make DIY at-home kombucha, storing the jar on my kitchen bench for the required two weeks while I patiently waited for it to be ready.
A week and a half in to the 'journey', it started to smell pretty funky, look pretty suspect and then my cat knocked the jar over and made a godawful mess.
That was the end of my DIY kombucha phase and I was ready to put it in the too-hard basket, along with oil-pulling (and trying to re-grow my own celery heads).
But then I discovered Remedy Kombucha and the good people behind the drink, Emmet and Sarah Condon from Victoria.
Like me, they were fascinated with this healthy drink. Unlike me, they perfected their recipe for years so that it actually tasted yum but was still good for you.
I was stoked because now I could buy it from the supermarket, someone had done all the hard work for me, and it tasted a hell of a lot better than the stuff I was trying to make.