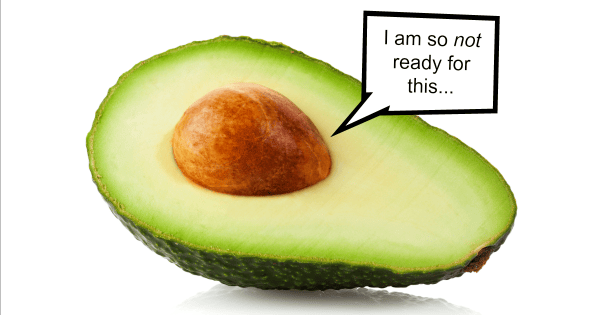 You guys, I've come up with a foolproof analogy for dating and relationships.
My genius observation is this: Dating is the EXACT same as eating an avocado.
And no, not only in the 'both are ridiculously expensive' way. Avo and dating are the EXACT SAME IN EVERY SINGLE SCENARIO EVER. So prepare your lady/man brains to be obliterated, and to crown me as your Holy Leader forevermore.
Here are the six similarities between avocado and relationships:
1. You committed too early.
You knew in your soul that when you cut into that avocado it wasn't ready. You pushed it too fast, too soon. Even after feeling the hard exterior of its shell you decided to go forth anyway. Horrid move, pal. HORRID move.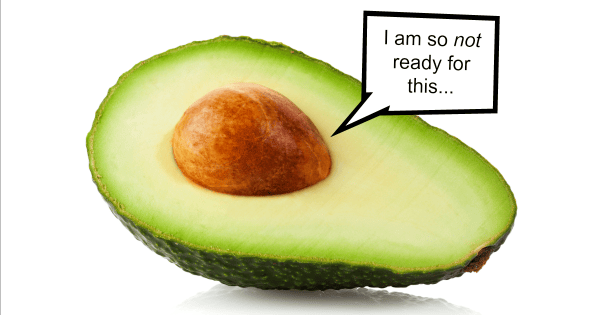 Big effing mistake, because your avo was hard and totally unresponsive to your efforts. And don't even try to talk your way out of this one because you're totally at fault. You freaked the poor, unready avo out, and now it's going to make you pay for it by being a watery, unmashable mess.
2. You're a commitment-phobe.
You were too scared to commit and now you've left it too late. The avo was sitting there on your benchtop, being pretty and soft and vulnerable and all it wanted was to be yours. But you missed your window of opportunity. The best avos don't wait for long. They never do.
You flirted with the idea of eating the avo for lunch, but then you went and opted for an unhinged chia pudding that plays guitar for an indie band instead. Your reliable, emotionally-available avocado felt betrayed. It didn't like your game-playing antics.