You know all those smug-looking couples clogging up your Instagram feed? They might not be as happy as they seem.
A recent study, published in the Personal and Social Psychology Bulletin, has found that couples who don't  – I repeat, don't – post about their relationship on social media are actually happier than those who do.
Yep, there's a correlation between the amount of smoochy couple pics (#blessed) you post and how happy you actually are.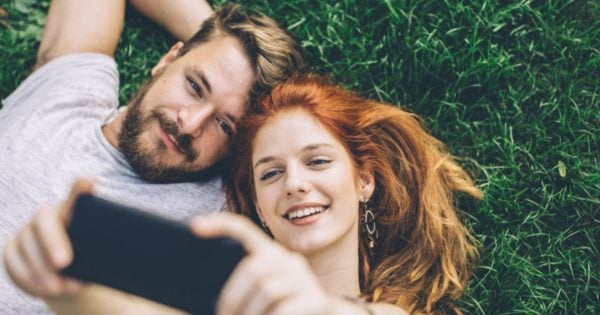 To start with, people who aren't constantly snappin', 'grammin and 'booking are generally happier overall.
You see, there's a link between social media use and depression - those who are persistently on social media are also constantly comparing themselves - and their relationship - to others.
Also, when you're actually head-over-heels and happy in your own life, you want to be present for it - not continually updating your Facebook status or posting a picture to Instagram.
The study found that people who are unhappy in their life and relationship try to make themselves feel better about it by posting on social media. It's believed they create a perfect online life, waiting for positive reinforcement from their family and friends in the form of likes and comments.
When Everyone Else Is Married, A Baby Ultimatum, and a Social Media Blackout. Post continues...
And those who are happy in their relationships just don't need to do this. They get their happiness from being together and don't need to seek any kind of external approval. So obviously they don't need to take selfie during dinner or check-in at the local wine bar.
The take-away? Despite appearances, Tanya and Dave from the footy club might not be as happy as they seem.