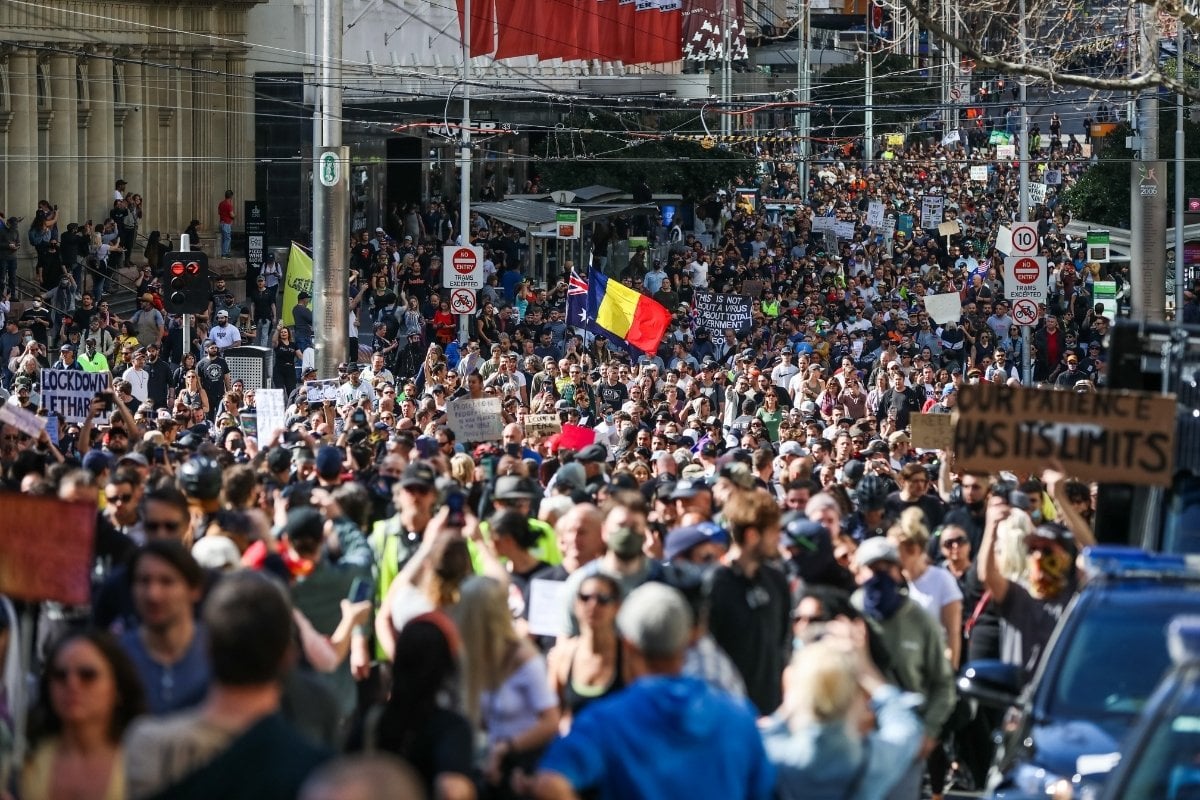 Protestors clash with police in Victoria anti-lockdown rally.
Thousands of anti-lockdown protestors gathered in Melbourne's CBD on Saturday in defiance of Victoria's stay-at-home orders.
Many of those marching did so without masks and could be heard shouting "freedom" as they snaked through the city streets. Several were carrying signs criticising Premier Daniel Andrews and promoting conspiracy theories about COVID-19 and vaccinations.
More than 700 police were deployed to the area in an effort to enforce COVID-19 restrictions.
Officers used pepper spray and tear gas to subdue protestors broke through police lines outside Parliament House on Spring St. 
Several people were arrested.
August 21, 2021
Anti-lockdown protests were also planned for Sydney, although a heavy police presence — more than 1,500 officers — ensured it was far smaller than that seen in the city last month.
While the July protest attracted thousands, just 250 people gathered in Victoria Park before being dispersed by NSW police. 
Describing the police operation as "as success", NSW police minister David Elliott said 200 infringement notices were issued.
Regional Victoria to return to lockdown.
Regional Victorians will enter lockdown at 1pm on Saturday as authorities scramble to contain a COVID-19 outbreak in the northern city of Shepparton.
Victoria recorded 61 new locally acquired virus cases on Saturday, including 39 in the community while infectious. Authorities have only been able to link 48 of the cases to known outbreaks.
An additional 16 cases have been detected in Shepparton via rapid testing and will be included in Sunday's numbers.