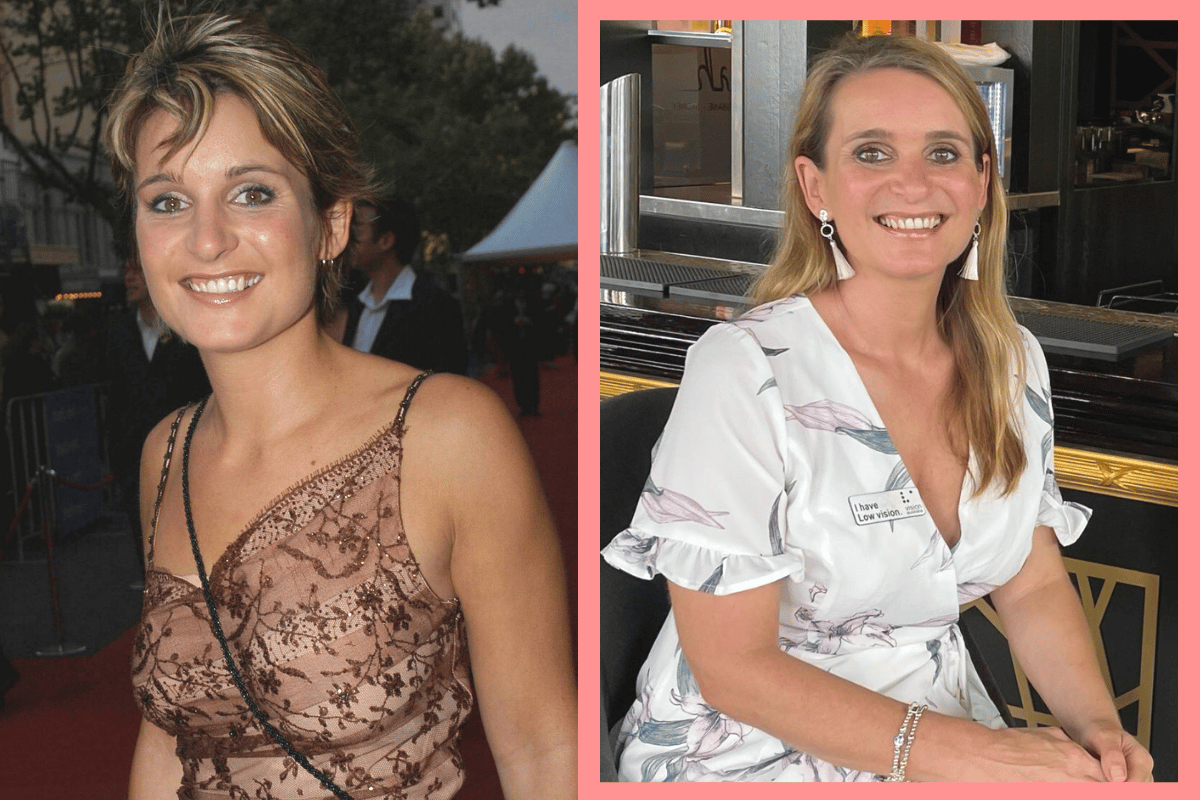 This post deals with depression and might be triggering for some readers.
The first time Reggie Bird stepped into the Big Brother house she was after a holiday. She was 29, and it was 2003.
Reggie had been working at and running a local fish and chip shop for 12 years in Tasmania, and when she saw the first two seasons of Big Brother Australia on television, she knew it would be an amazing opportunity for her to do something new and have a laugh.
So while she was in that iconic house for a few months, hidden away from anything to do with the outside world, Reggie had a ball. 
But when she stepped outside again after winning the series, she was shocked by what she was confronted with. Because life as she previously knew it had changed.
Reggie spoke to Mia Freedman on Mamamia's No Filter podcast about the aftermath of her first Big Brother experience and why she found it challenging to land a job afterwards.
Listen to the full No Filter interview with Reggie Bird. Post continues after audio. 
"It was crazy when I left the Big Brother house. Coming out onto the stage with screaming fans - it was bizarre. I'd been locked away for three months with just myself and two other people, only to come out and have all this happen - it was insane," Reggie said.
"My head was really fuzzy. When Gretel Killeen [then Big Brother host] told me I had won, I remember seeing this PlayStation at her feet and I thought I had won the PlayStation. Not $250,000."
While in the house, Reggie had no idea what the public's perception of her was. There was no TV or phones - speakers were the only way they had communication with producers or Gretel. 
But she had a slight inkling she was doing okay when in a live TV cross, Reggie could hear the fans screaming through the speakers when Gretel called her name. And it was also from that moment on that Reggie's fellow housemates knew she was a threat.
Read more: "I was so naive." After Big Brother, Reggie Bird was swindled out of $40,000.
The days following the win felt like a blur for Reggie. Coming back home to Tasmania, she got off the plane to see thousands of people cheering her on, a 'Go Reggie' sign somewhere in the mix. 
"They took me around on the back of a tow truck and I was waving to everyone - it was raining and freezing. Plus, when I landed in Hobart, they brought out the water cannons and put them over the plane, and they had not done that since The Beatles came to Australia. So it was me and The Beatles," she told Mia Freedman on No Filter.