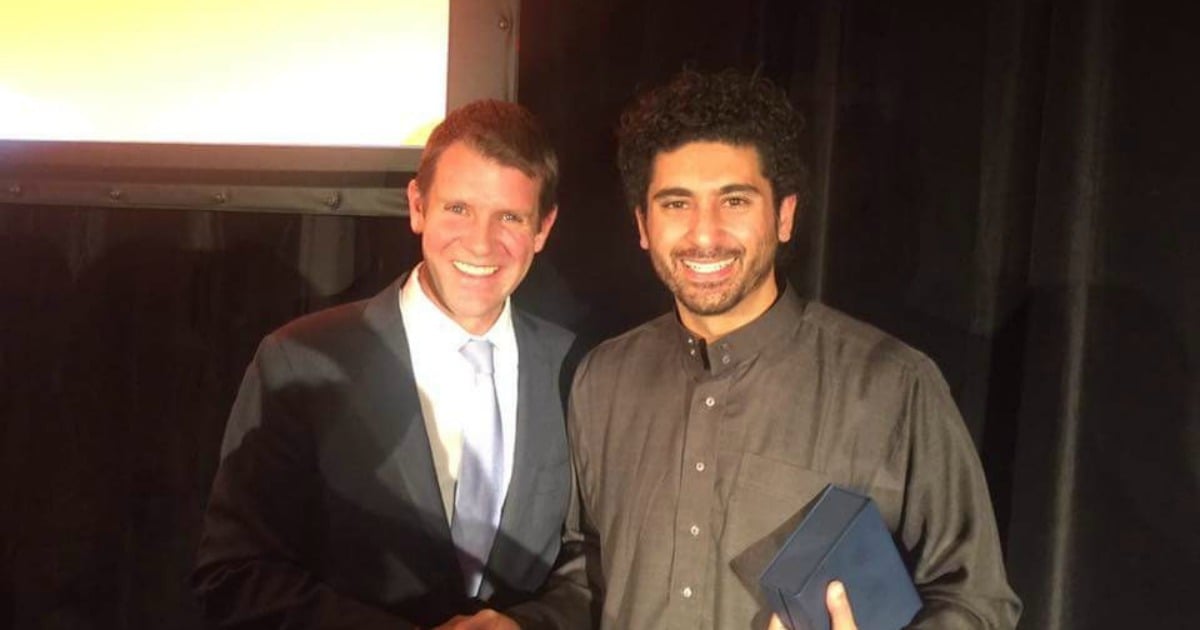 Take a good look, dear bigots. This is what 2016 Australia looks like. A Middle Eastern, left-leaning former refugee, hand in hand with the Liberal Premier of New South Wales.
This is what it will continue to look like, despite your hateful efforts in dividing my country.
You see, there is no 'us Vs them'. In the picture above, I see two Aussie blokes shaking hands. One people. Welcoming people. If you see it differently, you should have, perhaps, gone to spec savers.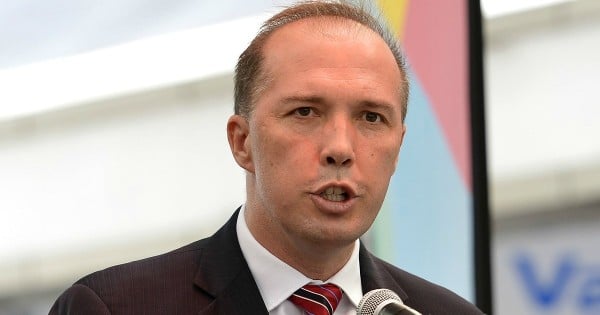 Immigration Minister, Peter Dutton. Photo source: Getty Images
Recently, the Immigration Minister, Peter Dutton, made a fool of himself by making calculatedly vile remarks. He stated that refugees coming to Australia are illiterate. Ironically, the previous night, I was privileged to win the NSW Premier's Literary Award for my memoir Good Muslim Boy. A book I wrote in my third language, after arriving here in 1995 with enough English to confuse an EXIT sign with a TAXI one because I had (excitedly) read it from right to left, thinking the new language worked the same as Arabic. Needless to add, I hadn't yet nailed my alphabet either.
I'm proud and honoured to be the first Australian with an Iraqi heritage to win a major literary prize. I'm equally proud of the film I co-wrote with Aussie screenwriting heavyweight, Andrew Knight, titled: Ali's Wedding, which will not only be Australia's first Muslim romantic comedy, (now in post-production), has employed over a hundred industry professionals. I ain't taking jobs. It seems, in this instance at least, I contributed to creating a few.
In my acceptance speech, I pounced on Premier Baird's earlier joke that his closest association with literature was topping year 10 English, by quipping: "Well, you know what Premier? I topped my year 11 English… So a refugee, did better in English than the Premier of New South Wales."
Like many Aussies I've come across, he had a generous sense of humour.
I must also confess that I am truly indebted to this country I call Kangaroo Continent. And home. Its education system (especially language school) and its welcoming, nurturing nature, ensured I have every chance at succeeding.
My achievement is minute in comparison to the grand accomplishments of many, many (I'm innumerate) other former refugees and asylum seekers who not only overcome obstacles, but turns their hurdles into passage for others to pass on. Their stories are as bountiful as the beautiful continent we are on.
I've received a mountain of support and encouragement in the past few days and I thank every member of the public who has reached out. You are the fair-dinkum, welcoming Australia I am talking about. The one that sees beyond my skin colour, race and religion. Apart from the latter, which is proudly my choice, the first two were a lottery ticket I was handed upon birth. My numbers landed on Australia. I got lucky.
For the scores of humans stranded in war zones, however, life is unfair. Life is hell. To attack these persecuted people with vitriol and derision shows an emptiness in the soul and mind. There is no grace in hatred.