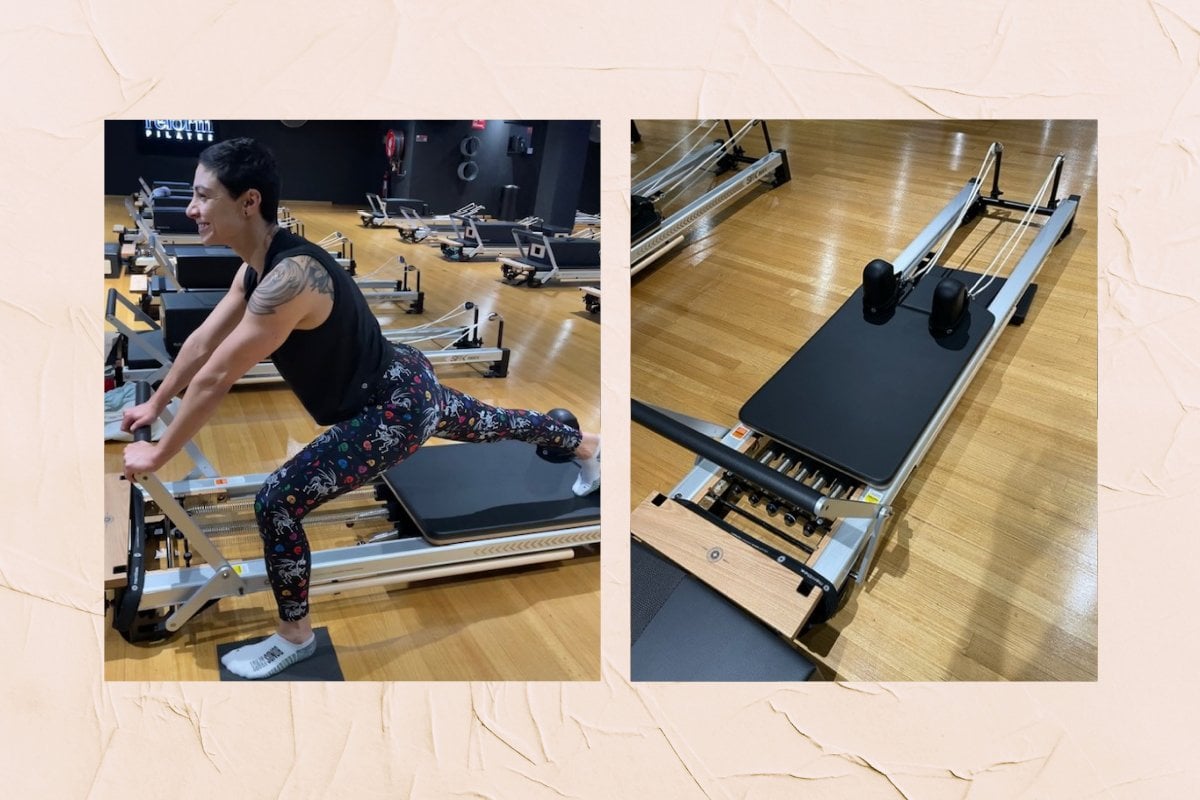 I'm unsure how reformer Pilates got the reputation for being 'gentle' or 'easy' or as one of my friends (wrongly) presumed ("I was expecting a nice gentle stretch"), but it sure has suckered in a bunch of us that may have never tried it in the first place.
Actually, this isn't a terrible marketing tactic. 
The reformer is a piece of equipment that resists and assists movement - think of it like one of those late-night-TV-infomercial-all-in-one-home-gyms where you can do almost anything on the one piece of equipment. 
The reformer is so incredibly versatile you can execute exercises you couldn't even imagine, working muscles so deep in your soul that by the time you realise reformer Pilates is in fact not 'gentle' or 'easy', it's too late. 
Watch: You may have heard a Pilates instructor say something along the lines of "engage your pelvic floor muscles", but what does that actually mean? Post continues after video.
The reformer is a contraption made up of several parts, including springs, rope pulleys, a foot bar, standing platform, shoulder rests and a headrest. Other equipment can also be added and used in conjunction with the reformer, such as boxes, balls and hand weights.
I could talk to you about the reformer itself and the myriad of functions for pages upon pages, but for the purpose of not scaring you to death (and honestly you shouldn't be), I'll give you the heads up about the part of the reformer that you can adjust: the springs. 
The springs (literally springs, like boing boing) are the mechanism that "adds weight" on the reformer that gets hooked onto a metal bar. 
There are typically five springs on a reformer; for more resistance, add more springs, for less resistance, remove springs. Think of the springs like weight plates on a barbell: the more weight plates you add, the heavier it is.