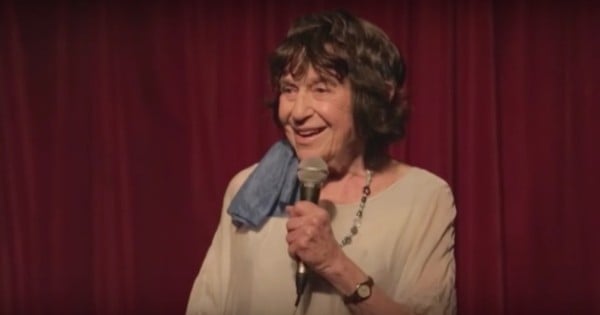 My great grandmother was already being betrayed by her body when I came along. She'd lived a physically punishing life as the mother to 16 children, 13 of them biologically hers.
That would knock anyone around.
When I was a small child she lived with us for a bit, her mind sharp and her sense of humour and generosity forever intact. She used to say "you're only as old as you feel, and I feel 17".
She was a wonderful inspiring woman and her attitude was always one of fun and positivity. She would have loved Lynn Ruth Miller, the oldest female comic in the world, who at 83 has no plans to slow down.
"I've done a million things," Miller says.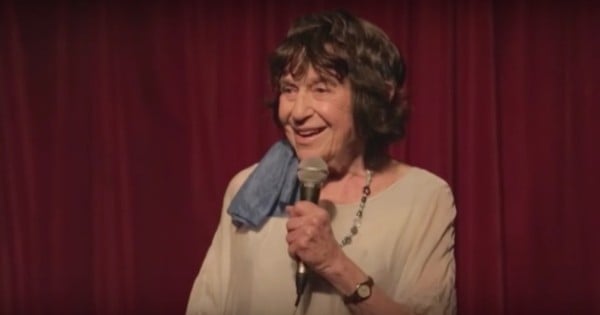 Ruth Lynn Miller is still delivering very funny one liners well into her 80's. Image: Sunsuper.
"I was a school teacher; I was a grade school teacher for seven-year-olds.  I was a professional dancer. I was a telephone Madame, I sold sex on the telephone, didn't know I was selling sex.  I thought I was fixing people up. I was a feature writer, I was a reviewer, I had a TV program for something like 15 years.
"When I started the stand-up comedy thing it was a joke and then pretty soon I started realising, "Oh my God, you're a professional stand up comedienne". Who knew? Who knew? If you love what you're doing, why stop? Until you can't do it anymore. Until you're not as efficient as you should be, and the trick is recognising that."
I was lucky enough to know all four of my great grandmothers. Each of them different, smart, strong women who had lived lives defined by their time not their talents or ambitions. They were women in a world before women had a chance to be economically independent the way we can be today. Their retirements were determined by their circumstances, limited by their disadvantage. There are lots of things they would have loved to do, but they never had the chance.