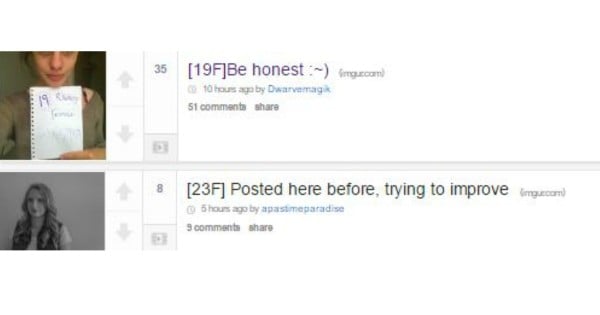 The internet is full of dark, morbid places, where only the sickest of human beings go.
There are cannibalistic forums. There are sites dedicated to sharing the final statements of people who have been executed in Texas. There's one page that claims to teach you how to summon demons (no…thank you). There are parts of the web so creepy and chilling that I couldn't even imagine them in my worst nightmares.
But there's one place I've found that's dark in a very different way. It's not about death or torture or evil magic. It's morbid and depressing in a 13-year-old-girl-trying-to-ruin-her-self-esteem-for-life kind of way.
And as anyone who has ever been an adolescent girl would know, that s**t is real dark.
The place I'm talking about is called 'Rate Me'. Ominous, I know.
It's a forum on Reddit dedicated to users submitting photos of themselves, and asking other anonymous users to rate them.
Here's how it works.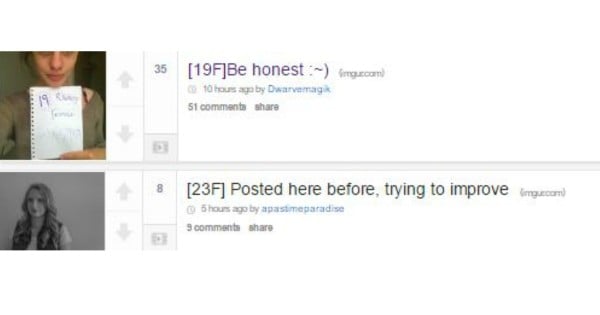 People post one (or several) photos of themselves, their age, and a little caption like 'rate me please and thank you'.
Anonymous people then comment with either: a) a rating out of 10, b) some feedback (e.g. 'your clothes look pretty trashy'), or c) some advice (e.g. 'lose some weight and you'd go from a 4 to an 8').
Let's take 19-year-old by Dwarvemagik as an example, who shared these three photos of herself using Imgur.
I chose her simply because she was the most recent person to post in the forum. Her photo, captioned with the words 'Be honest :~)', attracted 55 comments.