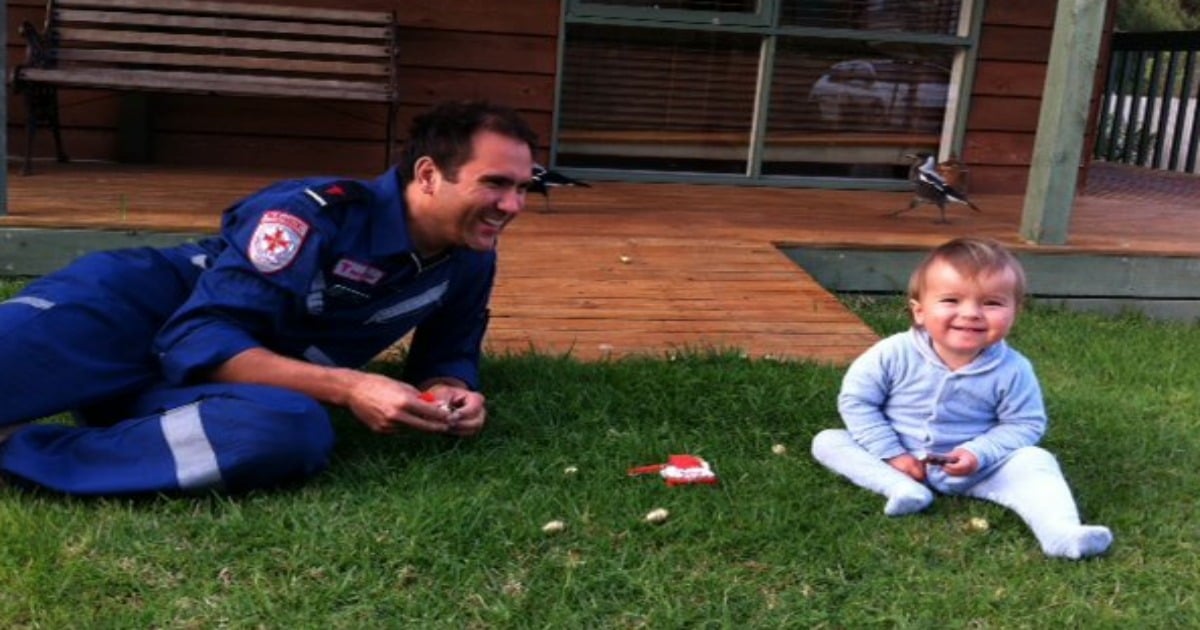 Paramedic Pete Keach was an hour away from his home attending a patient when the call came through the radio.
An infant was in cardiac arrest in a home in his area. An infant the very same age as his only child.
He knew it wasn't good.
"I heard the call come over the radio and I knew that if it wasn't Sam it would be one of the kids from the mother's group," he told Mamamia.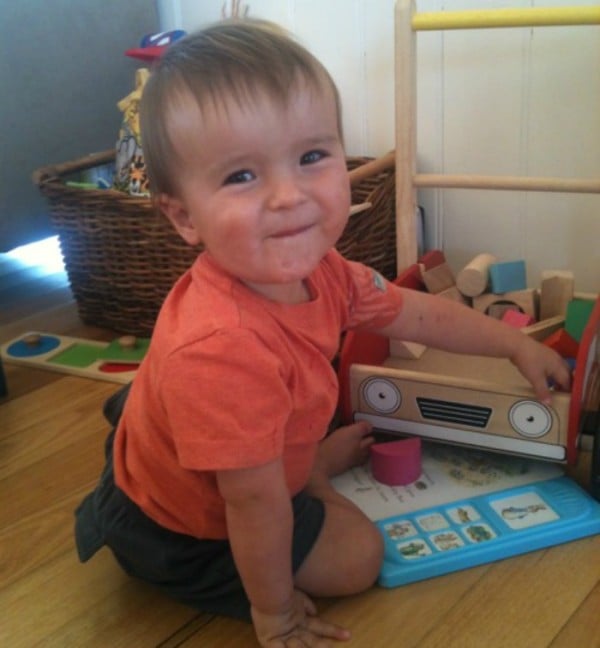 Sam was 21-months-old. Image Supplied.
Their hometown of Rye in Victoria was small and there weren't that many 21-month-old babies it could be.
He tried to call his wife but her phone was engaged. A part of him hoped she was talking to her sister.
But it was Triple 0.
He radioed in to work and was met with the news no father should have to hear.
It was his address.
Pete and his wife Georgie had one son, 21-month-old Sam, a happy, healthy vibrant toddler who had only just started to walk and had just been bought his very first balance bike.
Pete was still at least an hour away so he called a neighbour who knew CPR to assist his wife.
"Babies' hearts usually stop for an unknown reason so my instant thoughts were for Georgie, because I knew there was not much that could happen for Sam and she was home alone."
Finally as Pete approached his home the three ambulances out the front gave him the news he already knew.
His beautiful baby son, who loved trains and cars and anything with wheels, was dead.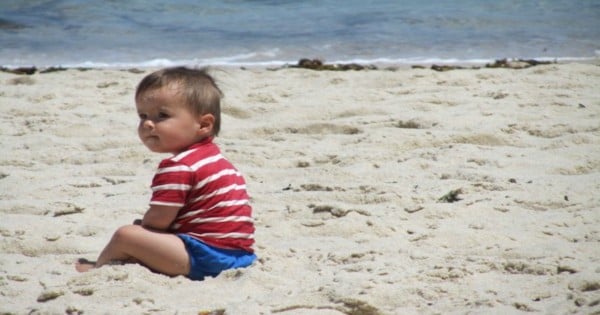 The reason for Sam's death was never determined.  Image Supplied.
With teams of paramedics there it was Pete who called time on his son's life.
He told Mamamia he felt helpless as he made his way towards his own home but his thoughts had been for his wife.
Georgie had been in to check on Sam at around 9.15pm she says when she walked in she was surprised to find him turned around and face down.
"I found him face down and I know a lot of babies sleep like that, but he never did."
Sam had died, unexpectedly.
A coroners report found that his death was "undetermined", that there was no cause of death.
A healthy 21-month old one day and tragedy for this small family the next.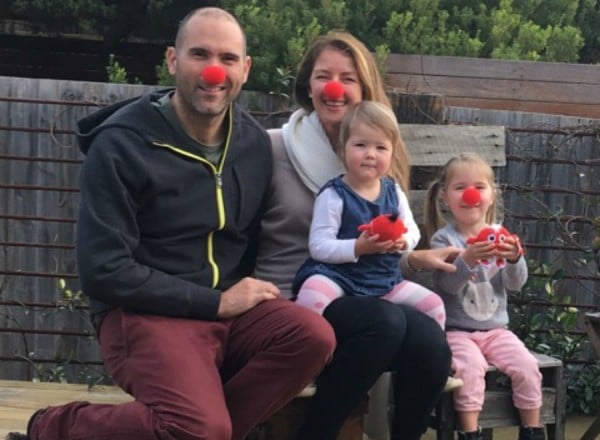 Georgie and Pete Keach with their two girls are working to promote Red Nose Day.  Image Supplied.
For Georgie and Pete the support from the organisation SIDS and Kids was incredible.
"From the beginning SIDS and KIDS was there" Georgie tells Mamamia.
"As well as the emotional support, there was the practical help and advice for things like planning a funeral and dealing with the coroner."
Jill Green, SIDS and Kids' Research and Advocacy Manager says that the importance of Red Nose Day is to help fund the exact support that families like the Keachs received.
Four years on Pete and Georgie have gone on to have two more children, two little sisters for Sam. During both pregnancies and infancies – an incredibly anxious time for the couple - the team from SIDS and Kids supported Georgie and Pete.
Post continues below.
Jill Green says that people don't realise the breadth and depth of what SIDS and Kids do.
"From supporting families who have lost children through miscarriage or stillbirth, in infancy or childbirth to people who have lost their kids through unexpected car accidents."
But there is more, she explains, funding research is a large part of SIDS and Kids and promoting safe sleeping guidelines.
She says that since 1991 there has been an 80% reduction in SIDS - an outstanding result - but that each year we have 300,000 new births and every single one of these families needs to be informed of the guidelines.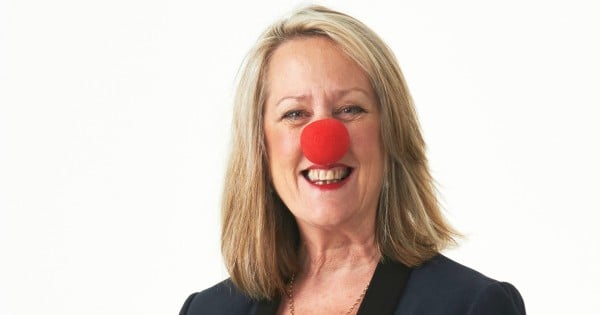 Jill Green, SIDS and Kids' GM Research and Advocacy. Image Supplied.
The back sleeping public health campaign is considered one of the most successful public health efforts in modern history.
But Jill Green says the important thing is to continue that momentum.
"We need to not become lazy and assume we have fixed it."
Jill Green says that Red Nose Day was the first signature day in Australia and that they are concerned with all the other charity days taking over that people are complacent about Red Nose Day.
"We are doing so much more and we support over 900 new families each year. We need to ensure those families have support all the way through their lives.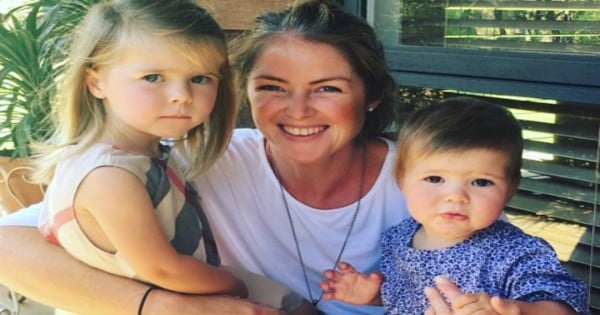 Georgie with her two daughters, Lucy and Anna. Image supplied.
For Georgie and Pete and their two daughters Red Nose Day is about helping to fund research to make sure that whatever took Sam's life can be one day explained and stopped.
In order to do that, this Red Nose Day, all of us need to help.
Red Nose Day is on June 24 and people can support it by buying a red nose or other Red Nose Day product, making a donation or fundraising. Find out more about how to get involved at rednoseday.com.au.