Overnight, Australian actress Rebel Wilson came forward with her own allegations of sexual harassment in Hollywood.
Writing on Twitter, while Wilson says she's been in a "bubble" of sorts working on a new project, the stories and harrowing tales of assault and misconduct managed to penetrate her radar in a way she describes as "hard to hear".
"I've been away in a 'bubble' of sorts creating new comedy overseas but it's so hard to hear all these stories relating to sexual harassment and assault in Hollywood," she said.
"As you guys know, I'm a pretty strong and confident person but even I have a story to tell.
Wilson detailed how she had been propositioned by a star who she chose not to name.
"A male star, in a position of power, asked me to go into a room with him and then asked me repeatedly to stick my finger up his ass.
"All whilst his male 'friends' tried to film the incident on their iPhones and laughed. I repeatedly said no and eventually got out of the room.
"I called my agent immediately and my lawyer made a complaint with the studio — basically to protect myself that in the event something similar ever occurred I'd be able to walk out of the job and not obliged to return."
The story was predictable in almost all of its elements: the power imbalance, the gross level of harassment, the close circle of enablers.
At a time when women are shouting like a chorus about the times they were unwittingly made victims at the hands of entitled male sexual power, and at a time those accusations are being held onto and believed and celebrated, something strange happened when Wilson came forward.
She wasn't held as tight, she wasn't believed as much, she wasn't celebrated with the same cheers.
The comments, instead, looked a little like this: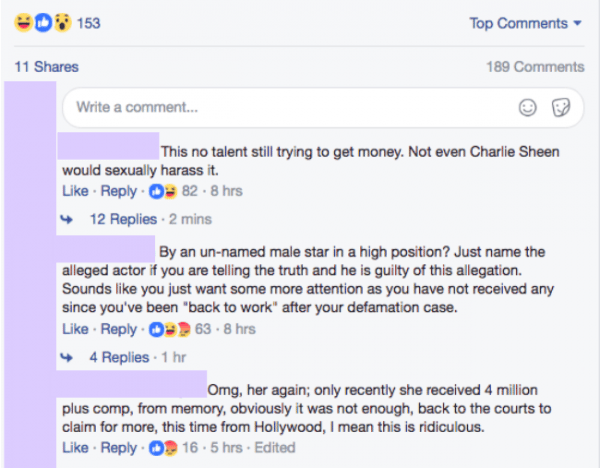 These comments aren't cherry picked, nor are they pushed together. They are the first three comments on a single news article about Wilson's story.
It was a response so peculiar, so against the grain of public sentiment in the last six weeks, women on Twitter began to talk:
It's responses like these, the ones that suggest an accusation of sexual harassment is inherently a statement of ego, that prevent women from ever coming forward with accusations of sexual misconduct. It's responses like these that keep thousands of stories from thousands of women locked tight within the confines of their mind, eating away at their confidence about their place in the world.
Because a hesitation about going public is often not only about the fear of not being believed.
For some, it's the fear of being perceived as attention seeking. Or arrogant. As if accusing someone of harassing or assaulting you comes part and parcel with 'flattering yourself'. It's a sickening attitude, but one that's reared its head in the hours since Wilson publicly shared some of the most vulnerable stories she ever will.
But what attitudes like that miss - totally, completely - is the reality of sexual harassment. The idea that there's only a single kind of woman who can be harassed ignores the brutal truth of this kind of behaviour: it's not about sex at all. It's about power.
When Gwyneth Paltrow and Ashley Judd came forward with their stories - the tide shifted, and we believed them. But the resistance to Wilson is a symptom that perhaps the shift we've been celebrating isn't as strong as we thought.
We believe certain women - but not all. We take some women seriously - but not all.
Equally as curious are the accusations that Wilson, a Hollywood actress with 4.6 million Instagram followers at last count, is looking for a splash of fame.
Because of course, when you've got projects on the go, an international following and a name for yourself in comedy across the world, it's accusing someone of assault that'll move your career along. Forget the fact it's a kind of "fame" no woman seeks, and forget the fact it's a kind of "fame" that comes with abuse of its own. No, Rebel Wilson came forward and didn't even name her accuser because she wanted her name in the headlines. The stupidity would be laughable if it wasn't so insidious.
Let it be known: women don't come forward with tales of harassment and assault for the fame, because the fame is a terrible kind to accrue. And let it be known: any woman, of any age, from any place, can find themselves a victim. Because an abuse of power doesn't discriminate.
For more from writer Zara McDonald, you can find her on Facebook here.