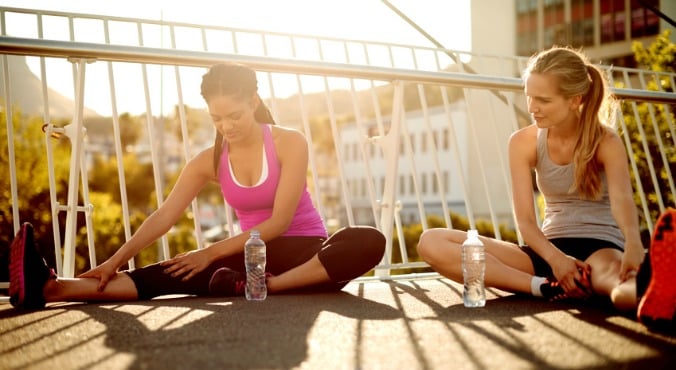 Image: iStock.
Some things in this life are best enjoyed alone. Doing your laundry at home on a Saturday night with a soppy movie playing in the background and a weird sheet mask on your face, for instance. (What? Who does that?)
But other situations call for backup. For many of us, exercising is one of them — whether it's because you need someone else to keep you accountable, or to just have a big ol' whinge to while you're struggling mid-plank.
Here are some other valid reasons why working out with a friend, partner, PT or a whole class of other people can be great for your fitness.
1. Goodbye, comfort zone
When you exercise with no witnesses, it's all too easy to slip into comfortable (or, ah, lazy) habits. According to Anthony Richardson, personal trainer and founder of AUSFIT outdoor group fitness and Ausfit Torsion bars, exercising with someone else will keep you motivated and accountable — especially if it's someone who isn't afraid to call you on it.
"No one likes being told what to do, especially when you're training. But would you really do those extra reps if no one suggested it? Would you really dig that extra bit deeper to conquer the hill like a champ, or would you rather walk that last 20m?" he points out. Good point.
2. Healthy competition
Are you a naturally competitive person? Good. Put that to constructive use by exercising with an adversary someone else who can drive you to work a little harder (though be careful not to go overboard).
"I actually don't like exercising with others that much, because it pushes me and I get proud and don't want to fall behind. Which is actually a good thing," one Glow team member admits.