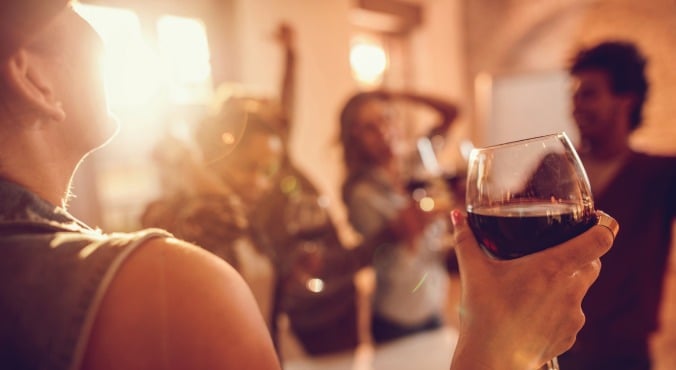 Image: iStock. By Dottie Hollingsworthon.
I spent almost two years in Alcoholic's Anonymous until one day, I was just done.
I lived and breathed the 12 Steps, every one of them. I read the books, some more than once. I found a sponsor; I became a sponsor. I opened meetings, had a key and made coffee like a champ. I spent my holidays with people in sobriety and I hit a meeting almost every day, because after-all, "meeting makers, make it."
On the hard days, I'd fall asleep reciting The Promises, begging God to keep me sober, just for today. I was told to drink was to die for the alcoholic and it would get better if I would "keep coming back."
I found "the program" in March of 2008 when my doctor, a gynecologist of all people, told me I was "on the verge of pancreatitis" and my "liver enzymes where high and I'd be dead by the time I was 35 if I didn't stop drinking." She also told me I was drinking much more than I had admitted to. How did she know?! I was young, 21 to be exact, and relatively healthy, or so I thought.
There was no way I was an alcoholic—I had a full time job, a career even, and was currently enrolled in school! My father was an alcoholic, my family just likes to drink, and I was fine. (Watch: Paper Tiger demonstrate the best way to meditate. Post continues after video.)
I was accepted into a drug and alcohol treatment facility by that afternoon, with a scheduled admission date within 20 days.
My first day in rehab I walked into a semi-private room with a woman in her early 30s who looked 50, screaming and crying as she shook her bed rail. Her first words to me, without even looking up to see me, were, "I'm fucking dying" as she jumped from the bed, stumbled and fell into the bathroom puking her guts out.
She was a recovering heroin-addict, with less than two days clean. I stood there in shock and thought, I do not belong here, then sobbed myself to sleep in the middle of the afternoon.
The first three months were the hardest. Between that 60 and 90 day mark there was a moment when I broke down in rage and desperation and asked God to show me what I was working for, otherwise, I was done. This wasn't worth it. I needed to know what was waiting for me. Because honestly, I would have rather been drunk than feel the overwhelming, barely tolerable rawness that came with this life.