No one's yelling yet and we feel weird about it.
It's too… quiet.
Matty and Krissy are at the polo which we absolutely did not know was a thing that happened in this country. They both enter the 'V.I.P' booth and we know this because they repeat it 26 times, which doesn't seem like a very V.I.P thing to do but whatever.
Over on a mountain top in Bondi (?), Athena is dressed in a white getup which probably cost more than everything we've ever owned. Sad music is playing because, well, it's Athena, but mostly because she's meditating.
She meditates for 45 seconds before Lisa comes running across the rock with alcohol. Lisa is literally the opposite of meditation.
Joshua Britt and Jessie Stephens recap The Real Housewives of Sydney. Post continues below. 
"I've never tried meditation," Lisa tells the camera. "I'd rather shove glass into my rectum."
We are very angry and disappointed at ourselves that this is the first time we've ever heard that expression, and we promise to use it at least three times this week.
She continues to whip out the pre-prepared one liners… but we don't hate it. "I prefer to medicate than meditate," she tells Athena, who is very excited that her quiet session has been interrupted with gossip. Because if there's one thing Athena likes more than meditation, it's yelling in people's face "YOU'RE A FAT GIRL." Her hobbies are so diverse.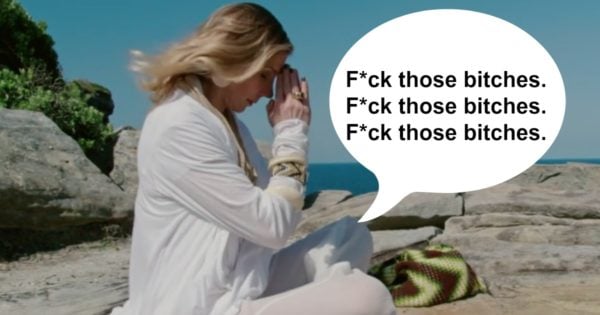 Lisa tells her exactly what happened last week at Victoria's Wrinkles Schminkles charity event, which raised money for the Victor Chang Institute.
The Lavendi necklace Athena donated was publicly mocked, and despite it being worth $3500, bidding started at $50.  Joh Bailey who ran the auction, referred to the "small" and "tiny" diamond, and made reference to how much Victoria hated it.