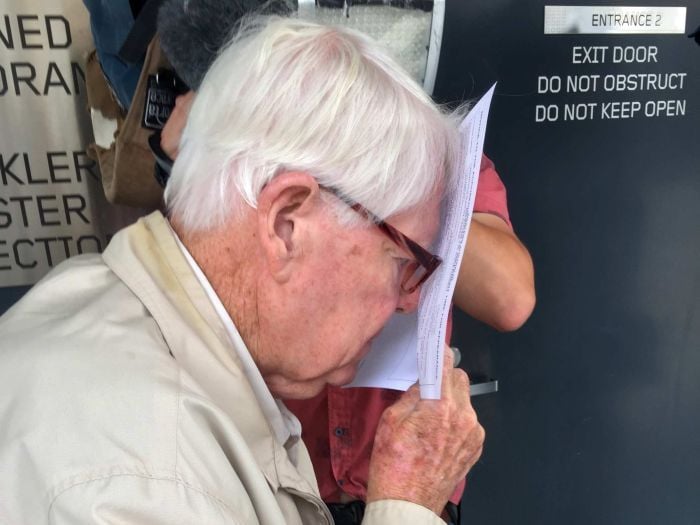 By Laura Gartry
A Perth judge has expressed frustration after a former WA Anglican priest due to be sentenced for sexually abusing five boys has his case adjourned until Friday, because he fired his lawyer.
Serial paedophile Raymond Sydney Cheek sexually abused children over a 30-year period in WA's south, targeting young boys across numerous parishes.
He was found guilty of committing an act of gross indecency and two counts each of indecent assault and indecent dealings with a child between 1955 and 1985 in November last year.
Cheek released his lawyer after criticising his representation during the trial and appeared at the District Court today, for sentencing, without legal counsel.
However, Cheek told the court he was not informed he would be without a lawyer.
District Court judge Ronald Birmingham said he found the situation "astonishing".
Judge Birmingham further censured Cheek, saying he did not accept the criticism Cheek levelled at his legal counsel in an eight-page letter.
"That you are without counsel is your own making … is this to further (delay) the inevitable?" Judge Birmingham asked Cheek.
Cheek replied, "No".
The judge also said "it was a pity" Cheek had only admitted his guilt after the trial.
Prosecutor Allan Dungey said it was "with the greatest reluctance" he could not oppose the court adjourning for Cheek to seek new representation.
Judge Birmingham suggested given Cheek was a convicted paedophile, it could cause offence to the community to release him on bail, but nonetheless he was granted bail until Friday morning to find a new lawyer.
Despite maintaining his innocence during the trial, Cheek has since admitted to committing two of the most serious offences.
The ABC understands he was escorted to the court today by an Anglican Priest from a Subiaco parish.
Victims condemn sentencing delay
The wife of one of Cheek's victims, who did not want to be identified, said outside court the delay was "pretty disgusting".
"He was found guilty of the charges months ago and out on bail, so I think its morally wrong," she said.
"He's trying to get a lighter sentence."
Victims and their supporters also voiced anger Cheek had only admitted to committing two of the five offences he was found guilty of.
"My husband is not a liar, his life was ruined after this," the woman said.
"The trial could have been avoided but perpetrators never own up, do they.
"They just saying everyone is lying or being deceitful.