To be a successful entrepreneur, you need to identify a gap in the market and pounce to fill it up.
Of course, you shouldn't take my word for it – I can barely rub enough coins together to buy stuff from the McDonald's spare change menu. But Australian-born mum-of-four, Raegan Moya-Jones? You should listen to her.
After relocating to the US with her husband in 1997, and falling pregnant with their first child Anais in 2003, Moya-Jones was hit with a peculiar reality: the muslin baby wraps which are wildly popular in Australia were nowhere to be seen in the States.
For an Aussie, the lightweight cotton cloth was a huge absentee from the bustling baby goods market.
This was the perfect opportunity for the mother who had always, on some small level, believed herself to have "be an entrepreneur".
"I've always had a desire to do something on my own," the businesswoman told interviewer Guy Raz on the most recent episode of NPR's How I Built This podcast.
"I had lots of ideas [over many years], but none that I felt it was worth diving in the deep end for.
"It was mind blowing to me that when I went looking for [muslin blankets] in the US, they didn't actually exist," she said.
The many ways you can use muslin cloth – as a swaddle blanket, as a crib sheet, as a nursing cover – made the fabric a must-have for American women.
"I was 100 per cent that they would respond to it the same way us Aussies had," Moya-Jones said.
But it wouldn't be a straight-forward, easy road to business success. Quite the opposite, actually.
"I had no supply chain, or operational experience or knowledge. I'm a salesperson. I had to find out how I would even go about making this stuff, and that took a long time. So I had the idea in 2003 when Anais was born and it took until 2006 to actually work out how to make it and get it to market."
Moya-Jones joined forces with then-close friend, Claudia Schwartz, who co-founded the business with her. The name they settled on? Aden + Anais, the names of their two children.
These blankets wouldn't be exactly like the Australian variations, though. Moya-Jones was defiant their products would be aesthetically beautiful and softer than the muslin wraps back home.
After hiring a freelance artist to design the prints, and finding the perfect supplier at a design exhibition, Aden + Anais was born.
"There was a myriad of back and forth in terms of getting the quality to where I wanted it… I worked with the factories over the years on how to wash it, what to put in the wash to make it soft and, obviously as a mum, I wouldn't let them use anything that was in anyway [dangerous on children's skin]," Moya-Jones said.
"There were a lot of failures along the way."
Even more impressive was the fact this all happened while Moya-Jones was still working her '9 til 5' job as a sales executive at The Economist. During her decade-long tenure at the publication, the budding entrepreneur made the difficult decision to not utter a word about Aden + Anais.
"I didn't want to walk out that door and then have people say, 'Well it's all good and well that she's created this business but it was at the expense of The Economist'," Moya-Jones said.
By this point – 2006 – she was also busy raising three kids.
"It was really, really hard. But it was a conscious decision I made that when I came home from what I called my 'real job'… I was well in mummy mode and I focused on my girls. And when the girls went to bed at 8.30pm, that's when I would start my day of working on Aden + Anais, and I'd do that until 3.30am every morning.
"It was a conscious decision on my part," Moya-Jones said. "I never really complained about it. It was what it was."
Once the first shipment of the muslin blankets was ready to go out to market, Moya-Jones harnessed her greatest strength: selling. She would venture into department stores, and dial every number she had for baby product stores until, one year later, a Target buyer called her, and asked her to come in for a meeting.
Target not only wanted to stock every variety of Aden + Anais blankets. They wanted to stock them in every store nationwide.
It was the beginning of something that would shift her world.
Funding such big orders with money out of their own pockets, before they had earned even a cent of capital, eventually fractured the relationship between Moya-Jones and Schwartz, who came from disparate levels of personal wealth.
"Claudia and Mark were very wealthy. Marcos and I not so much… we didn't have millions of dollars," Moya-Jones said. "We kept up for as long as we could until we got to a point where we couldn't keep up anymore…
"We borrowed $100,000 off Claudia and Mark and another $250,000 off Mark's dad and, very long story short, [the Schwartz family] weren't comfortable with the fact that they were funding the business."
Schwartz decided she wanted to pull out, and gave Moya-Jones one month to buy out her share of Aden + Anais. If she couldn't, the company would be dissolved.
Now, Moya-Jones had to hustle, and convince other wealthy friends to invest in her business. Within a month, she found three investors who purchased 49 per cent of the company for $500,000.
Moya-Jones and Schwartz have not spoken since.
"It was an extremely emotional time, but I've never ever doubted Aden + Anais. When I started to get a bit shaky through the whole drama with Claudia, I said to Marco, 'I don't know if I can do this', and he said to me, 'Do you believe in the business?'
"And I said, 'I absolutely do believe in it'."
As sales doubled year on year, Moya-Jones left The Economist in 2009 to focus full-time on Aden + Anais. Now? She's at the helm of one of America's fastest growing companies.
Actually, I should clarify: One of America's fastest growing companies that stocks products royal babies love.
While Aden + Anais was truly booming from 2009 onwards, nothing compared to the meteoric growth the company experienced when, in 2013, a totally low-key baby celebrity named PRINCE GEORGE appeared in public for the first time, wrapped in a cute baby blanket.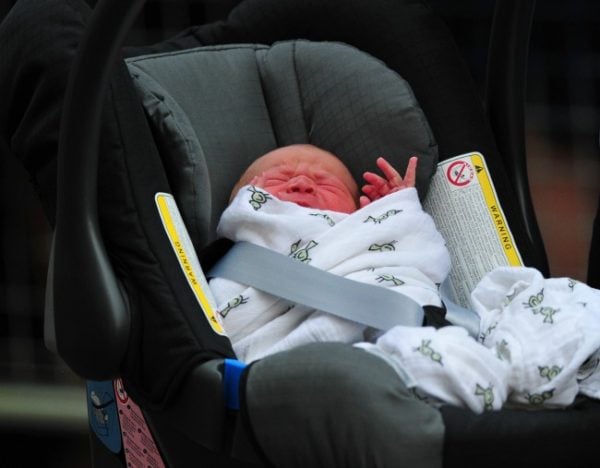 Unsurprisingly, demand for the royal baby's blanket crashed the Aden + Anais website. Twice.
"It blew my mind," Moya-Jones said. "No other royal baby has ever come out in anything other than a white wool blanket that has been royally appointed to the family. And lo and behold, they walk out in Aden + Anais and the world goes wild."
Today, the company has their baby blankets stocked in 65 countries, and rakes in US$100 million in revenue annually.
Not bad for a full-time working mum-of-four, huh?
You can listen to NPR's How I Built This podcast here.