Hit Network radio host Ryan Jon and his partner Brigitte have had the talk. They think they're keen for the next step in their relationship – you know, to have a tiny, defenceless human being totally dependant on them for its every waking need.
But are they really ready?
To find out, the Canberra couple did a full dress rehearsal of parenthood by taking home two simulator babies for the weekend.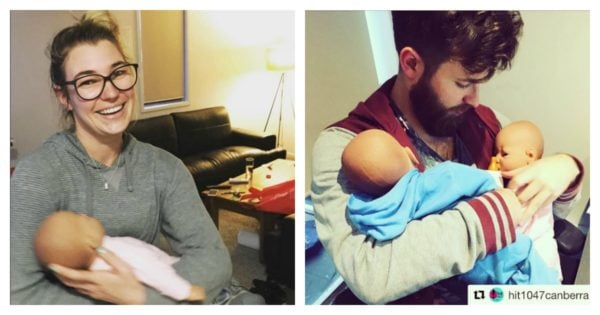 Brigitte and Ryan with the new plastic additions to their family. Images: Facebook and Twitter.
What's a simulator baby, you ask? They're those slightly creepy mechanical dolls they give to high schoolers as a cautionary method of contraception.
(FYI: Studies recently proved it has the opposite effect for teens - you can read about that here.)
The dolls cry, need feeding, nappy changes and cuddles, and even digitally log all your parenting mistakes for review by an expert.
Bachelor fans know the type...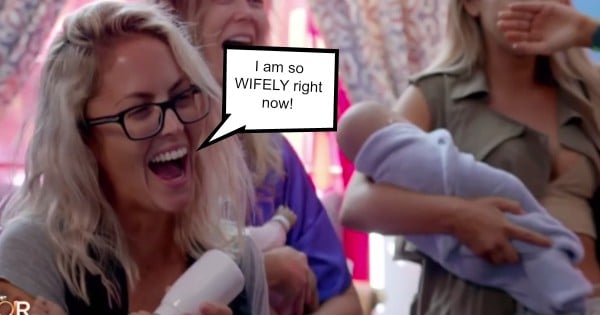 Image: Channel 10.
The temporary parents were given the gift of mechanical life in the form of twins Deshawn and Sheniqua (no prizes for guessing which of the new parents chose those names).
Ryan did all the things he plans to do with his future offspring: tried to get them a talent agent, hired a babysitter so he could go to poker night and took them on his coffee run.
His screaming 'babies' were so convincing that other customers at his favourite cafe started to feel sympathy for the bumbling new dad.
"These lovely old grannies were giving me some parenting advice, and it took them about five minutes to realise they weren't real," Ryan said on air. "They were like, 'This poor young guy.'"
Despite conceding that his babies were probably "set on mega-annoying" mode, Ryan said the whole terrifying experience was enough to put him off children.
Permanently.
"Chop it off," he said, referring to his... well, you know. "I'm not interested anymore."