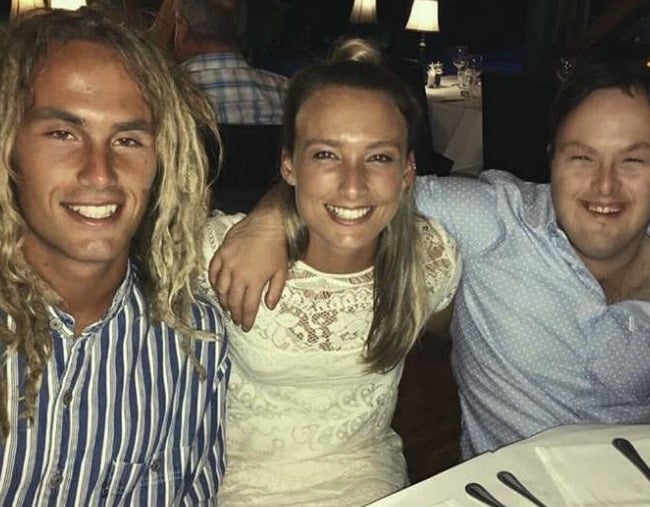 I am a triplet with two amazing brothers, and we are 23.
One of my brothers Pierce, is terminally ill with a diagnosis of an aggressive acute lymphoblastic leukaemia. He underwent chemotherapy, which proved to be unsuccessful, so he was given the only other viable option of immunotherapy, which 'masks' the leukaemia and essentially helps us gain time with him. It is basically still an experimental drug and in very limited supply due to cost and high demand. Pierce also has Down syndrome, bipolar and autism. While my family experience the most difficult time of our lives coming to terms with Pierce's prognosis and accepting a bleak future, I have found myself spending a lot of time thinking about all the things I'd like to do for him.
Creating awareness about the impact a particular word has on ours, and many people's lives is high on my bucket list.
***
We all know the R-word, don't we?
It's a little bit like the F-word but it differs in that it's arguably more offensive, degrading, and, much like the thought of Donald Trump leading a country, it personally leaves me feeling more than a little uneasy. You might genuinely not know which word I'm talking about. Perhaps the word you're thinking of doesn't seem insulting. Perhaps you're thinking you'd like to stop reading now, because you know which word I'm talking about and feel that I'm just being a little sensitive. Or, perhaps you use it in your everyday vocabulary and don't see what the fuss is about?
In any case, if you haven't already nutted it out, I'm talking about the word 'retard'.
Lots of people have different views about this word.
Here's mine – from someone who is affected by this word and not because I'm 'soft', but because my lived experiences with this word are negative and hurtful, as it is for so many others. I like to think of the etymology of the word 'retard' a little like a game of UNO. For starters, its use is most popular amongst 8-16 year old children. However, adults will sometimes join in, often out of boredom, and it can end in tears. There are variations, but the underlying goal is the same. Overall, it becomes progressively tiresome, and no one usually ends up winning.
Dating back as far as the 1400's, the word 'retard' derived from the Latin word 'retardare' meaning to hinder or make slow.
Listen to Vanessa Cranfield's raw description of raising Gretel, her daughter who has Down syndrome, on No Filter. Post continues after audio. 
In 1704 the word was first printed in an American newspaper from a scientific perspective, but it wasn't until the 1960s when the word was first used to label people who were intellectually disabled. The ambition was to re-label individuals as 'mentally retarded', rather than to use what were considered to be, at the time, 'out-dated' terms such as imbecile or moron. The word became abbreviated, as many similar terms have, from an adjective to a noun in common use.
It wasn't until more recently – in fact, only 33 years ago today – when it became somewhat socially acceptable for the word to be used as a reference for people who were intellectually or even physically disabled.