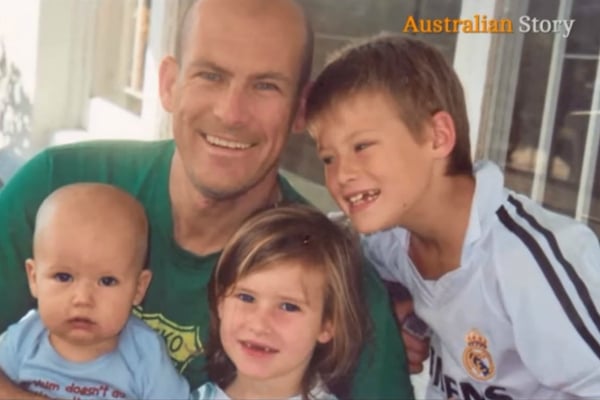 Warning: This post contains mentions of suicide and may be triggering for some readers.
It's been 10 years since Gavin Larkin came up with the idea for R U OK? Day. Sadly, Larkin himself only lived to see the first three R U OK? Days. But his legacy lives on, sparking millions of conversations aimed at preventing suicides each year.
Just over a decade ago, Larkin looked to have everything anyone could want: a successful career in advertising, a wonderful wife, Maryanne, and three beautiful children, Gus, Josie and Van. He knew he should have been feeling "on top of the world", but he wasn't.
"I felt empty, I felt black and it really scared me," Larkin told Australian Story, "and I started to worry that I might do what my father did, which was take his own life."
Watch: This September 12, take the time to ask yourself and your friends this question: R U OK? 
Larkin's father Barry had died by suicide in 1995. He'd had a successful career and a loving family, but in the last few years of his life, he'd become withdrawn and isolated. He didn't tell anyone about his mental illness.
"It was devastating for my brothers and I, and his friends and loved ones," Larkin said in an interview about his father's death. "He was a huge personality, a fabulous bloke, full of life, hugely encouraging, generous and supportive."
One of Larkin's colleagues recommended that he do a self-improvement communications course. Part of the course involved him developing a project that would inspire him and benefit the community. So he chose suicide prevention.
Using the skills that had made him such a success in advertising, Larkin came up with the idea of a day of action where people would be encouraged to start conversations with other people who might be struggling. And so the concept of R U OK? Day was born.
Larkin said starting a conversation was the one thing everyone could do to make a real difference.
"The stats show that if you can get somebody who is at risk talking about suicide you actually decrease the chances of them taking their own life," he explained. "So it is okay to ask, 'Are you okay?' and more importantly, it's okay to say, 'No, I'm not,' because that single conversation could change a life."