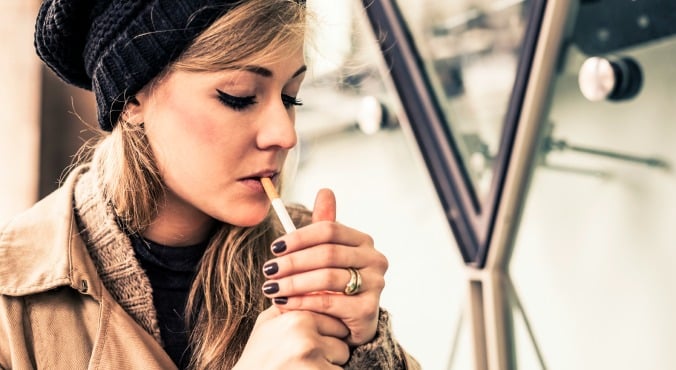 Image via iStock.
Any smoker worth her salt knows the feeling: that nagging need that crowds out your thinking, stopping you from focusing on anything else until you get up and have a cigarette. It's responsible for millions of microbreaks, but is that craving really what you think it is?
Dieters are told they're often just dehydrated when they feel hungry, and should hit up the kitchen tap instead of the cake cupboard. But a similar thing happens with smokers – nicotine hijacks every natural craving you feel, piggybacking on them like a freeloader. That means we end up smoking instead of having a glass of water, going for a nap or grabbing a snack. The needs our bodies are trying to communicate to us are rerouted through nicotine's domain, and transformed into an urgent request to smoke.
RELATED:The surprising reason why more women are smoking than men
That's why when people quit, they often put on weight. Those natural cravings come back, shaking off their nicotine shackles, and we're not equipped to deal with them in such an unfettered state. But this doesn't have to be a negative side-effect. If you're mindful of what's happening as you ease back on the darts, there's a strong chance you'll be more able to harness these feelings and use them for your own benefit. That means recognising cravings for what they truly are, and dispatching them with anything but the cigarette you so desperately think you need.
Here are some of the benefits of quitting smoking (post continues after gallery).
Benefits of quitting smoking (via I Can Quit Australia)