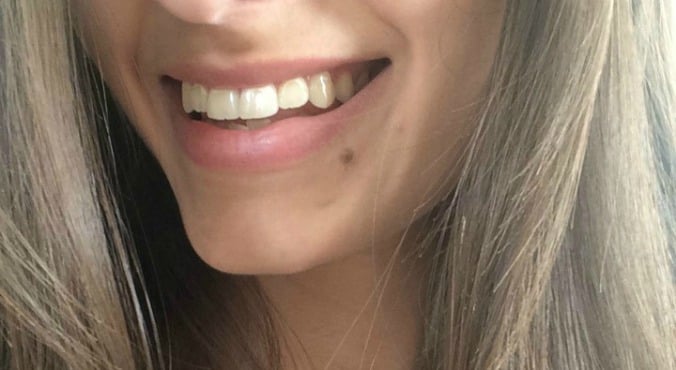 Image: Candice before her treatment
I haven't been much of a 'bride.' There have been no temper tantrums or bridezilla appearances, no outrageous requests, no early morning bridal bootcamp classes and certainly no three-month brow-scaping plans. In fact, it would be safe to assume that I have been a very laidback, very relaxed bride-to-be.
And then, like a pin to a balloon, the thought of two photographers and a videographer up in my grill began to unfold in my mind. There was going to be smiling, a lot of smiling, the type of smiling that forces your lips to twitch and cheeks to ache. And yes, my teeth, my not-so-pearly whites, were going to be on display.
While I'm sure my gnashers are completely un-intriguing to everyone around me, my teeth have always seemed a little too popcorn-coloured under my forensic gaze. Hoping to exchange popcorn for a perfectly white poached egg, I began by swapping out my regular toothpaste for an over-the-counter whitening toothpaste – but, I still wasn't satisfied.
Perhaps a few small, barely noticeable, stains were removed but with the wedding fast approaching I felt it was time to try something a bit more professional.
In search of a whiter smile I came across the Philips Quick Pro system, the quickest dentist-applied whitening product on the market. Offering a more subtle level of whitening than a full treatment, it's perfect for those of us that don't feel as if they need a complete teeth overall, but still want them to look a little brighter - or a little less popcorn-coloured in my case. With a simple 10-minute application and 30-minute wear time, it sounded like the perfect solution for the time poor bride.