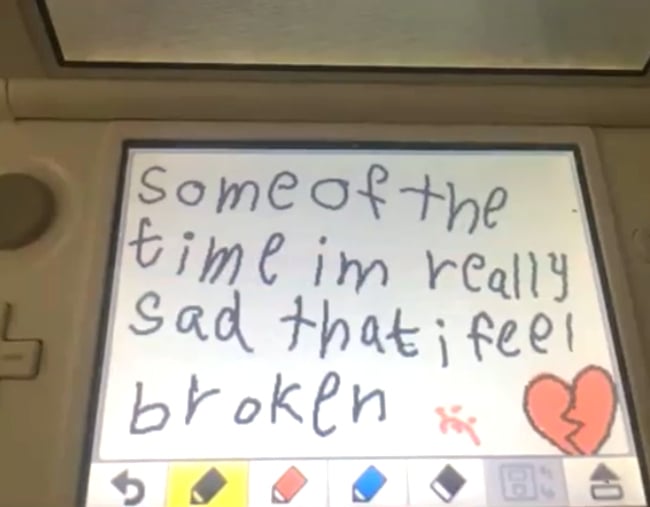 Every parent of school-aged children knows just how seriously they take their privacy. Bedrooms are no-go zones, private sanctuaries away from nagging parents and nosy siblings.
It's for this reason Queensland mum Shellie Ross waited until after her daughter Lily had left for school on Wednesday to take the opportunity to tidy up her room.
Sadly, what she found among the dirty clothes and scattered toys was a quiet cry for help.
The mother-of-two from the Sunshine Coast found a troubling note written by her 10-year-old daughter, discovered after her oldest son saw it hiding in Lily's Nintendo DS game.
"Some of the time I'm really sad that I feel broken," the handwritten note read.
"My heart just broke as a parent," Shellie told Seven News of the heartbreaking letter. She said her son was also "devastated" for his sister.
The Mt Coolum resident knew her daughter was being targeted by bullies at school, having been diagnosed with severe anxiety at the age of eight. Lily is a year older than her classmates, and taller and more mature, her mum said.
Children explain in their own words how bullying is affecting their lives and why it's wrong. Post continues after video.
But that night, Shellie asked her daughter about the note. After first getting upset about her privacy being violated, Seven News reports the Year Four student broke down and confided to her mum about the full extent of the bullying she was being subjected to.
"She has had her hair cut, sand thrown in her eyes, food thrown at her and her bag thrown in the toilet… she can't take it anymore with the bullying… it's horrifying to hear."
Shellie then shared a photo of her daughter's note in a private Facebook group, feeling like she had nowhere else to turn after her 13 attempts to contact the school, and the Education Department twice, were ignored.