1. There's a theory going around about the Queen's wedding gift to Prince Harry and Meghan Markle and… wow.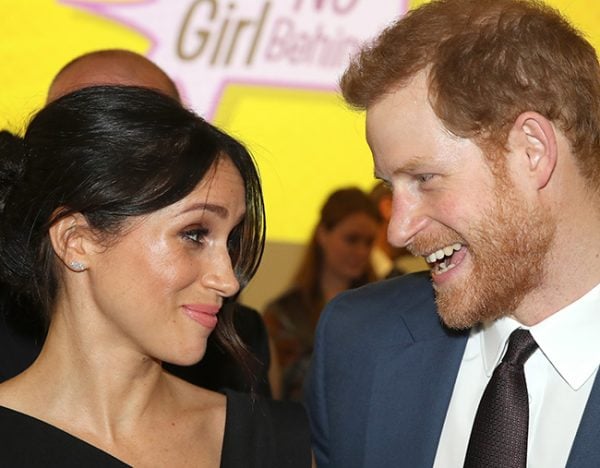 Ohhh. There's nothing like realising you're not a royal to ruin your Sunday. Because of course, if you were a royal, you'd be gifted an entire home for your wedding, not a shoddy set of forks.
That's right, it's tipped if Queen Elizabeth keeps to tradition - and the Queen is nothing if not traditional - then Prince Harry and Meghan Markle may be given a new home for their wedding. Prince William was given a home when he married Kate Middleton in 2011.
According to News Corp, the most likely of houses is one called York Cottage, located in the Queen's private Sandringham Estate in Norfolk.
Royal finance expert David McClure has told News Corp, however, "it might well depend on what land is available either from the Queen's private estate."
Because naturally, the Queen may well be short of land...
2. When once isn't enough: Why Frances Abbott just married her husband for the second time in 2018.

On Valentine's Day, Frances Abbott legally married Sam Loch, the man she became engaged to after just a few weeks of dating. Now, some two months later, the couple have formally celebrated their wedding among family and friends, because why have one wedding when you can have... more than one wedding?
Pictures obtained by the Daily Mail of the wedding show the couple, surrounded by family, celebrating on the beaches of Sydney.
And it's not like we weren't warned of the impending celebration, either, with Loch writing on Instagram when the two initially married that "the celebratory component isn't for a couple of months."
Congratulations (again)!
3. The former Big Brother contestant competing for Miss Universe Australia.
Well, here's two things we never thought we would say in the same sentence.
A former Big Brother contestant is competing for Miss Universe Australia.
Tahan Lew-Fatt, who was the second runner-up in the 2013 season of the reality TV show, was announced as the Miss Universe Australia Victorian finalist last week.
Lew-Fatt, a former grid girl, is also dating supercars driver Dave Reynolds.
"I am so proud of her for entering and getting this far," Reynolds told the Daily Telegraph.
"She is everything to me and I think she is the most beautiful woman in the world, whether she wins or not.''
The pair got together when Lew-Fatt was a grid girl for Reynolds' team.
"We became friends and one day she came to my house and kind of never left," Reynolds said.
Kanye and Trump are brothers and Kim is okay with it. Post continues.

4. Excuse us, but Jarrod thinks Bachelor in Paradise has been editing him in post-production to make him look more sunburnt.

Jarrod would like an apology pls.
It turns out everyone's favourite pot plant Bachelor in Paradise contestant isn't as red in real life as he appears on the TV.
"I don't know what the editing does but they make me flustered and red. I don't look like that," he told Perth Now.
In fact, Jarrod reckons he's a lot more attractive in real life.
"I hate watching myself on TV because I'm so ugly on TV. But then people see me in real life and they go, 'Wow, you're actually a tall, good-looking, handsome man. What happened?'"
OK Jarrod, we... we... believe you.
The 32-year-old also told the publication that he and Keira Maguire are still "testing the waters" and figuring out where they stand with each other.
So maybe no sunburnt proposal from Jarrod on Monday night's finale episode?
5. Celebrities are sharing their awkward first headshots and YES PLEASE.
This is happening.
Celebrities are sharing their first headshots on social media and it's the stuff of our cringeworthy dreams.
There's big hair, braces, some very nifty hats, and a whole lot of awkward poses.
We would like to look at these glorious 90s shots all day pls.
Check out all your favourite celebs being younger, slightly more awkward, versions of themselves here.