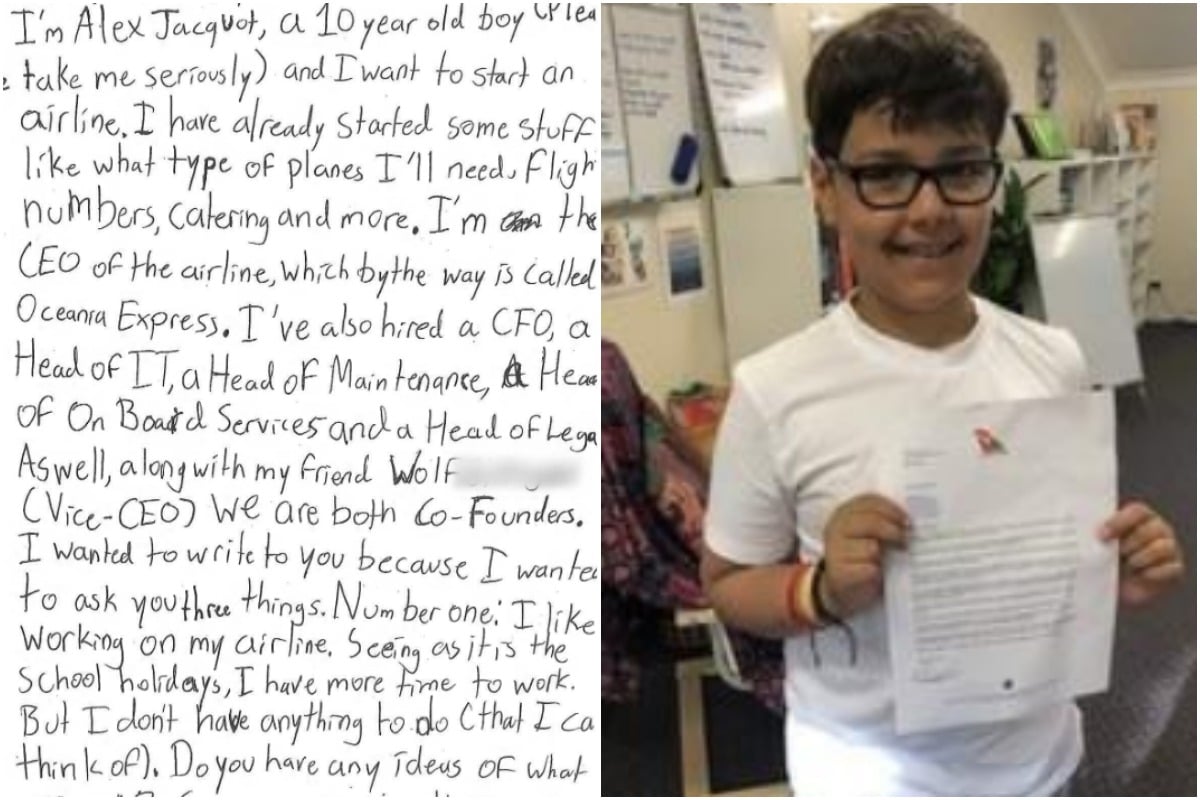 Alex Jacquot, 10, is plane obsessed. In fact, he has his own airline of which he is CEO (of course).
He's already thought about what type of planes he needs, flight numbers, catering – all of the important stuff. But he was really in need of some good ol' fashioned CEO to CEO type advice.
So, he wrote to Qantas boss Alan Joyce. AND ALAN WROTE BACK. The best.
Listen to Sean Szeps on the reality of air travel with twins. Post continues after audio.

"I'm Alex Jacquot, a 10-year-old boy (please take me seriously) and I want to start an airline," he begins.
"I am CEO of the airline, which by the way is called Oceania Express."
Alex adds that he has already hired a CFO, Head of IT, Head of Maintenance, Head of On Board Services and Head of Legal. His mate Wold is a co-founder. They are all OVER this.
"Seeing as it is school holidays, I have more time to work. But I don't have anything to do (that I can think of). Do you have any ideas of what I can do? Seeing as though you are CEO of Qantas, I thought I'd ask you."
He then reveals to his competitor, he is also thinking about an "A350 for Sydney/Melbourne to London flights".
"We are having a lot of trouble thinking about sleep. Do you have any advice?" he asks Mr Joyce.
Well, Mr Joyce responded, on official letterhead. And it.was.everything.
Our competitors don't normally ask us for advice, but when an airline leader reached out, we couldn't ignore it.
Naturally, there was only one way to respond: CEO to CEO. pic.twitter.com/JTFpzn5a6Y

— Qantas (@Qantas) March 11, 2019